by Sam Bygrave
There's a few bars that are on every bartender's bucket list: you wouldn't be able to visit Venice, for instance, without hitting up Harry's Bar for a Bellini; any bartender worth his rum would have to sidle up next to the bronzed stature of Hemingway at La Floridita in Havana and smash a Daiquiri or two.
And for a bartender, you can't visit Tequila town without stopping by La Capilla.
And that's thanks to Don Javier Delgado Corona. There's a lot that young gun bartenders can — should — learn from this man. He's 91 years old, and owns the oldest bar in in the town of Tequila. He's not so nimble on his feet these days, but you'll still find him at the bar every day — because that's just how it works. He'll be sitting a table, probably with one of his old timer mates, and watching everything that goes on. He still runs the show.
ADVERTISEMENT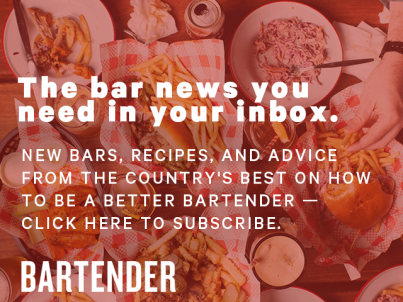 &nbsp
The bar is on the World's 50 Best Bars list, and it's not the décor that gets it the attention of bartenders and agave nuts the world over. No, it's the hospitality.
When we visited in May, despite his age, Don Javier got up from his seat, asked how many people we had and started to move chairs around for us so that we could feel at home. We tried to tell him not to worry about it, but he wouldn't have it. That's just the kind of hospitality you get from the man.
The next day we returned, and sat down with him for a drink. Before we knew we had a plate of ham and other snacks in front of us, sharing them with him. I don't speak a word of Spanish, and it was hard for those that did to hear him. Words weren't necessary though: I've never felt more welcome in a bar than I did there.
La Capilla Cantina Don Javier opened 76 years ago, a couple of blocks down the road from its current location (Don Javier told us that he moved the bar in 1982). And behind the bar, in pride of place above the shelves stocked with tequilas are two photographs of bartenders who have passed away, Gregor de Gruyther and Henry Besant. That tells you a lot about the kind of bar La Capilla has been to the bartending world, and about the kind of man Don Javier is.
Of course, La Capilla is home to the Batanga, Don Javier's mix of tequila (he's using El Tequileno), lime juice and Coke served tall with a rim of salt. Of the drink, Don Javier said he "doesn't remember how long he's been making it, maybe 40 years."
In a time when bartenders move to their next venue every six months, this kind of longevity, combined with great drinks and most importantly, genuine hospitality, well, that's what marks it out as one of the world's great bars.