Story by Sam Bygrave
Photography by Steve Brown
I still remember — quite vividly — my first sip of spiced rum. I'd never been much of a rum guy, and I was just starting out behind the bar. I was in that early phase of discovering the world of spirits, and often looking for the most obscure label to pick up for the bar at home.
That first spiced rum was Negrita Bardinet. It's nothing special, but I remember being quite taken with it. It smelled different to anything I had before, and because of the spices, I was able to pick out aromas from a spirit more easily than I had before. At this early stage, I could understand it. I'd squeeze a lime into a big slug of it over ice, and hey presto: I had me a delicious drink. I can still taste it now.
I've been lucky in this job to taste spirits, rare spirits, delicious spirits, the kind that sell for more than I could ever afford. But give me a bottle of that $25 Negrita Bardinet, some good limes and good friends, and I'll be happy.
ADVERTISEMENT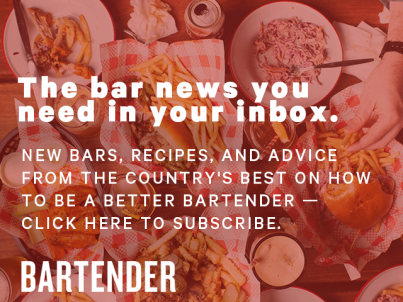 &nbsp
Of course these days it's not just rum that sees the addition of spices: spiced bourbons and whiskies are popping up more and more (take a look at Wild Turkey Spiced Bourbon and Albion Spiced Malt for two great examples). They offer bartenders more flavours to play with, and can serve as a gateway spirit to getting new drinkers on to a broader range of spirits.
Some months ago I asked Tom Bulmer, who heads up the Sydney Rum Club and this year is overseeing the Rum Tiki Battle during Sydney Bar Week, what he thought about the trend.
"In Australia this is great to see because of the tough robust stigma that rum has often had as opposed to the rest of the world that more often thinks of the Caribbean association and lighter flavours," he said.
"This new trend will definitely engage a new generation of younger drinkers who want more approachable flavour throughout their rums. This is being seen in all spirits, such is the case with Hendrick's. The only problem is when flavours begin to mask poor quality distillates. Rum already carries the flavour of tropical aging from the barrel; spices should be used to complement that base not take away from it. I think this is a trend that will continue in the category and bring more people into the sugar spirit of the tropics. But I think like with any spirit there will be good examples and poor examples. I hope venues continue to focus on the high quality of the category and don't just stock the most obvious or cheapest options to put on the back bar. Choose the type of flavour you want on your bar because when a customer orders a spiced rum that is flavour that they have chosen, not just a spirit."
Bulmer was quick to point out, too, that this isn't a new practice; rather, it's been happening for centuries.
"While spiced rum is a relatively new trend in the world it has gone on since the early days in the Caribbean. In much the same way as gin began its production it was quickly realised that alcohol was a preservative for spices, fruits, even humans such is the tale of the most famous 'spiced' rum of Nelson's blood. Even rhum agricole has an age-old tradition of the family drinking grandma's homemade flavoured rum before bed."
Good on you, Grandma.
Sounds of a Hurricane
40ml Rebellion Bay Spiced Rum
20ml fresh lime juice
10ml pineapple syrup
Homemade ginger beer

Build ingredients in order over ice.
Garnish with a spent lime wheel or dehydrated orange wheel.
Adapted from a recipe by Sam Egerton, Palmer & Co
"We have a drink of mine on the list called the 'Sounds of a Hurricane'. It's inspired by the Dark n Stormy and all ingredients are made in house."
– Sam Egerton
Spiced Whisky Sour
50ml Albion Spiced Malt
25ml lemon juice
10ml sugar syrup
½ egg white
Dry shake all ingredients then shake with ice. Strain into large bar glass over ice. Garnish with wild abandon and top with bitters.
Royal Bermuda Yacht Club
50ml Sailor Jerry Spiced Rum
20ml fresh lime juice
10ml falernum
A dash of triple sec
Add all ingredients to a mixing glass. Shake briskly and strain into a chilled cocktail glass.
Adapted from Bartender's Guide by Trader Vic, 1947
Adding Sailor Jerry to this classic tiki recipe complements and doubles down on the falernum.
Some special spiced spirits
Albion Spiced Malt: Made from English malted barley, the spirit is distilled five times before Colombian coffee beans, organic raisins and fresh-split Indian vanilla pods are steeped in the spirit and bottled at 42% ABV. Luxe Wine + Spirits
Sailor Jerry: Intense vanilla, dry buttery toffee and cinnamon notes on the nose. Cinnnamon and nutmeg on the palate along with vanilla, and a long dry finish. William Grant & Sons
Rebellion Bay Spiced Rum: This rum is imported from Trinidad, and offers flavours of vanilla, caramel, and hard spices. Vok Beverages
Wild Turkey Spiced Bourbon: A nose of vanilla, cloves and ginger leads to a subtly sweet palate of spices and vanilla, cloves and cinnamon, and a highly sippable finish. Campari
Notes courtesy of suppliers.