As the proud media partner of the Bacardi Legacy competition,  Australian Bartender is delighted to report that in May 2015, the best bartenders from 37 countries around the world will gather in Sydney to compete in the final of the Bacardi Legacy Global Cocktail Competition.
It is a huge coup for the Australian Bacardi Lion team and recognises the growing stature of the Australian scene and our bartenders globally. It is the first international cocktail competition to stage such a final in Australia in recent memory.
"We are very excited to be bringing the Bacardi Legacy to Sydney next year" said Caroline Hipperson, Bacardi's global brand director. "It is a perfect opportunity to celebrate and showcase a growing and influential Australasian bar culture, within a city famous for its iconic backdrops and spectacular nature. The effusive spirit and hospitality of this global city will provide the perfect inspiration and competitive arena for our 37 extraordinary bartenders to shine."
This time bartenders from 37 countries will compete in the final, the most number of countries the competition has seen competing since its inception in 2008. The competition is designed to reward bartenders of immense talent, who are capable of creating drinks that become modern day classics standing the test of time. Competitors are expected to make drinks that can take their place in the pantheon of great Bacardi cocktails like the Daiquiri and the Mojito.
ADVERTISEMENT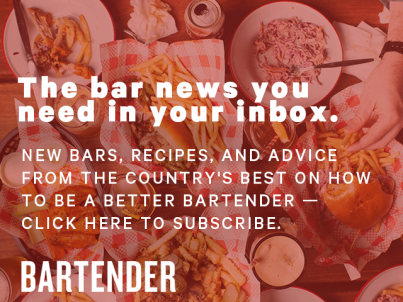 &nbsp
The winner of this year's Australian final, Fred Siggins, jetted off with his drink, Empire of Dreams, to the global final in Moscow to compete against the very best in the world, finishing in second place to The Savoy's Tom Walker and his drink, the Maid in Cuba. There's little doubt that Australia's strong showing at the final strengthened the case for staging the event in Australia.
"I am delighted that Sydney has been selected from among the world's most influential cities, as the host city for the 2015 global Bacardi Legacy final," said Denis Brown, Bacardi Lion's managing director. "Australian bartenders have shown that they are up there with the best in the world, with many of them having honed their skills in top bars across the globe. This is a terrific opportunity for Bacardi to work with the bartender community across Australia to showcase these skills and show the winners from 37 countries a good time in a great place."
So do you want to take on the best in the world on your home turf? Make sure you hurry up and register now, because entries close at midnight on October 7 2014. For further details go to www.bacardilegacy.com. Expressions of interest should be sent to australia@bacardilegacy.com.