Following an extremely close competition on Saturday afternoon, David Robinson from Hot Tamale in the Northern Territory was announced as the National Winner of Australia's Patrón Perfectionists Competition.
The Australian finals were held at Whitehart Container Bar that is located in the heart of Melbourne and attracted 200 media, trade, VIP and consumer guests. The six specialised bartenders were crowned winners at the regional finals and battled it out in front of an expert panel of judges that decided David Robinson's 'The Last Frontier' cocktail as the winner based on appearance, originality, service and flavour.
The judging panel consisted of Chief Marketing Officer of Patrón Spirits International, Lee Applbaum, Global Mezcal Ambassador and tequila expert, Phil Bayly and Editor in Chief of GQ Australia, Nick Smith.
David Robinson won over judges with his cocktail, 'The Last Frontier' that had citrus and spice notes, inspired by his hown town of Darwin with a South East Asian twist. "I am absolutely blown away, it's an amazing feeling. I can't wait to get to the Patrón Hacienda firstly to experience the Patrón brand but also to compete and see all other 17 cocktails from the other global finalists!" comments David Robinson on his win.
Lee Applbaum, Chief Marketing Officer, Patrón Spirits International comments on the competition: "We are proud to see the competition return on this scale, bringing new, up-and-coming talent to the bar with fresh ideas on what it takes to be a Patrón Perfectionist. The bartender community is a global community, brought together by a common pursuit for pure excellence in crafting drinks and delivering an experience for their guests. This year, as ever, the bar is raised and we are excited to discover mixologists who experiment with the flavour profiles and versatility of Patrón Tequila and who understand and share our values."
ADVERTISEMENT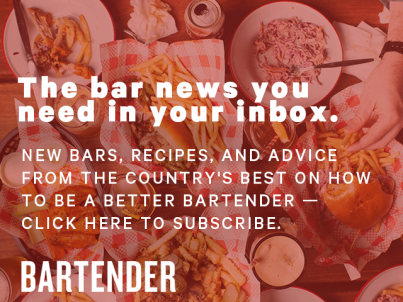 &nbsp
The 2017 Patrón Perfectionists competition in its second year in Australia is a global competition whereby Patrón Tequila searches through eighteen countries tasting cocktails created by thousands of bartenders displaying their cocktail knowledge and craft using the world's finest ultra-premium Patrón tequilas. Patrón Tequila holds strong its values for craftsmanship, attention to detail and overall commitment to perfection. The Patrón Perfectionists Cocktail Competition is an invitation to bartenders to illustrate these values in their own creation. David Robinson will now have the opportunity to be crowned the national Patrón Perfectionist and compete against fifteen other national Patrón Perfectionists winners in the Global Finals in Mexico. The panel of distinguished judges will decide which bartender is the ultimate Global Patrón Perfectionist.
Congratulations to Australian winner, David Robinson from Hot Tamale in the Northern Territory who will head to the Patrón Hacienda in Mexico for the global semi-finals on 17th January 2018 and if successful will go through the global final on Thursday 18th January 2018.
Take a look at Robinson's recipe below.
The Last Frontier
Ingredients:
50ml Patrón Reposado
15ml Patrón Citronge
3.5ml Campari
40ml smoked pineapple
and ginger tepache
15ml fresh lime
Method:
Moisten the glass with a lime wedge. Roll the glass in a chipotle salt mix (chipotle, dehydrated orange, coco and salt). Garnish with a thin pineapple slice and pineapple leaves.