JARED Merlino has been a busy guy in recent years. Not only is he the co-owner of Sydney bars The Lobo Plantation, Kittyhawk, and Big Poppa's, in December last year he opened his first solo project, the all day restaurant and bar, Caffe Bartolo.  
They're doing their own unique take on Italian food there that's been well received by punters and critics alike, but as usual it's the drinks that we're interested in here.
 Merlino brought on board the talents of Grazia Di Franco, who worked for Merlino previously at The Lobo Plantation, and is also the Asia Pacific ambassador for Mancino vermouth and Rinomato aperitivos, to head up the bar. The Italian-born Di Franco has put together one of the more considered lists we've seen in a long time, with drinks that bring flavour and concept together in a delicious way.
The venue is named for Merlino's great-grandfather, Bartolo, who emigrated to Australia from Sicily in 1910, and it's his experience Di Franco has sought to imagine as the core idea behind the list — how Bartolo would have greeted this new land he'd arrived in at the height of summer.
"All the drinks are quite low in ABV, quite fresh — of course they represent the summer," she says. "You have six seasonal drinks that represent some moment or some emotion or some places you might go over summer. With the Honey Bee, it might be breakfast on the verandah; you have the Sunscreen that you have to put on; you have The Sea. Everything covers all the flavour profiles."
ADVERTISEMENT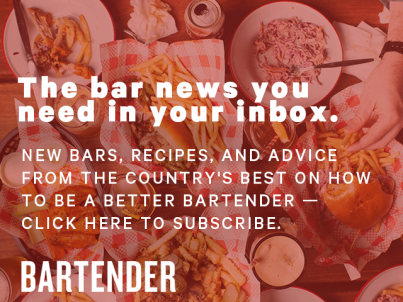 &nbsp
Following on from these six seasonal drinks are another six classic cocktails. 
"We have six classics which are not very far from the classic spec — they're a tiny bit modified, like the Riberry Negroni, so we have a touch of Australia into these classic drinks," says Di Franco. 
Some of Di Franco's own experience is distilled into the drinks, as well: their house Martini is served in a small chilled cocktail shaker and sitting on glass, with a small glass which you pour the drink into. "When I worked back in Rome, my mentor was a big Martini fan and he used to serve them quite similar to this," says Di Franco.
And given the all-day nature of service at Caffe Bartolo, low-ABV drinks lead the way here.
The result? Some of the best drinks we've had.
[ultimate-recipe id="48525″ template="default"]