A trip to the Caribbean recalls blended fun.
By Naren Young
Jamaica is no cocktail Mecca by any stretch. Far from it. It doesn't have a classic drink that the world is thirsty for. There's no Cuban Daiquiri to call their own. No Ti Punch like the Francophiles in Martinique. No Corn & Oil (dark rum mixed with Velvet Falernum and bitters served on crushed ice, as served on Barbados). No Piña Colada. The original Mai Tai, although an American invention, did use Wray & Nephew 17 year old, made here. They do, however, have one of the most revered and celebrated rum histories of any island nation.
The third largest Caribbean island has long been synonymous with dark, molasses rich rums which most of us outside the tropics probably sip contemplatively or mix into a myriad and classic and contemporary libations. It all started in 1749 with the opening of the Appleton distillery, which on a recent trip there, I discovered is located inland amongst sprawling cane fields and lush greenery in the St Elizabeth area.
ADVERTISEMENT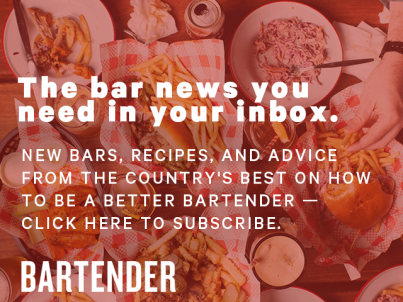 &nbsp
The most popular rum on the island is the clear overproof Wray & Nephew – a beast of a product made by Appleton that many die hards drink neat. When I'm on an island though – and this was my first Caribbean trip – it's frozen drinks all the way. I had several Piña Coladas and Daiquiris with every meal and something called a Dirty Banana that, despite its ridiculous moniker, was surprisingly moreish. It was not a time for straight, high octane rum drinking.
There was also a veritable rainbow of flavoured rums, but most of these are consumed by – ironically enough – American tourists longing for a taste of home. You'd no sooner find a dreacklocked Rasta man, sitting in Montego Bay smoking a spliff and drinking a mango flavoured rum than you would a Mariachi sipping a Corona or Margarita in Mexico. In all its forms though, rum is everywhere and so are the ubiquitous blenders that go along with island holidays.
"I had several Piña Coladas and Daiquiris with every meal and something called a Dirty Banana that, despite its ridiculous moniker, was surprisingly moorish."
I remember the first bar I worked in; the New Orleans Café in Sydney's north. We had a blender and therefore blended drinks. Then it was onto the Orient Hotel in the Rocks – the second floor 'cocktail bar' no less (when was the last time of you Sydneysiders thought let's pop down to the Orient for a cocktail?) – it actually had several blenders. Even the Grand Pacific Blue Room – Australia's cocktail bar pioneer in the late '90s – had a blender on the bar during my tenure. Admittedly, our Poached Pear and Ginger Daiquiri was a sublime Sydney favourite.
Now this once popular, seemingly indispensible, piece of bar paraphernalia is usually only seen in the high volume, lower end suburban bars and of course, resorts. In New York the blender has been popping up again in some of the latest high end bars (such as the new Tiki joint, Painkiller), perhaps as a strange attempt at ironic humour, which is probably lost on most of its patrons.
It's like putting a blue drink on your menu for a laugh like we did with our Psycho Cobbler at the Bayswater Brasserie or Jacob Briar's cheeky take on the English classic – the Corpse Reviver Number Blue (both delicious drinks, for the record). Or do like the crew at Seamstress did by putting West Coast Coolers in their fridge. Bring back the fun, I say. For many, this has been lost in favour of geeking out on cocktail chat rooms, arguing the finer points of cocktail etymology, uncovering the original recipe for a drink none of your customers have ever heard of or infusing small dogs into your latest bottle of artisanal Pisco.
Am I suggesting we should all run out and buy a blender for our bars? Of course not. Most blended drinks are awful in the wrong hands with the wrong ingredients. But if it's these little things that make bartending a little more fun for you and your guests, then why not. Should a plastic monkey, mermaid or cocktail umbrella find its way onto the side of my glass when I'm in your bar in September for BarShow then I'll be pleasantly chuffed.