Cobbler
7 Browning Street, West End, Brisbane
cobblerbar.com.au
By Sam Bygrave
Well, what Brisbane's rockabilly scene has lost, their whisky drinkers have certainly gained. Owners Asa Boardman, Trent Goodwin, and Martin Lange (Sling) have turned what was once a rockabilly hairdresser into a bastion of whisky in the heart of the West End.
"The whole place was pink and white. Horrible," said Lange.
ADVERTISEMENT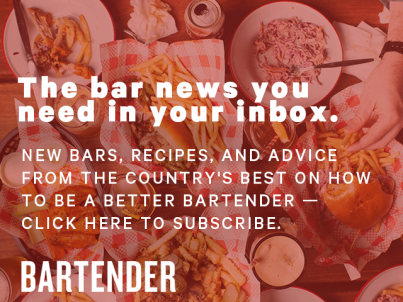 &nbsp
Lange is taking seasonally available, local ingredients and putting them to good use on the cocktail list, while the overall idea guiding the bar is to become part of the local area.
"The idea behind the bar program is to provide down to earth service, good chat, zero pretentiousness and a great bar experience, complementing it with abundant knowledge," said Lange.
The bar boasts an impressive range of whiskies, with the number stretching to around the 150 mark. As if to reinforce that point, Lange has this to say when asked about the ingredients he is enjoying using most at the moment: "Whisky, Whisky, Whisky. Lagavulin and Ardberg are our best sellers by far – especially the Galileo."
And its this whisky focus that drives the bar — and in fact was the key reason behind the set up. "The West End doesn't have anything remotely similar," said Lange "and we saw a gap in the market.  We managed to integrate into the area quite easily."
One of the locals that is enjoying the presence of Cobbler is the nearby Greek restaurant. Cobbler has no kitchen, serves no food, and has no plans to. But they don't discourage you from nibbling on some dinner with your dram; in fact, they encourage you to eat via their bring your own food policy.
"We have a really good relationship with Little Greek Taverna at the corner of our street. It's really tasty, affordable Greek food. Quite a few customers have been bringing their eats in. People have also been bringing baskets with cheese and crackers too. It actually works really well."
The relationship is so good now that the folks at Little Greek Taverna will deliver their eats to your bar stool, which seems like a win-win
for everyone.
The bar has been received well by the locals, the owners say, and this means they haven't had the need to stray too far from their original vision for the site. "[Our] vision is to provide an affordable and large range of whiskies in Brisbane, with quality friendly service," said Lange. "We are finding that a lot of people love whisky, and we have been busy since the day we opened," he said.
Getting the bar off the ground wasn't without its hassles, though.
"The plumbing of the place was an absolute nightmare since it's basically a concrete block," said Lange. "We are basically running on a water pump to get our water to drain out of the venue. Besides that, nothing major, just the standard delays from builders and electricians," he said.