There's some larger than life personalities that take the stage behind the stick at Ramblin' Rascal Tavern, and they've got the bar skills to back up their not inconsiderble chat. They are, after all, two time winners of the Bar Team of the Year award at the Bartender Magazine Australian Bar Awards.
But in amongst these old-timers you've always been able to find younger up-and-comers in their ranks, and though they may not be as loud as their bosses, they certainly make some noise in the skills department.
That's the case with Atlanta Pahulu, who they snared from the ranks at The Unicorn. If you go to Rascals, you'll see she's the one busily getting it done, and that's why we think the industry should get to know her better.
I used to work at The Unicorn in Paddington, and I met Paige [Aubort] through there because she became one of my bosses. Through Paige I met Charlie [Lehmann], and I started to coming to Ramblin' Rascal a bit. I feel like a lot of people get a job here by coming here often.
Charlie approached me about working here, and I wanted to to know what it was like working in a cocktail bar. He let me behind the bar for a bit, I was a glassy for a bit, and he said "we'd like to have you here." I said I'd like to be here. I get along with the guys, and it's the drinks and everything; to be able to learn more, it's a step up from a pub where you're just slinging beers. I'm learning a lot more about things I had no idea about.
ADVERTISEMENT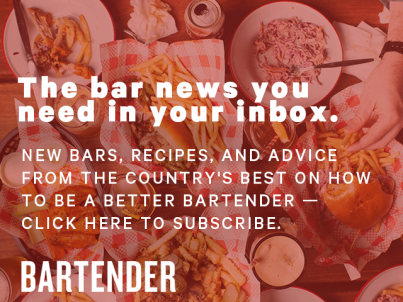 &nbsp
If any of my friends ask what it's like, I tell them it's just fucking great, just do it. Come here, and don't be a dick — that's it.
Working at The Unicorn was really good, it was my first hospo job. It's been a year and four months I think, I was there for just over a year. It was sort of a shit in the dark; I saw it on the Sydney Bartender Exchange, applied for an interview, was a glassy for two days, then got more shifts. If anyone didn't want to work I'd just keep taking shifts.
Eventually I came on as a manager at The Unicorn but I stepped down — I was basically like, fuck that. Run a 350 capacity venue as a 20 year old? Fuck no. It was a learning experience, learning about wine and beer and hospitality. I'm seeing [hospitality] more as a career option now. I want to learn more about whisky, cocktails — whisky is a very interesting world.
All sorts of people come in here. I guess that's what's nice about it. I've never really been a social person, but working in this industry has really opened my mind up to being friendly, and being less like a robo. There's some people, a guy who's a tattoo artist and we've become really good friends, you meet people like that; people who have been in the industry for a long time; and people who don't really give a fuck, they just want a beer. It varies a lot.
I'd never danced on a bar top before I started working in hospitality. It was at Frankie's actually — if you're going to go somewhere to do that, do it at Frankie's. No-one cares. It's definitely helped a lot. I've had people push me, being more confident in myself and learning things and being more open, and less stubborn. Also, to not take things too seriously, I tend to work a little too hard. Whereas, maybe I just need to fucking chill for two seconds.
It's intimidating to be around people like Charlie [Lehmann] and [Daniel] Noble, and Cosmo, they've been doing this obviously much longer than I have but they're very extroverted. When they're there, it's in some ways a performance, and they'll always be on until they finish their shift. It can be intimidating to be around those personalities. Standing next to Noble, and he's this massive, lanky, like this octopus slinging out drinks and multitasking like hell and I'm just here, the complete opposite.
I don't really have a philosophy about bartending. Do I draw inspiration from anywhere? My partner works in hospitality and he very much has a motto and everything, is very focused; I'm sort of like, I take it day by day I guess. I absorb things around me to create this energy for customers. Maybe that's the philosophy.