Each year at the Bartender Magazine Australian Bar Awards, one individual is recognised with the award for Outstanding Contribution. This award pays tribute to someone who has made a marked difference to the bar industry through their passion and dedication, and who has had an outsized, positive effect on the industry.
Australian Bartender is pleased to announced that the 2018 recipient of the Outstanding Contribution award will be Jason Crawley.
"I have known Jason since the very beginning of Bartender magazine days," says Bar Awards and Australian Bartender founder, David Spanton. "He even worked the bar at the inaugural 1999 Bar Awards at one of Sydney's leading bars of the 90's, the Grand Pacific Blue Room. Over the last 20 years Jason has been one of the most influential and popular personalities on the Australian bar scene. Not many people can outsmart Jason when it comes to drinks and cocktails and his likable personality and wit has made him one of the most successful and well-known personalities in the industry as a bartender, ambassador and entrepreneur.
"Thanks for your contribution and congratulations on your award," he says.
ADVERTISEMENT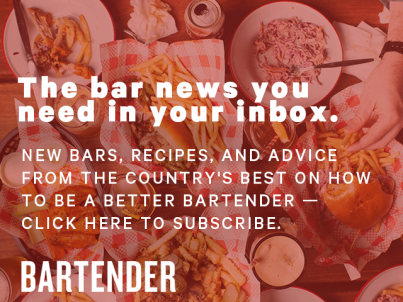 &nbsp
Crawley has had a long and successful career in the bar industry the influence of which is felt not just here in Australia, but across the globe.
Crawley's career began in earnest in England in 1989 when he was recruited into The Theme Team Restaurants UK, working in Sheffield, Manchester, and Birmingham under the late Tim Bacon (who would go on to operate the Living Ventures group over there). This is where Crawley got his first taste of flair bartending. In 1991 he moved to Manchester's first independent cocktail-lifestyle bar, J.W. Johnson's, which was "teeming with rich and famous football Manchester Utd players – which was a big deal for me at the time," Crawley says. "It had a live jazz speakeasy underneath it too, so it was an incredible time."
This led Crawley to a stint in the high-demand environment of The China Jump in Hong Kong and Singapore, which Crawley describes as The Dead Rabbit of its day.
"Everyone tried to work there – having this on your CV was literally global gold dust," he says. "It had an exact 100 cocktails on the menu – the highest standards of service, cleanliness. The owner would check out your stations at 4-5am with white cotton gloves looking for stickiness! If he found any, you had to run certain laps of the car park depending on your stations cleanliness! If you turned up with a pen short of the 3, the same applied. Free pour tests had to be taken every shift (no jiggers) and if you failed you were sent home."
In 1994 he became the head bartender at Planet Hollywood — where he would meet a young Mike Enright — and travelled to the USA to work, set up a bartending school in Italy, and also did a stint working for the Danish royal family. Subsequent gigs over the years brought him into contact with Wayne Collins at Navajo Joe's, where Collins taught him "how to make 'proper' drinks," he says.
In 1999 he worked with the late Henry Besant and with the now Chivas global brand ambassador, Max Warner, and mixed up drinks for the likes of Robert De Niro, Brad Pitt and Al Pacino. In 2000 he spent a year in Thailand, and landed in 2001 on our fair shores working at both Grand Pacific Blue Room and Hemmesphere.
In 2007 Crawley's experience was brought into the Maxim fold, where he would develop the award-winning Mixxit training program. In 2008 Crawley launched the Simple Syrup Company and led to his eponymous Bartender Syrups range.
In 2013 Crawley and long-time collaborator and partner in crime, Dylan Howarth, launched The Drink Cabinet, which provides a range of drinks, bar, and event consultancy services. His Imperial Shaker — pictured with Crawley above — was one of the top three best new products at the 2014 Spirited Awards at Tales of the Cocktail, and of which one now resides in the Museum of the American Cocktail.
Crawley is also the creative mind behind Tanqueray's limited global releases, the newest of which, Lovage, was released earlier this year.
Crawley will receive the Outstanding Contribution award at the 18th annual Bartender Magazine Australian Bar Awards, to be held in Sydney on Tuesday 18 September — we hope you can join us in raising a glass to what is already a successful career.
Who knows? We might even see Crawley pull out a cherry trick or two.