By David & Amy Spanton
It had been many years since my last visit to our southern most capital city and to be honest I didn't know what to expect as I generally get zero information across my desk about Tassie bars. It's a city that in 11 years I don't believe has ever had a Bar Awards finalist and frankly I can't remember the last time I even spoke to Tasmanian bar person?
What was going on down there? Is anyone doing great things or is it just a quiet country town by the sea pushing cappuccinos and Cascade? Amy and I decided it was time to head down and have a few kids-free days to see for ourselves what is or isn't happening in Hobart and get this question answered!
One of the first things we noticed about Hobart was the lack of 7/11s and chain stores which are so ubiquitous in every other Aussie city we've been to. With its pristine parks, lovely soft English grass and ornate old buildings, Hobart has a lot of charm and of course, it's very own tourist traps. Everyone will tell you to eat at Mures down at the wharves and there are plenty of these generic offerings for a standard touristy fish 'n' chips and a glass of wine. But look a bit harder and like us, you will find a handful of little gems.
ADVERTISEMENT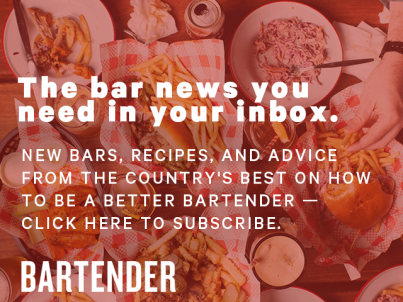 &nbsp
Anyway, here's a quick rundown of our Hobart hits and misses.
THE HITS

Smolt

2 Salamanca Place, Battery Point
03 6224 2554

This is a rare gem in Salamanca Square, a dangerous tourist trap for anyone looking for a decent food and beverage offering. What caught our eye about this place was for one, the layout, but also, upon entering, there is a sign that gives a quick rundown of the joint's philosophy. And this place is all about quality Tassie produce done well. And done well it is. We actually ended up dining here twice (and tried to go for a third but it was a bit early!!) in just a couple of days. First up, lunch and to kick things off, a local Tassie Chardonnay called Three Wishes. What a brilliant start. A funky Chardonnay with robust savoury notes and a really smooth finish.

We started off with a couple of glasses and ended up losing count. On the food front we opted for the local salmon ceviche (you will see Tassal salmon everywhere), fettucine with prosciutto, peas and mint and a ripper of a salad with iceberg, rocket, parmesan and a creamy dressing. All superb food; simply done and simply mouthwatering. Fresh herbs, house-made pasta and bread and just wonderful, moreish flavours. For dinner it was the salad (again), and we shared the pasta with meatballs and the risotto with seared scallops. Heaven.  Kiff, the owner of this place, also suggested we head to Bruny Island to get our oyster and cheese fix. Read on to hear more.

The Victoria Tavern

30 Murray Street, Hobart
03 6224 6663

Touting the city's best beer selection, this was a place we had to visit. And wouldn't you know it, we sit down for a couple of the state's finest brews only to spot a moustachioed gent flipping through the pages of Bartender magazine. So we knew we had landed in pretty safe hands. Now let's be clear, this is no fancy cocktail bar but more of a dive bar stocking a banging selection of beers from Sierra Nevada to Old Fart and offering a bit of live music for the uni crowd. Great spot.

Jackman & McRoss

57-59 Hampden Road, Battery Point
03 6223 3186

Lonely Planet gives this the honour of being Tassie's best café and it's definitely a cosy little joint specialising in pastries and baked goods. At the end of the day it looks the part but their coffee and food selection could be much better as there is no fresh food prepared to order and the coffee is not top notch. However, a little bit of warm Hobart hospitality bridges the gap a little.

MONA

655 Main Road, Hobart

The Museum of Old and New Art opened as MONA about a year ago by local art collector David Walsh. Prior to the revamp, Walsh had an art museum for antiquities but apparently no one was interested in his old stuff and so he poured a ton of cash into building this breathtaking new art gallery to house his own personal collection of art (which is the largest modern art collection in the southern hemisphere). A proud Tasmanian, apparently Walsh recalls spending a lot of time at the Tasmanian Museum as a kid, which he went to frequently because it was free. So one of his promises for MONA was to make it free for Tasmanians and people under 18.

As for the art, there is a lot of shock value with the modern stuff including hundreds of plaster casts of the old 'map of tassie' and some other pretty gory pieces. But MONA is more than just a gallery and Walsh is apparently more than just an art collector. The MONA site is simply massive and is home to the MOO Brewery (which produces the fine range of Moo Brews), the Moorilla Estate Winery, Boutique accommodation, an outdoor theatre, a wine bar and The Source Restaurant (which sadly features in our 'Misses' section). But the location can't be faulted; set right on the water on a massive estate filled with grapevines, ponds and amazing modern architecture it truly is an asset to this state.

Bruny Island

Thanks to the owner of Smolt, we made a day trip to Bruny Island and enjoyed some of the culinary treasures on offer. There is also loads of accommodation on Bruny Island and you could make a holiday of it; it may seem small but the island is actually 100km from end to end. It's only an hour drive from Hobart then a short ferry ride with your car across to Bruny Island.

Bruny Island Cheese Co.

1807 Bruny Island Main Road, Bruny Island

Bruny Island is also renowned for this little cheesery which is pretty much next door to the oyster farm. With a variety of cheeses on offer, from hard bitey Tom to oozy, funky O.D.O., these cheeses are made with love and passion, the staff even refer to them as 'babies' and 'toddlers'. Once they are made and stored, all the cheeses are tended to every day, whether it be turning or rubbing, until they reach maturity. Tastings are free and a knowledgeable cheesemaker will run you through the different styles and point them out in the cheese fridge.

BISH

360 Lenon Road, North Bruny Island

The Bruny Island Smokehouse is the closest stop to the ferry terminal at Bruny Island so it captures most of the coming and going trade. The place specialises in smoking the farmed salmon and trout from the nearby Tassal fish farms and the view from the balcony is spectacular, if you can stand the freezing winds. They also do a range of chutneys and pates that really are delicious.

Try the spicy sardine pate and the teriyaki smoked salmon pate that is made using the belly fat of the fish. In true Tassie style, BISH is all about serving local Tasmanian goods and there is a range of Bruny Island wines and Tassie beers on offer.

Get Shucked

1650 Bruny Island Main Road, Bruny Island

Being complete oyster devotees we were told that Get Shucked was the best place to get the freshest oysters in Tassie. This is literally the oyster farm; with guys pouring out and boxing trays of oysters for shipping to the mainland. The business was apparently started by a young guy from Melbourne and the bulk of his trade is now supplying Melbourne's top restaurants with the best oysters money can buy.

Now, eating at the oyster farm is a matter of ordering from a small caravan and sitting on a couple of crates overlooking the wild waters and pristine beaches. Rudimentary to say the very least. But the oysters were absolutely superb and shucked to order right in front of us. Shucking awesome!!
The Misses

The Wrest Point Casino

410 Sandy Bay Road, Hobart

In search of a cocktail bar to whet our whistle we headed to Onyx Bar –  it gets a mention when you do the old Google search of Tasie cocktail bars. We jumped in the taxi and were both a little surprised when we arrived at the Casino. Now, this place's claim to fame is that it is the oldest Casino in the country. And yes, 'old' would be a fitting description.

But not in a 'what a beautiful old building' way, more of a disastrous old, smelly buffet RSL kind of a way. Needless to say, the posters touting headline acts Tim Freedman and David Campbell didn't really do a lot to sell this place to us. We did however pursue the promise of a cocktail bar and while the offering was stuck in the 70s along with the rest of the joint, it was right on the water with a cracking view.

The Source @ MONA

655 Main Road, Hobart

So, let's be up front. This style of food really isn't what we like. Fine dining with hushed tones, white table cloths and a stuffy atmosphere is never really our choice but we had heard this was THE restaurant and thought we really should check it out. Our waiter informed us that a new chef and a new menu had started about a year ago. From the minute we saw the menu and read 'a mix of raw and steamed vegetable with a peanut foam' we knew we were in trouble. The rest of the menu was barely decipherable (a pet peeve of Amy's) with strange descriptions such as a 'beef presse' and 'foie grois squares' and too many foams and jellies to list.

Putting aside the fact that we really love accessible food, we endeavoured to give the uppity modern stuff a go with an open mind. But sadly it was just not good. The Moreton Bay bugs were nearly raw and gooey and the eye fillet was pressed and stuffed and cooked till there was no flavour left. A plate of anaemic fish with even more anaemic vegetables was adorned with what the waitress described as a gelatinous jelly…. Mmmm? A real highlight was the scampi consommé with ravioli, which was garnished with what looked like a blade of grass. On the plus side, our waiter was nice, the beers were great and the view (like everywhere in Tassie) was simply stunning. But it was probably in our top three worst dinners of all time!

At the end of the day Hobart has some gems but isn't the place to visit if you're looking for a great selection of quality drinking and dining establishments. The people are fantastic and it's a beautiful city it just needs more good operators to come and lift the hospitality scene as right now it's very dull and touristy. In saying that we can't wait to come back to Tasmania but next time we will also visit the many local produce farms, distilleries and wineries that Hobart and Tasmania has and is renowned for as this is something we didn't have time to do on this quick trip.

Cocktail Bars

We were only in town for a couple of days but we really struggled to find any decent cocktail bars. The city's drinking and dining scene is focused around their harbor and like many cities such waterline establishments are very touristy and well worth avoiding if possible. Walking the back streets of Hobart's CBD we found very few places open at night with all the action back down on the waterfront pushing Cosmo's and mojitos.

Pubs

To be honest we struggled to find even one old fashioned pub with much charm around the city as they all seem to be very touristy themed or attracting the local uni crowds pushing cheap vodka Red Bulls and live bands. For a city with such a strong relationship with sailors and the high seas you would think that a few old pubs like that of The Rocks in Sydney would be dotted around the city but unfortunately non were found that fitted the bill even though there is no shortage of beautiful old sandstone buildings.