This classic appeared in the September issue of Australian Bartender.
By Edward Washington
Cocktail image by Steve Brown
This long lost pre-prohibition cocktail is something of a doozy. It's a simple mix, and delightfully so, but how it jazzes up the classic Manhattan is something akin to a quick-step military march. Published in the Old Waldorf Bar Days (1931) this cocktail is attributed to Francesco Fanciulli, leader of the United States Marine Corps Band (1892-1897).
ADVERTISEMENT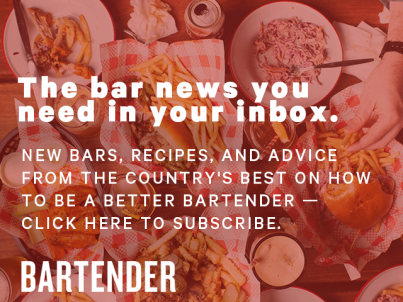 &nbsp
A talented musician (his personal instrument was the cornet) Fanciulli took up the tenure of bandleader following the resignation of John Sousa – a highly talented and ridiculously successful leader. Unfortunately, his predecessor was so damn popular and well-respected that Fanciulli forever walked – or rather step-marched to the beat of a snare drum – under his shadow, never really achieving a great name in his own right.
A characteristic of the pre-20th century bandleader was their ability to write militaristic tunes and Sousa wrote a number, including Semper Fidelis March – still the official march of the Corps. Retrospectively, the 'highly descriptive' music scores that Fanciulli composed have been since recognised as being well ahead of their times. However, such was the shadow that he marched under that when he was once instructed by a superior officer to play El Capitan (composed by Sousa) and he refused, he was placed under arrest and sentenced to house detention. His military career never recovered and post-Marine life, Fanciulli lead the 71st Regiment band of the New York National Guard and then his own big band, Fanciulli's Concert Band, which eventually disbanded in 1905 due to ongoing financial strain.
Fanciulli passed off this mortal coil in July 1915, a year when his beloved Marines were landing in Haiti to settle the US government's nerves about a raft of social insurrections. Long under the shadow Sousa in life, we've got the opportunity to remember Fanciulli in the present. Just swap out the bitters in your next Manhattan for a good slug of Fernet Branca and drink with military precision.
Fanciulli Cocktail

45ml Elijah Craig KSBW 47% abv
10ml Fernet Branca
10ml sweet vermouth

Add all ingredients to a mixing glass filled with chunks of hand cut ice. Stir to a lively rhythm and strain into a chilled coup with the clarity of a snare drummer's drum tap.

Adapted from the Old Waldorf Bar Days 1931