This Drinks With appeared in the October issue of Australian Bartender.
The Maestro talks Cognac, his first bar gig at 11 and his creation of a modern classic
Interview by Edward Washington
A true gentleman and a fine bartender, Salvatore Calabrese is considered to be the industry 'Maestro'. From humble beginnings in Italy, he has shown that bartending can truly be crafted into a profession if you are humble and passionate. So sit back and enjoy, while Bartender magazine extracts a few pearls of wisdom from this industry legend.
ADVERTISEMENT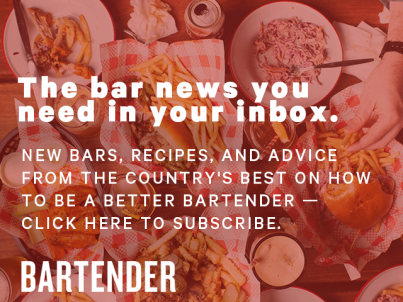 &nbsp
How did you first get into the bar business?
My first job was at age 11 in the bar of a hotel in my home town of Maiori, on the Amalfi Coast in Italy. It was not uncommon in 1966 for youngsters to work in this way during the long summer holidays. For me it left a lasting impression that inspired me to emulate my mentor Signor Raffaello the bartender there at that time.
What attracts you to the industry?
The theatre of the bar, the interaction with the client and the creative element in the art of cocktail making
How have you evolved as a business operator over the years?
By gradually building on my experiences first in Italy and then when I moved to London at the beginning of the eighties. I established my reputation and began to understand the value of  marketing  at The Dukes Hotel, where I had the idea of selling Liquid History to offer something unique and exclusive to my clientele. Also it was there that I encountered Mr Stanton Delaplane, a journalist from San Francisco, who was responsible for spreading my reputation for making the best Martini Cocktail in the world. The bar at the Dukes is still known for its Martini Cocktail of which I am very proud. From there I moved to The Lanesborough Hotel which gave me a grander theatre and the Maestro was born!!!! From there I was able to open my own bar 'Salvatore at Fifty' and design the bar to my own specifications and create my own unique design for the sink, The Calabrese Sink. This bar one many accolades and awards.
What's the best and worst thing about being a bar owner/ operator?
The best thing is that you can operate in the way that you choose and the pride of ownership. The worst thing is the worry!
How important are staff in operating a successful business?
Extremely… you are no one without a good team and trustworthy managers. Everybody calls me the Maestro, a maestro cannot perform without an orchestra!
What's your proudest achievement in the bar industry thus far?
The many honours I have received over the years not only for myself but for my team when they are recognised as well. I have been proud to have two of my guys voted Best Bartenders in the UK, one of whom, Steve McDermot now the Bar Manager at the Bowery in Queensland which has been nominated for 4 Australian Bar awards and 3 of his bartenders are up for awards also.
What excites you about the international bar scene?
The interaction between bartenders around the world and the growth and recognition of our industry that is going from strength to strength
Tell me a little about you current venue, The Playboy Club.
Retro Chic, best describes my home at Playboy, a celebration of the traditions and elegance of the cocktail world. A Unique selection of spirits, the finest in the world, a unique cocktail list which only has my own creations but also an offering of vintage classics to be reproduced with the original spirits from the era in which the originals were created. For example, a White Lady made with gin and Cointreau from the 1930's to an Old Fashioned made with a 1913 Rye Whisky and Angostura bitters from 1915 and not least The Sazerac made with an original Sazerac Cognac from 1805
Do you have any exciting plans for the future?
Mixology101 in LA is my latest project and my first foray into the American market and to develop my own products ….my own beautiful bar ware is already available from Urban Bar Creative www.urbanbar.com and watch out for my Lemon Liqueur which, needless to say, will be the best in the world and I am working on my own Bitter.
What is it about the history of cocktails that you love so much? I find it fascinating that so much was created from so few ingredients.
Who's your favourite cocktailian from history; Jerry Thomas, Harry Craddock, Ada Coleman – or someone else?
I think they were all great and important in their own right.
You're a globe trotting cocktail judge; what trends are popular at the moment?
I am just back from the Diageo World Class final which was an eye opener, the classics are back and young guys are making a lot of their own ingredients experimenting with bitters and infusions.
How do you continually develop your creativity for venues and drinks?
By keeping involved with the bartending scene and keeping an open mind.
How did your icon drink, The Breakfast Martini, come about?
During the 90's when speciality Martini's were in vogue I was forced by my wife to take breakfast one day instead of my usual espresso and the flavour of her favourite marmalade inspired me.
You have an obvious love for Cognac, what makes it so special?
The finesse and traditions that go into making a fine cognac, it was born as a noble spirit.
If you could only serve one drink as an example of a cocktail what would it be?
Negroni.
Are there any local or international bar operators that you admire?
There are too many to choose from and they are all friends and I would not want to upset anyone.
What advice would you give a bartender who wants to open their own bar?
To look after the pennies.
What are your Top 5 tips for a professional bartender in today's industry?
Use the 5 essentials of bartending, eyes, nose, ears, mouth and hand.
The eyes to observe all around you, no one wants to be invisible, eye contact is essential.
The nose to appreciate great aroma not only of a cocktail but also to recognise any unpleasant smells in the environment.
The ear, be aware of all around you, not just the conversation with the customer in front of you.
The mouth, there is nothing more welcoming than a smile.
The hand, a warm hand shake is your personal touch welcoming a guest to your bar.
The Salvatore CV:

At 11, started working in a bar in Maiori, a small village on the Amalfi Coast Italy
Moved to London and worked at Duke's Hotel and the Lanesborough Hotel
He recently worked at Salvatore at FIFTY in London's St James.
He can now be found at Salvatore's at 14 Old Park Lane, London
He has published many books including: Cocktails by Flavour
He has won too many awards to list