Layered sippers might well be seeing a comeback
By Simon McGoram
Photography by Rob Palmer
Q.F.s, B52s and Slippery Nipples were some of the first drinks I learnt behind the bar whilst pouring pints at a beer barn in south-eastern England. What I wasn't aware of at the time was that I was making a Parisian café drink popular in mid-19th century America.
ADVERTISEMENT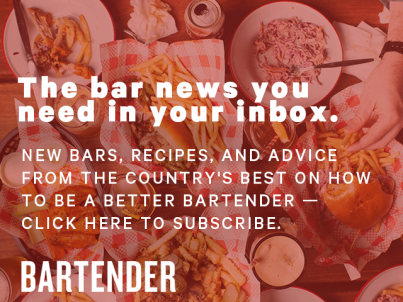 &nbsp
Making use of various liquors' and cordials' differing specific gravities (ratio of density to other liquids) to create layered shots isn't a 1980s or 90s fad. This form of beverage has roots in a drink known as the Pousse Café (or 'coffee pusher') that was popular in American cafes and bars during the 19th century – or at least the ones that Jerry Thomas frequented.
In Thomas' How to Mix Drinks or the Bon Vivant's Companion, printed in 1862, he lists four Pousse Café recipes – the first four mixes in his 'Fancy Drinks' section. These Pousse Cafés contain a sensible three layers, but perhaps this only because bartenders at this time did not have access to the variety of liqueurs we have today. It would certainly be unlike Thomas to steer away from a challenge like a seven layered drink.
Whatever the case there are now dozens of Pousse Café recipes available if you care to look for them. The Pousse Café did go out of fashion in the early half of the 20th century but come the 70s there's plenty to be found with increasingly vulgar names. It's a delightfully uncool beverage that's sure to annoy the barkeep you order it off so it pays to have a few recipes up your sleeve to stitch up a neighboring bar on your break.
As a rule of thumb liqueurs and liquors with low alcoholic content and high sugar are the densest with high proof spirits being the lightest. You can make things easier still by making your own mix thickened slightly with a little xanthan gum. Katherine Wasiel, from Brisbane's The Bowery, stunned judges at The Bartender of the Year Competition in September by creating a xanthan gum thickened Pousse Café that combined crème de cacao and Averna with tequila, agave and yellow Chartreuse topped with tequila, raspberry and lime in a three layer Pousse Café.
Here's a recipe to get you started:
La Zaragozana
10ml crème de cacao (dark)
10ml apricot brandy
10ml Benedictine
10ml Cointreau
10ml Chartreuse (green)
10ml Remy Martin VSOP Cognac
Layer in this order in a Pousse Café glass.
Recipe adapted from the cocktailDB.comCointreau: Sweet Facts
Cointreau: Sweet Facts

The Cointreau Distillery was founded in 1849 in Angers, France by Adolphe Cointreau, a confectioner, and his brother Edouard-Jean Cointreau.

The brothers didn't sell their first bottle of Cointreau until 1875, but rather had their initial success through selling guignolet – a cherry liqueur.

Cointreau was made by blending pure alcohol made from sugar beets with sweet and bitter orange peels sourced from around the globe.

The peels used in producing Cointreau are first dried then macerated in spirit, before being distilled to extract the essential oils that give Cointreau its aromatic vigour.