Mr Moustache
69-71 Hall Street, Bondi Beach
mr-moustache.com.au
We seem to be writing about mezcal every other day at the moment, such is the surge of interest in this evocative and primal agave-based spirit of Mexico. We recently brought you the news that mezcal looks set to be the hit of the summer with the opening of Mr Moustache on Hall Street in Bondi, and at the weekend they opened their doors to the public. Australian Bartender popped by to take a look at what owners Regina Bueno Ros and Bildo Saravia have put together.
It is only a small space, but they've made the most of their 50-seat venue. You can grab a seat at the bar, or for more substantial eating and drinking with friends you can grab a seat at banquettes lined against one wall (and it's here you might witness the owners and customers linking hands and letting loose what we can only assume is a small electrical charge).
ADVERTISEMENT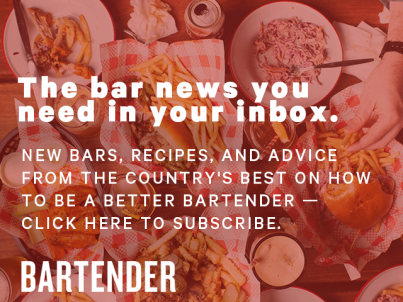 &nbsp
Beers run from refreshing Mexican cervezas like Pacifico, to richer Aussie brews like the Feral Brewing Smoked Porter. Brett Harris (ex-El Topo, ex-Cafe Pacifico) is satiating his thirst for all things agave and running the bar side of things. Between Harris and Mike Tomaši? (ex-The Wild Rover and recent winner of the Angostura Global Cocktail Challenge) you'll sorted for top drinks: look to the concise and appealing cocktail menu for agave-altered riffs on classics, like the Agave Penicillin, a take on Sam Ross' modern classic with mezcal switched in for whisky, or to the back bar for what must be one of the bigger mezcal collections in the country.
The food here is some fine drinking food, too (we hear they're banging out a great huevos rancheros for breakfast as well). You'll hear a frenzied chatter of Spanish from the floorstaff (and the owners) as they whip around the small room dishing out plates of flavour-packed tacos and tostadas. The service is friendly and warm and they look like they're having a good time.
And with the cochinita taco, some smoky mezcal or a Pacifco lager in hand, you'll be having a good time too.