Brooklyn Brewery
79 North 11th St, Williamsburg
This brewery is familiar to most craft beer lovers in Australia these days, and if you're going drinking in New York you'll likely see their tap decals at the bar or their bottles with its distinctive green logo (designed by Milton Glaser, the guy behind the I Love NY logo) in their fridges. Tours of the brewery run every hour depending on the day you're there, but you'll want to go earlier on the weekends — the brewery is a popular destination for beer nerds and booze lovers alike.
ADVERTISEMENT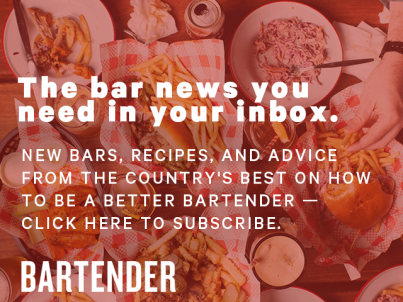 &nbsp
d.b.a.
113 N 7th St  Williamsburg
The Brooklyn outpost of this New Orleans bar has plenty going for it all of its own. They've got craft brews from far and wide (it was great to see Wisconsin's New Glarus Brewing Spotted Cow on tap — another hangover assuaging potion) and a number of real cask ales. And out the back from a makeshift kitchen you can get some of the best tasting gumbo this far into Yankee territory.
Rosemary's Tavern
188 Bedford Ave., Greenpoint
This place has been around for 50 years or more, and is proof that if you stick around long enough the trends will come round to suit you. Rosemary's Greenpoint Tavern is famous for the big Styrofoam cups of cheap ($4) beer; there's flower baskets hanging from the ceiling, fairy lights, a TV screen and anything else you need to mark out a bar as a hipster-magnet. It's a beer or beer, beards optional, Brooklyn day-tripper destination dive bar. Just don't make the mistake of ordering a jumbo sized margarita like the ones we saw being drunk at the bar — the grizzly bear behind the bar informs us they don't make them and that only the owner gets away with getting behind the bar to make his own.
The Whiskey Brooklyn
44 Berry St  Williamsburg
This subterranean beer and whiskey barn is a welcome respite from the hangover you likely collected the previous night (well it was for us). It's dark — air conditioned too — and they've got arcade games and Guinness on tap.
It's just a few doors down the road from the Brooklyn Brewery, so while you're waiting for the brewmeisters to open this is as good as place as any to cool your heels and drink whiskey.
Clover Club
210 Smith St., Cobble Hill
The Clover Club is the brainchild of Julie Reiner, one of New York's leading bartenders and owner of the Flatiron Lounge in NYC (and one of the bars responsible for bringing classic drinks back into vogue).
Reiner's work at Clover Club — and that of her team — resulted in numerous nominations at this year's Tales of the Cocktail Spirited Awards, and they took out the title of Best American Cocktail Bar and Best High Volume Cocktail Bar (Reiner took out the trophy for Best Bar Mentor).
The beverage program is focused on classics, the service top notch (though you want to grab a seat at the bar if you can) and the drinks bang on.
Frankie's 457 Spuntino
457 Court Street, Carroll Gardens
Restaurant bar service It's kind of a New York specialty. While you sit at the bar, just having a drink while others get seated at their tables for dinner, the bartender is pumping out dispense orders as well as taking your food and drink order. He's making coffee, taking the cheques. At Frankie's we liked the Sardegna Sour (bourbon, mirto, lemon juice and bitters).
Red Hook Lobster Pound
284 Van Brunt St, Red Hook
$8 for the tastiest damn lobster roll you're likely to have. The lobster is fresh as can be, flavoursome, and it comes on a simple white roll with a tasty dressing. They do them a couple of ways, from Maine style (which sees the lobster served cold) and New England style (when its served hot). You might as well splash out and try it both ways.