Jimmy Irvine of Sydney bar, Hinky Dinks, has been crowned the winner of the first annual Australian Monin Cup.
This is Irvine's first competition win, he said, having had good results in previous comps and often reaching the final round.
Irvine managed to hold off both the experienced Perryn Collier from Lychee Lounge in Brisbane and Eau de Vie Melbourne's Kari Chambers during the final top three round at Sydney University's Brydon Stadium last night.
The trio had to each make a signature drink using Monin products, before heading into the final mystery box round. There were row upon row of fresh produce, condiments, a large selection of Monin syrups as well as a range of spirits and liqueurs for the competitors to draw upon. The mystery box, however, contained three ingredients unknown to the finalists until the challenge began: custard apple, Bittermens Hellfire Habanero Shrub Bitters, and dragonfruit.
ADVERTISEMENT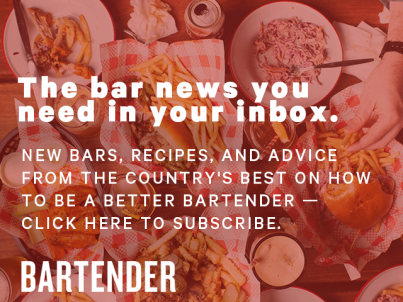 &nbsp
They received points for each of the mystery box ingredients they used, but it was Irvine's combination of rum, Amarula, Monin banana puree, passionfruit, Perrier and each of the mystery box ingredients that took out the round. It was balanced, moreish, and described by Reece Griffiths (one of the evenings four judges) as a "bangin' drink."
The evening final capped off a day of bartending tests for 12 semi-finalists from around the country, who were subjected to interviews, blind tastings and classic cocktail challenges.
Irvine will now head to Kuala Lumpur to compete against other countries' representatives in the Asia Pacific final; if he can replicate his winning ways in Malaysia he may well find himself on his way to compete in the global final in France.
Check out some more pics — and one of Irvine's winning drinks — below.