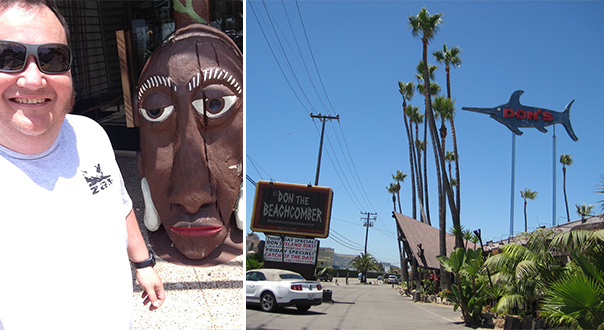 Alex McDowell, left; on the right, the world famous Don the Beachcomber's
Alex McDowell has been in the booze game a long time. Here he recounts his pilgrimage to the US in search of tiki drinks and hot rods.
With time on my hands, I headed to the States for a week to tick off a few bucket list items. Before I delve into my trip, maybe a quick look back to help answer why me of all people should be visiting these bars, keeping in mind there are more in depth history keepers that will provide a better account on tiki culture.
The common theory is that after the second world war, American servicemen returning from the South Pacific started spreading the word of how wonderful the islands were with their hula girls, swaying palms, the laid-back atmosphere, orange sunsets and, of course, strong tropical fruit drinks laced with rum.
It was , however, in the mid-1930s that tiki bars got going, just after Prohibition (Donn the Beachcomber got started in 1934). When the US servicemen returned after 1945, with their South Pacific dreams, many of them also started pulling apart their cars, adding in influences from their service days. Yes this was also the start of hot rod culture — a culture that I enjoy.
ADVERTISEMENT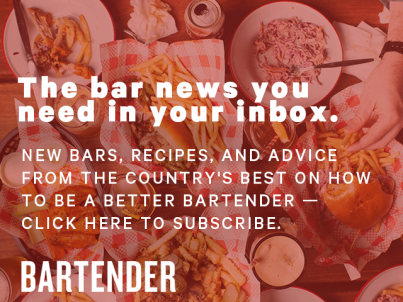 &nbsp
I've been into hot rods since my high school days and have enjoyed seeing the tiki bars we have here (Hula  Bula, Luwow, Captains, Hello Sailor to name a few) popping up and my hobby crossing over into work. Sure I love my tequila, but I have a courtship with rum that goes way back, having looked after some fine expressions in my career. I do, by the way, have a growing collection of tiki mugs and Hawaiian shirts, too.
So armed with my bucket list, I set off in late July as my stars aligned to make a visit Stateside. I landed in LA on a picture perfect day (one without the usual smog), hopped into a nice V8 Mustang and took on the streets of LA. I headed straight for world famous Mooneyes (a hot rod parts company) then pointed the Muzzie towards Huntington Beach.
As you go through Long Beach you get a hint of what's to come, the surf shops start to appear, then off in the distance you see the palms and the iconic marlin on the side of the road opposite the water tower; yes, I had arrived at Don The Beachcombers.
Ernest Beaumont Gannt threw open the doors in 1934 and the bottles of rum have been flowing ever since. Sadly I was early for the normal happy hour, but it allowed me to take it all in. Donn was in battle with that other iconic tiki-man, Trader Vic, for the bragging rights to the best Mai Tai ever since the 1940s. Created by Trader Vic, who made it for his mate Carrie Wright (whom after first tasting it exclaimed "Mai Tai roa ae!" – Tahitian for "Out of this world"). There is a main restaurant and club as well as the Daggar Bar.  Don's is influenced by Polynesia, and took advantage of being around before the boom and fast became the place to visit. Indeed his concoction, the Zombie, went mainstream in the movie titles Whit Zombie and I Walked in with a Zombie, which both helped to promote the scene. The parking lot suggested that Don's still gets crazy, and from all reports it does. I settled into a Mai Tai, and was using this as my standard to test with. I was on a mission to fit in a few more visits before I took in a baseball game, so my stay was way too short, but well worth it.
The next day I got up early to head to San Diego, I was heading to catch up with a mate who serves as a Dive Medic in the Australian Navy and who was based there for a little while. It gave me a good excuse to head into Bali Hai.
A drink at Bali Hai
Bali Hai is on an an outcrop of the harbour called Shelter Island. The island is a buffer to the greater San Diego harbour, and enjoys a spectacular view over looking the main airbase where the aircraft carrier jets are housed.  Spread throughout the gardens are stone and wood carvings and instantly you are swept off to the tropical oasis that is Bali Hai. I took at seat at the bar, positioned to enjoy the commanding view of rums and the harbour.  I ordered the Mai Tai and Steve's eyes lit up as he asked, "so you've heard of our version right? And you have to drive?" I let him know my plans and he agreed I could sneak in one. I of course ordered it in a mug, and let me tell you, get yourself there to try it! If you close your eyes you can almost taste the juice… I also ordered a serve of their shrimp tacos; being this close to the border and not sneaking over, it was rude not to, right?
I visited the navy bases around San Diego and have a full appreciation for what they do, and as a result a better understanding as to the tiki culture boom in southern California. San Diego is basically a navy town, so the spread of tiki bars around the bases all makes perfect sense. But after a great afternoon, I headed back to LA for an early evening, and to get ready for day three: Las Vegas, and another tiki bar.
Frankies (of Vegas, not Sydney)
When you go to Vegas, get off the strip and head north to Frankies. From the outside this place looks like a concrete block, but once inside the 24 hour licence allows an escape, no matter what the time is. As you enter it seems so dark, it takes a while to see.  I had been before, so I headed straight to the end of the bar and settled in for what was going to be just one Mai Tai.  The bartender, Alison, I had met before, and she greeted me with her usual welcoming smile. Having decided on one of the eight mugs on offer, I got her to sling me a Mai Tai knowing I had been to Don's and Bali Hai; she was keen to see how they measured up. I can assure you it did.  I spotted a copy of their new book, a collection of their drinks that their four bartenders — who have been there since day one — had made, and I started to glance through the pages. When Mike came in knew I was no longer there for just one.  I snuck out a solid 6 hours later having tried many of their newer drinks, and some they were working on.
What I love is the variety of rums each bar stocked. Not because of the number of them, but because of the rums they chose to stock. Bali Hai for example has a collection of maybe 30 rums. Not many, sure —but the brands are interesting. Some we get here in Australia, some we don't, but like our bars it comes down to the recipe they are chasing and the availability of expressions.  The big brands are there, but not the ones you might expect.
I enjoyed a few more days in Vegas seeing hot rod mates, then headed for San Francisco to (among other things) take Julio Bermejo to the baseball as an early birthday present. If you haven't, go see a game of baseball — the drinks on offer will surprise you, and it's the tail gating before the game that you will enjoy most. From small smokers with margaritas, to full on set ups with chairs, umbrellas, music and all manner of drinks, a big party is going on all within the confines of the carpark.
Of course I enjoyed extending my tequila base knowledge with Julio, and did a fleeting visit of San Francisco. We drove past Trader Sam's, Smugglers Cove and Forbidden Island, all tiki bars on my hit list for next time.  If you're lucky to get an invite to Dr Kern's dinners, do what I did and accept with honour.  Dr Kern has become personal friends with many of the leading tequila producers and his knowledge is amazing.  His personal collection of fine tequilas is the envy of many, not to mention bars that would enjoy having his collection.
There are many, many more tiki bars to take in, I'll keep ticking them off as I go.