I
t may surprise you, but the bastion of Gin & Tonic drinking probably isn't England. Rather, it's in the Mediterranean climate of Spain where the humble Gin & Tonic is taken to new and unexpected places.
Know in Spain as Gin Tonica, the essence of the drink is: one, take your choice of gin; two, choose from an array of tonic waters; three, garnish imaginatively — you're limited only by availability and your imagination.
But the Gin Tonica is not only found in Spain — the trend is spreading throughout the world.
There's one place in Perth, for instance, where you can get your Gin Tonica fix: Enrique's School For To Bullfighting. It's one of our favourite places to be in Perth on any given Sunday at 4pm, with the afternoon sun getting low as your spirits get high.
ADVERTISEMENT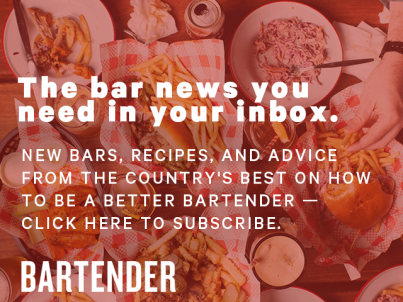 &nbsp
James Connolly drew on his experience in Spain to give Enrique's its Gin Tonica focus (Connolly has since moved on to take up a post at Long Chim in Perth — more here).
"The thing that amazed me about Gin Tonica in Spain and that still amazes new customers to Enrique's is the simplicity of it all: a glass to accentuate flavours, readily available garnishes, a touch of theatre," he said.
This is no micro-trend; rather, it's the widespread way that gin is served in Spain.
"It's not just a localised craze, it's an actual thing!" said Conolly. "To the point that if someone served you a gin and tonic in a rocks glass with a squeeze of lime you would just leave.
"All the bars I went to had their own house signature serve. Even going to a bottle shop, the array of tonic waters available was unreal. Add to that the fact that the Gin Tonica goes great with food and can be manipulated to suit flavours a wine can't means it's not just an aperitif or session drink."
We asked Connolly and Enrique's bar manager, Phil Weber, for their suggestions on how to drink some gins, Gin Tonica style.

Hendrick's Gin with East Imperial Burma Tonic, rose petals and strawberries
Phil says: The cucumber thing has been done a lot, this brings out the other curious botanical in Hendricks bulgarian rose, the strawberrybrings a touch of acid and obvious fruitiness.

Hendrick's Gin
Hendrick's can lay special claim to being an emblematic gin of recent times. Its addition of rose and cucumber set it apart from other gins, along with the eccentric branding and the classic serve of a slice of cucumber in their G&Ts.
William Grant & Sons

Star of Bombay with Fever Tree Tonic, grapefruit and coriander
James says: We just put this one on the menu, cracking gin, the bergamot lends its self really well to the grapefruit and coriander just adds one more tick to the aromatics and flavour profile.
Star of Bombay
Using a slow-distillation method, the 10 Bombay botanicals (plus by ambrette seed and bergamot orange peel) undergo greater extraction resulting in a fuller flavoured gin, bottled at 47.5%.
Bacardi Lion

G'Vine Nouaison with Fever Tree Tonic, red capsicum and kaffir lime leaf
James says: We used to have this on the menu, such a cracking drink and super approachable, sweetness from the capsicum, bitterness from tonic and aromatics from kaffir lime leaf… zing!
G'Vine Nouaison
This unique gin is made from a grape spirit base, hailing from the Cognac region of France. Vine flowers are among the botanicals that make up this bold spicy gin, giving it a floral note along with juniper, ginger root, coriander and more..
HMH Beverages
Brokers Gin with Fentiman's Tonic with orange and olives
Phil says: The sharpness of Fentimans tonic cuts through the sweetness of orange. Orange and brokers is a great combo, then we bring in the savoury olives, plus I really like olives!
Broker's Gin
You don't get much more London Dry than this brand. Launched in 1998, it adopted that icon of English banking, the bowler's hat, and is based on a recipe that dates back 200 years. So it's a traditional gin from the modern era, then.
island2island

Edgerton Original Pink Gin with East Imperial Burma tonic, ruby red grapefruit, thyme
James says: The Burma Tonic helps dial back the sweeter edges of this gin, and the ruby red grapefruit brings a nice burst of citrus. Thyme is great for those "herbal notes" and very underused in G&Ts. Did we mention this gin is pink?
Edgerton Original Pink Gin
This uniquely coloured gin is distilled in England and employs an array of 15 botanicals, including savory, West African grains of paradise, pomegranate and damiana — which, incidentally, is used in Mexico as an aphrodisiac.
Artisan Handcrafted

Blind Tiger Gin with Bottle Green Elderflower Tonic Water, birds eye chilli and coriander
James says: Pew! Pew! Savoury and aromatic, sweet and floral from the tonic… then you get the burn of chilli — I also really like chilli too!
Blind Tiger Gin
This London Dry style gin uses exotic organically sourced botanicals from around the world. Juniper is at the core, coriander root to enhance the citrus characters of the juniper whilst the angelica root gives a delightfully aromatic and heady note of musk. Summer savory completes the botanical mix and contributes a subtle mint like peppery character.
Vintage House Wine & Spirits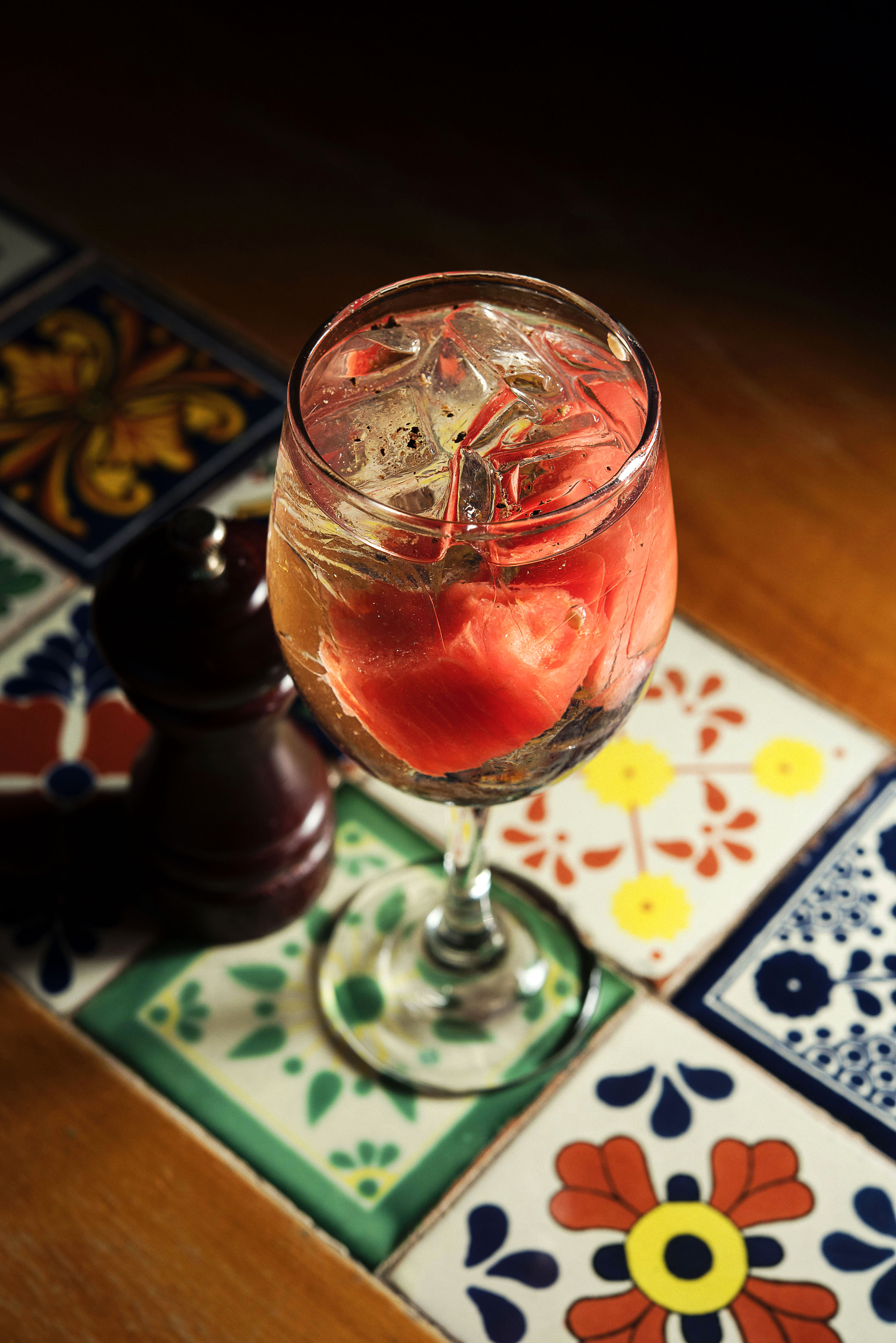 Ink Gin with Capi Tonic Water, watermelon and black pepper
James says: Capi is a great middle of the road tonic, well balanced without being overtly bitter; black pepper really brings forward the spicy notes in this gin, whilst watermelon works with the fruitier notes and as we know, everyone likes watermelon!
Ink Gin
Ink Gin is hand-made with organic botanicals collected from Australia and around the world. A post-distlillation infusion of butterfly pea flowers petals gives Ink its royal blue to deep purple colour which varies depending on the angle and intensity of the light.
Husk Distillers
The Botanist with Quina Fina Tonic Water, radish and lemon
James says: We tried the radish on the menu for a while; customers weren't too keen, but I love the earthiness and it works great with this gin, Quina Fina is really well balanced but this whole combo just needs a touch of acid so we bring lemon to the party.
The Botanist Gin
The Botanist Gin hails from Islay and uses 22 botanicals native to the island to augment 9 traditional botanicals like juniper and coriander seed. The end product? A distinctive and complex, floral gin.
SouthTrade

Whitley Neill Gin with Fever Tree Tonic, orange marmalade, orange bitters, orange zest
James says: We stole this from Jorge Balbotain (from Gin Mare), such a great drink from a great dude. Break down the marmalade and add five dashes of orange bitters, do the normal gin and tonic thing, finish with orange zest. Oranges for days! I'm not sure what a boabab fruit is but it works great with oranges.
Whitley Neill Gin
This award-winning gin is distilled in England's oldest working pot still, 'Constance', named after the ancestor of 8 generation distiller Johnny Neil. One of the most viscous gins on the market with two unique botanicals – Cape Gooseberries and fruit from the Baobab tree.
Bouchon Wines & Spirits