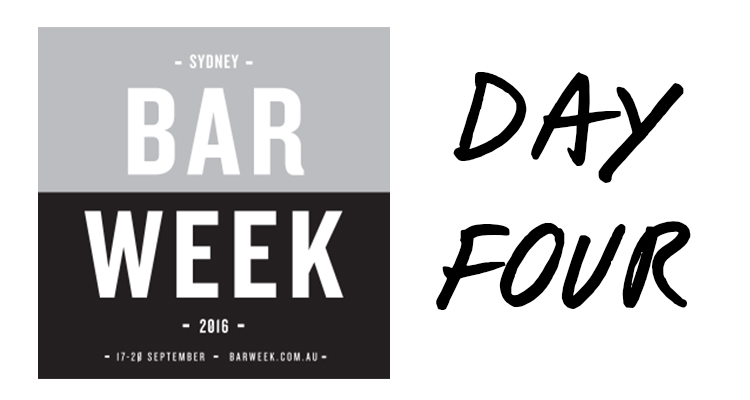 Welcome to the fourth and final day of Bar Week — there's a couple of great events on during the day, before the big crowning event of Bar Week: the booked out 16th annual Bartender Magazine Australian Bar Awards.
To book tickets and RSVP to events, click here to check out the full Sydney Bar Week timetable at barweek.com.au, and take a look below at what's on today.
Tuesday 20 September
Academy of Bartenders 2016 in association with Bartender Magazine — BOOKED OUT
12pm – 4pm, September 20, 2016
GRAIN Bar, George Street, Sydney
Academy of Bartenders is proud to present our first ever conference as part of Sydney Bar Week. In association with Australian Bartender Magazine, we'll be presenting some of the bar industry's best speakers from Australia along with some very special international guests. Click here to join the waiting list.
Tequila and Stories from South of the Border by Tomas Estes
2pm – 4pm, September 20, 2016
BIG POPPA'S, Oxford Street, Darlinghurst
Internationally renowned Tequila aficianado, Tomas Estes will introduce Ocho tequila's new 750ml packaging and talk about the latest and upcoming vintages. Accompanied by a cheese matching from Big Poppa's larder. Numbers strictly limited.
RSVP: Essential. Email andy@vanguardluxurybrands.com
Bartender of the Year Final Round, 7pm – 11pm
September 20, 2016
DOLTON HOUSE, Pyrmont
The final round of the Bartender of the Year Competition sponsored by Bacardi and De Kuyper will be held live on stage at the 16th Annual Bar Awards. Eight of Australia's finest bartenders will have to prep two signature drinks in front of 600 people. Fasten your seatbelts!
16th Annual Bartender Magazine Bar Awards — BOOKED OUT
5.30pm – 11.30pm, September 20, 2016
DOLTON HOUSE, Pyrmont
Known as the 'Oscars' of the bar industry, more than 600 of the industry's leading professionals gather at Sydney's Doltone House in Pyrmont for some general congratulations, a lot of mingling and of course, the distribution of some pretty important awards, as voted by the trade for the trade.
Bar Awards After Party – DISCOTHEQUE
11.30pm till late, September 20, 2016
CLIFF DIVE, Oxford Street, Darlinghurst
The Dark Lord — some of you may know him as Andy Penney — and the Cliff Dive are bringing you one heck of an after party, simply titled: DISCOTHEQUE. It kicks off at 11:30pm on Tuesday 20 September, and you can expect banging drinks, 'The World Class Bartending Disco Dancing Championship', tunes from DJs Nick Van Tiel and Turbo, and be warned: there will be glitter. It's always a big night when The Dark Lord gets involved, so make sure you get there early — entry will cost you a can of food (which is being donated to City Mission) or $20.