Each year at the Bartender Magazine Australian Bar Awards an individual is recognised with the award for Outstanding Contribution. This award pays tribute to someone who has made a marked difference to the bar industry through their passion and dedication, and who has had an outsized, positive effect on the industry.
The 2023 Outstanding Contribution recipient, Stefano Catino, really needs no introduction. He has won many awards – everything from our Most Influential List #1 in 2022, to his bar Maybe Sammy making the World's 50 Best Bars List consistently over the past few years.
"I also have this crazy need to make sure everyone is having a good time, maybe sometimes is too much but I just love it." – Stefano Catino
Stefano is co-founder of the Maybe Group, the team behind Maybe Frank, Maybe Sammy, Sammy Jnr and Dean & Nancy on 22. This year, they joined forces with Public Hospitality, opening their first venue with the, El Primo Sanchez in Paddington.
Coming from the famed Cinque Terre region of Italy, hospitality is in Stefano's blood. And when he moved to Australia, and worked under the tutelage of fellow Italian Marco Faraone, he really honed his hospitality skills and his passion for the Australian industry.
What we all know and love Stefano for is his passion for fun. In a recent interview with us he said: "I also have this crazy need to make sure everyone is having a good time, maybe sometimes is too much but I just love it."
ADVERTISEMENT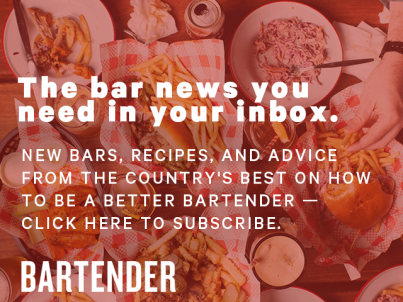 &nbsp
David Spanton, Bar Awards Founder, says: "Stefano's enthusiasm and passion for the hospitality industry is contagious and it shines through in his venues. He's also not afraid to speak up on contentious issues that impact our bars. Australia is lucky he decided make this is home."
A huge congratulations to Stefano and his team. We look forward to presenting this award to you at the Bar Awards on 13 September during Sydney Bar Week.
BAR AWARDS TICKETS
And if you're a finalist in this year's awards, ticket sales are now open at sydneybarweek.com.au/bar-awards  Tickets are exclusively available for sponsors and the bar trade, so wait until your category is announced before purchasing.
Please note: Tickets can be purchased in Tables of 10 or 11. For anything less than that, you will be seated with other guests. We will do our best to accommodate all seating requests but sometimes it is not possible.
The 22nd Annual Bartender Magazine Bar Awards is part of the official Sydney Bar Week 2023 line-up.
Sydney Bar Week 2023, 9-13 September, 2023