Story by Andrew Ratcliff
Cocktails presented & created by Zak Britton, Stowaway Freshwater
Photography by Christopher Pearce
Liqueurs, the liquid gems of every backbar, have been here for hundreds of years and they're never going away. I've always thought of liqueurs as a modifier to any classic, they add an important element of flavour, like the addition of salt to any classic dish, and they bind everything together in the glass. They don't have to be the shining star, they're just here to bring the party to life.
Joseph Cartron is one such brand that has a rich history that dates back to 1882.
The distillery is located at Nuits-Saint-Georges, just outside of Burgundy, France.
It wasn't until the 1940's when Armand Cartron showed great foresight by exporting his products and entering the global retail market that the company became a mainstay on back bars across the globe.
Joseph Cartron's dedication to perfection and commitment to sourcing the finest ingredients has become the cornerstone of the distillery's philosophy. Its location amongst the burgundy grapes makes it an easy place to source fantastic produce and each generation of the family has added to its success. By expanding the portfolio and innovating through an unwavering passion for time-honoured techniques such as slow maceration with hand-picked fruits and ageing in oak barrels, every step of the process shows careful execution resulting in category-leading products. Such careful precision in production ensures maximum fruit content is achieved, enabling Joseph Cartron to build its reputation of superb quality and authenticity across a diverse portfolio of flavours.
Strawberry Fields
30ml Joseph Cartron White Creme de Cacao
20ml Strawberry Gin
15ml London Dry Gin
1 dash Peychaud's Bitters
4 drops Burlesque Bitters
15ml Hibiscus Syrup (Hibiscus Tea 1:1 sugar)
20ml Lime Acid Solution (94g filtered water, 4g citric acid, 2g malic acid)
15ml Aquafaba
Shake, then reverse dry-shake.
Double-strain into a stemless wine glass.
Prepare a clear ice block with a triangle of dragonfruit powder, and a fresh slice of strawberry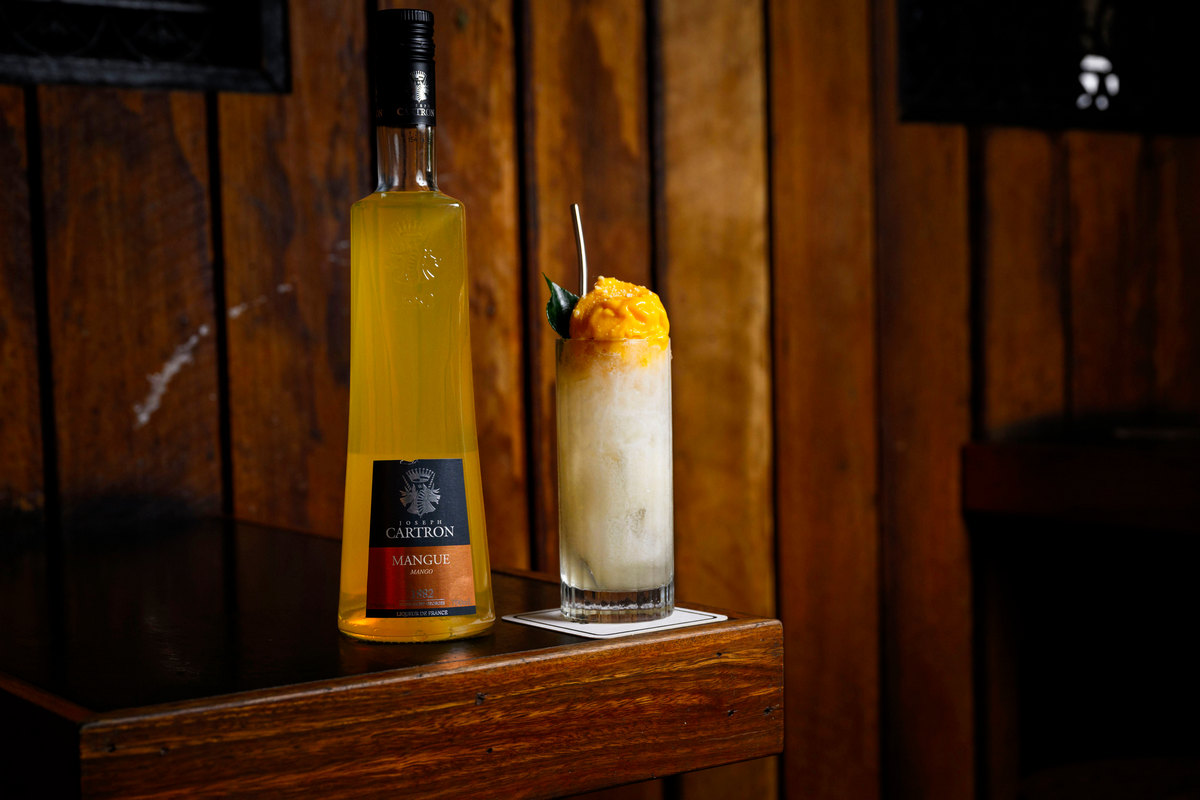 Weis Vegas, Baby!
25ml Joseph Cartron Mango Liqueur
30ml Vanilla Vodka
10ml Mac. by Brookie's
15ml Macadamia Orgeat
20ml Lime Acid Solution
Shake, double-strain into a Collins glass.
Fill with ice and add a straw-spoon.
Top with crushed ice, flat.
Cold-press frozen mango cheek into freshly made mango sorbet. Mould into a sphere. Place on crushed ice.
Add a lime leaf.
Sprinkle salted macadamia crumb (dehydrated pulp from Mac Orgeat) onto sorbet.
Basement Sippers Gang
7.5ml Joseph Cartron Brown Creme de Cacao
25ml Punt e Mes
5ml White Vermouth
10ml Italian Bitter Orange
20ml Rooster Rojo Blanco Tequila
10ml Blanco Mezcal
Stir, strain into a double old-fashioned glass.
Add a clear ice block with stamp.
Smoke the cocktail with cherry wood chips.
Keep the smoke trapped in the cocktail with a coaster, serve.
Joseph Cartron Mango Liqueur
Cartron uses mangoes that are imported from Myanmar and Pakistan, the fruit is then pulped and macerated in neutral spirit, crystallised sugar is also added and dissolved in the mixture. This slowly brings the alcohol content down and accentuates the fruit flavour.
This is a highly versatile liqueur that works exceptionally well with rum and enhances any tiki-style drink. It's a great addition to a classic daiquiri and can lift any margarita or agave based serve into the stratosphere.
Joseph Cartron Watermelon Liqueur
Grown in hot climates, the fruit which is synonymous with summer is macerated for 10-12 weeks in neutral spirit. The blend is then filtered and has sugar added for balance.
Possibly the easiest and most versatile of the Joseph Cartron portfolio, watermelon works exceptionally well with most spirits and adds a fun twist to the classics. It elevates any margarita, acts as a great base to a summer spritz and perfectly complements a Tom Collins.
Joseph Cartron White Cacao Liqueur
Cartron uses cacao beans sourced from the Ivory Coast (the world's largest producer), the beans are poured into a pot still with neutral alcohol then boiled. After a day they are re-heated so the alcohol can penetrate the beans and extract as much flavour as possible. Crystallised sugar is then added to intensify the flavour.
Not as commonly used as the Brown Cacao, the white was extremely popular in the 20th Century cocktail and the Grasshopper, but if you're looking for a lighter version of the classic 80's Mudslide or White Russian, it's highly worth having a dabble to add a pinch of extra complexity and flavour to the serve.
Joseph Cartron Brown Cacao Liqueur
Made in a similar way to the White Cacao, the Brown Cacao receives an added element of cognac at the end of maceration. A fantastic modifier and highly versatile spirit, the Brown Cacao can elevate both stirred down drinks such as Negronis, Boulevardiers and the Old Fashioned and it also plays well with creamy winter-friendly drinks like the Alexander, Grasshopper or any flip.
Contact your Amber Beverage representative for more information about Joseph Cartron, or visit amberbev.com.au for more info.