A closer look at the city state's most ubiquitous tipple
By Simon McGoram
Photography by Rob Palmer
Presented by Ben Walsh, Goldfish, Sydney
When thinking about the Singapore Sling, most of us would immediately be struck down with a bout of phantom tooth ache or recoil from the traumatic memories of such 'classic' '80s flicks as Cocktail, Dirty Dancing and Splash. Few would blame you. Few would be surprised at your reaction as the truth of the matter is for a long time the Singapore Sling has been nothing more than a confectionary sweet combination of cherry liqueur, grenadine, triple sec, pineapple juice and, if you lucky, a splash of gin. It wasn't always this way, at least we hope it wasn't; the 'original Singapore Sling' is still a matter of some debate.
ADVERTISEMENT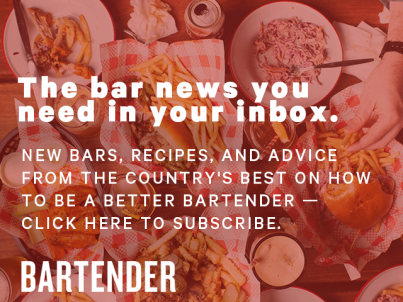 &nbsp
What we are fairly clear about is that the drink harks from the Long Bar at Singapore's Raffles Hotel. It is believed that the drink was created by one Mr. Ngiam Tong Boon in, or around 1915 and, if this isn't exactly crystal clear, it only gets murkier from here on in. No recipe for the drink in question appears until 1922 and then under the handle 'The Straits Sling', in Robert Vermeire's Cocktails and How to Mix Them. Vermeire describes the beverage as a "well-known Singapore drink" and indeed at the time Singapore was often referred to throughout the empire as 'The Straits'. Ted Haigh (a.k.a Dr Cocktail), who has done much research in this beverage's history (and thus made this article possible) points out that even the Raffles Hotel who are immensely proud of this beverage admit to not having the original recipe. Their current formula is believed to have created in the 1970s by Ngiam Tong Boon's nephew.
Vermeire's recipe is as follows:  "This well-known Singapore drink, thoroughly ice and shaken, contains:
2 dashes of Orange Bitters,
2 dashes of Angostura Bitters,
The juice of half a lemon
1/8 gill of Bénédictine
1/8 gill of Dry Cherry Brandy
1/2 gill of Gin
Pour into a tumbler and fill up with cold soda water."
What no pineapple juice? No grenadine and a duo of bitters! And what pray tell is "Dry Cherry Brandy"? While this recipe is, indeed a long way from the Singapore Sling that we are familiar with today it is certainly a damn sight closer to the 'sling' family of beverages (spirit, sugar and water) that would have been drunk at the end of the Victorian era. Dry cherry brandy is a very important distinction perhaps meaning something more like a cherry eau-de-vie than a liqueur used in recipes today. It is the last time that we see the distinction being made however and the beverage heads down the sweeter road in successive recipes starting with Harry Cradock's 'Singapore Sling'  in the Savoy Cocktail Book in 1930 (confusingly he also includes a 'Straits Sling' which is a punch like drink), which still contains no pineapple juice. Dale DeGroff's Craft of the Cocktail contains a very tasty version based on the pink fruity drink made at The Raffles Hotel since the 1970s, but of an 'original' recipe there still remains no sign.
Today's bartender faces a dilemma; should they mix a Straits Sling and take their punter down an unexpected path purely for the sake of being closer to the lost 'original' or continue flogging that sweet  '80s stalwart found on every two-bit drinks website in the hope that it may one day die an overdue diabetic death?
We've made a compromise:
The Singapore Sling
Recipe adapted from Ted Haigh's 'Straits Sling' in Vintage Spirits and Forgotten Cocktails
60ml Gin
15ml Cherry Herring (or another quality cherry liqueur)
15ml Bénédictine
30ml Lemon juice
2 dashes Regans' orange bitters
2 dashes angostura bitters
Soda water
Check out the following pix for the detailed instructions:
[nggallery id=26]