Interview by Simon McGoram
Is this your first visit to Australian shores?
It is – yes it is my first visit here. It has been hugely eye opening it really has. I've long held the view – and I've worked with quite a few Australian's in London  and met quite a few there – you you've never had the prohibition thing here so I don't think that there was that exchange of  that we had between Europe and America of bartenders. So for that reason  I think that in some senses the bartending here can be considered a lot more creative in different ways;  there's a lot more experimentation with flavours and a lot of fresh produce here especially good seasonal produce being used which is great to see.
What had you heard about the Australian bar scene before you came over?
ADVERTISEMENT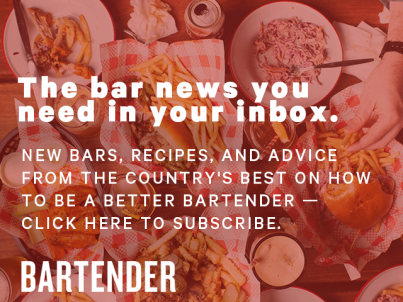 &nbsp
What had I heard about the bar scene? Very little, to be honest, very little. I tend not to do too much of the Facebook and social networking side of things these days, so my ear isn't close to the ground in that sense. What I do see is a lot of bartenders travelling around the world these days and getting experience in as many different countries they can and as many different styles as they can. Australia is one of those countries that I've always wanted to see. I don't know if you know Jacob Briars? I think that he typifies a very Australian style of bartending; it's a lot of fun for him and it's to see people that haven't forgotten how to have fun.
What are your objectives for this trip down under? 
That's interesting. We've been doing two main activities down here; the first of which has been a deconstructive tasting with Bombay Sapphire. The idea behind that is that it is sort of a sensory training. I've worked with the distillers and we've individually vapour infused spirits with each of the botanicals; so you can sort of build that bridge between the dry ingredient and the actual liquid in the bottle itself. It allows you to start thinking of gins in more specific flavour terms I think. So whereas before you may have gone "this is a little citrusy and a little floral…" and so on now you can go "oh wow that's got lots of orris, that's got lots of angelica, that's got lots of coriander…" and so on. You can really start to recognising ingredients in spirits.
Is this quite a different approach to what Bombay has done in the past?
I think so, yeah it's quite a new approach. I've worked hard with the distillers to make sure that these spirits are not just sort of nosing samples or small sort of perfume samples; they full sized tasting samples as well. Orris is a great example; still on the nose, when it's distilled, you're getting this lovely sort of earthy-hay-black tea aromas, but when you taste it- it bursts open with violets so it is quite interesting to see the contrast of the two. And the non the other side we've been doing cocktail a food parings in fact we're doing another dinner tonight at Dedece.
Do you think that there's a lot more that people can do with cocktails and food? Do you see this being taken seriously in restaurants?
I'd like to. I've seen it being taken seriously already. In Las Vegas they like to try do everything first in some senses; it's already popular there. I see a lot of bartenders  these days, especially where you have a good selection of lighter bar snacks going out over the counter, there it is really nice to be able to work with chefs and to be able pair a cocktail with some lighter snacks on the side. I would never say that it would completely replace wine – I don't think that that is the idea. But I think that the idea really is to open people up to the idea that if you treat the dinks with a bit of sensitivity and respect the ingredients then you certainly can pair spirits and food.
So how did you first get involved with Bombay Sapphire?
I always had an interest in getting away and because of that I ended up working in Bangalore in India for a good while; I took a position there working with Taj Hotels. It was through that – there was Dmitri who is our global ambassador for Grey Goose and Jamie Walker the old ambassador for Bombay Sapphire I both knew, so when the position became available both of them put me forward. So there you go it was a bit of luck I think. I got the job and I was over the moon.
What is your favourite aspect of job?
I think getting to see the different cultures it's incredible. For me it's the flavours; I'm a sort of ingredients geek in a sense, but I love strange herbs and spices and these sorts  things, a lot of different fruits – so to get to see them around the world is fantastic  because ingredients are so, so different. Australia for example I can't believe – the quality of produce here is just immense. It really has blown me away, but also the fact that everybody here treats it very seasonally. In London I think we get a little complacent sometimes because we're still getting strawberries in December, but they're coming in from Israel or somewhere. So it' really nice to see people respecting the seasonality of ingredients and knowing even if I can get it 12 months a year why should I because it's not going to taste as good as when it is in season. And let's not forget that it's going to cost more GPs are very important when you're behind the bar. 
What is the most difficult or challenging aspect of your job?
I think possibly just the hours because it is a lot of work. But outside of that… I think maybe learning the office side of things because you have to be versed in that as well. That wasn't so much of a struggle, but yes it can be interesting because largely I have always worked smaller bars and smaller businesses  so to work with a larger company like that was possibly a bit of a challenge.  But great people to work with. What can I say? I think they made 13th best employer in the UK's Sunday Times top 100 list last year as voted by their employees. I think that I can testify that they're bearing that out.  
What would you say is your favourite way to enjoy Bombay Sapphire?
My favourite way? I'd say that I've got a couple actually. Let's face it; one of life's greatest pleasures is a well made dry Martini certainly. That initial cold slap of the drink when you first lay lips to it through to when it just slightly warms and you feel "ah that's better".  It's a wonderful think, but if I'm looking for a quicker call maybe then there's a wonderful drink that's come out of New York with Bombay; Bombay Sapphire, fresh mint and ginger ale. Just grab a handful of mint give it a quick clap and throw it in the glass and you build along drink there with Bombay Sapphire and with ginger ale on to go, quick stir and you ready to go. Very nice.
"Let's face it; one of life's greatest pleasures is a well made dry Martini certainly. That initial cold slap of the drink when you first lay lips to it through to when it just slightly warms and you feel 'ah that's better'. " – Merlin Giffiths 
What in your mind makes a great cocktail?
Oh the company you drink it in. It would have to be. Good cocktails are made great by that I think. I don't know… a number of things. It all depends on the time, place, mood and the reason that somebody has made a drink I think. And I'm seeing a lot more of that around the world; people doing sort of more mood menus in the sense that, I don't know if you remember if the old style of doing a menu where you split you drinks into 'Long', 'Short' or 'Martinis' and so on, these days I'm starting to see bartenders split their drinks into 'Drinks for Pre-Theatre', 'Drinks for Aperitif', 'Drinks for Digestif', drinks for a 'Late Night Party' or group entertaining and so on. So people are trying to capture a mood with a drink and I think that that is quite important. There are certain drinks for certain moments so let's face it. There are drinks for celebrating, a nice dry martini after work, or a Negroni before dinner.
If you weren't a mixologist or brand ambassador what would you be?
Do you know, chances are, because I started bar backing before I knew the difference between a pub or a bar, so the chances are I hadn't dropped into a cocktail bar I probably be managing pubs instead. Cleaning beer lines and looking after my regulars.  
If you could share a drink if anyone dead or alive who would it be and why?
Probably, god there are so many people, but off the top of my head I'm thinking, because I've been listening to a lot of his music; Stevie Ray Vaughn. I wouldn't mind sitting down with him as in my spare time I do enjoy playing a bit of guitar along with a bit of rugby. I especially love the blues so Stevie Ray Vaughn would be someone I've love to sit down and play guitar with – he's got magic fingers.