Bartender magazine is proud as punch to announce that Dave Wondrich is coming to Sydney in 2011 as the very special, international guest of Sydney BarShow Week. "As far as I'm concerned, Sydney BarShow Week  is the social event of the fall season," said Wondrich once his trip downunder had been confirmed.
"As far as I'm concerned, Sydney BarShow Week  is the social event of the fall season."

David Wondrich

As the author of the bartender's bible Imbibe!, and more recently his latest piece of research, Punch, Wondrich is considered to be the preeminent voice on the history of all things cocktail.
ADVERTISEMENT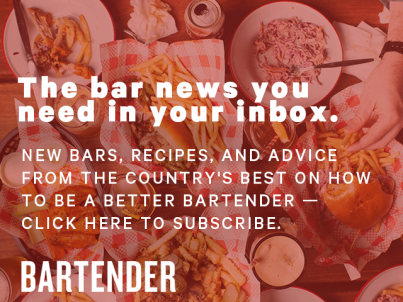 &nbsp
He will be strutting his stuff for all those who attend his Workshop, and the various Seminars and Talks & Tastings theatres on offer at this year's Bar Show. "I can't wait to see all my Antipodean friends," Wondrich proclaimed about his impending trip. "Roll out the Pint Trolley, I'm coming!"
David Spanton, founder of Sydney BarShow Week and the Bartender Magazine Australian Bar Awards is thrilled to be welcoming such a prestigious international guest. "David Wondrich is internationally renowned for his expertise on all things cocktail related,  he will be a great asset to this year's show."
Wondrich will also be one of the official judges at the final of the Bartender of The Year Competition – an inclusion that is to set to have competitor's nerves jumping!
So start your studying now if you want the chance to mix and shake your stuff in front of Professor Dave Wondrich at this year's Bartender of the Year final, and stay glued to www.barshow.com.au for any further announcements about this year's competition.
Dave Wondrich Workshop Key Information


As part of Sydney BarShow Week's long list of events, the Professor himself will be hosting an intimate, hands on workshop on Monday, September 12 at the theLoft bar.

Date: Monday, September 12
Topic: Starting at the Beginning
Venue: theLoft, Lime St Sydney
Cost: $88 (inc.GST) – Limited places available
Registration: 3pm
Session: 3.30pm- 5.00pm
Speaker: Dave Wondrich – International Guest and author of Punch & Imbibe!


For those who attend, you will be making 6-8 cocktails, each made as closely as possible to its original formula.

This will be an interactive session, and discussion is encouraged. Some of the drinks that you will have the opportunity to make with David Wondrich are; the Gin Cock Tail, the Mint Julep, the John Collins, the Singapore Sling, and of course…the Martini.

Click HERE for the Dave Wondrich Workshop booking form to secure your place at this once-in-a-lifetime opportunity.