June Cocktail Experiment complied by Edward Washington
Cocktails created and styled by the teams from Grandma's, Pocket and Stitch bars in Sydney.
Grandma's
275  Clarence Street
Sydney CBD
www.grandmasbarsydney.com.au
James Bradey (Grandma's, Sydney) was keen to host this month's event and welcomed the Sydney bar teams from Pocket and Stitch to his new haunt for an all out session on Vodka. With a smart line-up of top shelf spirits on display it didn't take the boys long to shake off the morning cobwebs and get into the tasting session which proved to be a good way for each bartender to become familiar with the products that they would be working with and throw around some ideas on cocktails.
ADVERTISEMENT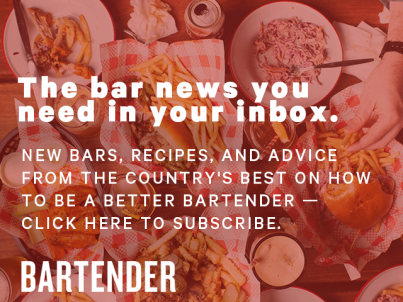 &nbsp
The Tasting Panel
The iconic Absolut proved to be a real eye-opener with its power and complexity as well as showing some delicate vanilla notes, and 666 Vodka (being a new product to all present) evoked a lot of interest.
There were thoughts that limes and pineapples might match the 666 well and for some there was an association with agricole products. "Some raw, vegetal notes," said James, "like unripe banana."
The team thought Stolichnaya stood out as a 'blind tasting speciality, with an obvious nose and palate profile' and Keegan was interested in the product's peppery notes. "I think I could make it work with lemon, pepper and pineapple – as well as picking out and highlighting the spices".
The next to taste was the Belvedere and Christophe immediately picked up on its complexity and creamy palate weight, "I want to use that one!" he declared. The others noted that there was an 'oiliness' to the texture, and overall they thought that there was a great balance between palate weight and the alcohol.
Ketel One was the final to taste and the team (now well versed in their descriptions) found great length and depth of flavour. James saw it as a vodka that could 'easily bridge the gap between a short vodka drink and a cocktail'; Christophe noted that there were some very some botanical characters, and citrusy too.
Christophe Lehouk

Definitely Maybe

50ml Belvedere Vodka 40% abv
30 Fresh Pink Grapefruit Juice
20 ml Dubonnet
15ml Falernum Syrup
Dash Egg White

Method: Add all ingredients to a Boston shaker, add good quality cubed ice and shake hard. Double strain into a Martini glass.

What Christophe  Says: "To bring out the citrus notes of Belvedere I used the grapefruit, and Dubonnet to sweeten it a little bit as well as giving it a bit more depth. The egg white will also give it some added texture."
James Bradey

Passion about the Dutch

50ml Ketel One Vodka 40%abv
30ml Apple Juice
15ml Lime Juice
15ml Agave Syrup
10ml Grenadine
Pulp of half a Passionfruit
8 Mint Leaves

Method: Add ingredients into a Boston shaker and add ice. Shake hard and strain into a Hurricane glass, garnish with remaining Passionfruit, sprigs of mint and plastic monkey cocktail decoration.

What James Says: "I used the complimentary ingredients to show off the flexibility of Ketel One and enhance its citrus and fruit notes. The aim was to also keep it fun, fruity and a little tiki."
Randell Josepth

Nut Up

50ml 666 Vodka 40% abv
10 ml Frangelico
Dash of Fee Brothers Chocolate Bitters
10ml Orgeat Syrup

Method: Add all the ingredients to a Boston shaker, shake hard and double strain into a well chilled Martini glass. Garnish with a lime zest.

What Randell Says: "I was trying to bring out the almond and vanilla characteristics that I found when we tasted the 666 Vodka by using the Frangelico and the orgeat syrup."
Keegan Hartslief

Please to Please

50ml Stolichnaya Vodka 40% abv
30ml Lemon Juice
5ml La Mestiza Licor de Nance
5 Pepper Corns
4 Pieces of Fresh Pineapple

Method: Muddle pineapples, raw sugar and pepper corns, add spirit, lemon juice and liquor. Shake hard and fine strain into a Martini glass. Garnish with cracked pepper.

What Keegan Says: "Picking up the pepper in the Stolichnaya I wanted to enhance it as well as the sweet profile by using the pineapple. I also wanted to keep it quite earthy by adding the La Mastiza (an unfamiliar Tequila liqueur). It finished up with a rounded, earthy style character – with a kick!"
Keegan Hartslief

You Absolut Tart

45ml Absolut 40% abv
15 Campari
10ml Gomme
10ml Fresh Lemon Juice
5ml Home-made Grenadine
5 Basil leaves
3 Strawberries

Method: Muddle the strawberries and basil in a Boston shaker. Add spirits, sweet and sour and cubed ice. Shake hard, strain over fresh ice, crown and garnish.

What Keegan Says: "A fresh summery sort of drink, the punch of Absolut vodka still comes through so you know you're drinking a cocktail. The flavoursome smelling basil and strawberries also hold up giving you a sensory treat and bringing you back for another sip."