This interview featured in the October issue of Australian Bartender magazine.

Josh Collins is a man who's synonymous with outlandish bar designs and heavy tiki theming and he is now well underway in taking on the Melbourne bar scene with the LuWow in Fitzroy.
ADVERTISEMENT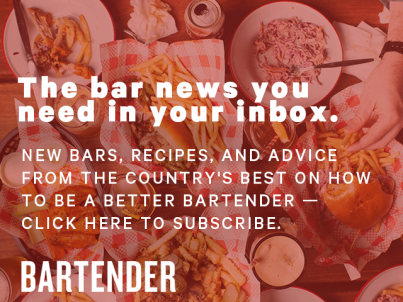 &nbsp
His first foray into the operator world saw him purchase a Perth theme park and with years of experience and a string of successful venues now in operation Collins is still enjoying the challenges that come with being a venue owner.
What's the attraction of the bar business for you?

"It combines everything for me, I've got a background in theatre and film design and I've done a lot with that but it was heartbreaking because you'd spend a lot of time developing something amazing and then you'd be throwing it in the bin not long after.

The attraction of decorating and designing a bar is that it's much more permanent. It combines all my favourite things like putting together good décor with spirits, beer and good music – it's a great collaboration."

How have you evolved as a business operator over the years?

"When I first move to Australia we took on this enormous project and were completely naive about it. It never got anywhere and I don't think WA was remotely ready for it.

Then we found the Hula and that was our first bar. I had worked in bars and clubs a lot, but on the entertainment side of things, so it was my first opportunity to build a bar for myself.

I had previously built tiki bars for other people, but usually with huge time constraints, so the Hula was special because we really spent three to four months doing it well. With Deville's we spent nine months doing it, and this place (the LuWow) will also be about four months.

So as an operator learning to start small and grow has been valuable and now I have done every job there is from glassy to door man."
What mistakes taught you the biggest lessons?

"We bought a theme park, it was this great outdoor space with a castle and a go-kart track and a minigolf course and a big wheel – yeah that is the biggest mistake I have made!

Stay within your limits and you can grow later on, but not so small that you can't do want you want."

How do you balance your work ethic with the social side of your businesses?

"You learn to pace yourself very well and having learnt to work behind the counter you learn your limits.

Previously, as the entertainer, it was my job to make sure people were getting the drinks and now I'm more like, 'Well I don't think you should have another drink', so it's all about balance."

How do you continually develop your creative ideas?

"I draw from a lot of movies and I am a massive fan of 1960s 'B' movies – I never watch television I always watch movies. The B movies are great because they show how to create maximum impact with minimal cost, so they're a very good influence.

Apart from those stage productions are also good for inspiration."
What's the attraction of tiki?

"I have always been into it, I got a massive tiki mask for my 18th birthday and we always used to go to Trader Vic's when I was younger so it just stuck I guess. I also spent a lot of time in Hawaii and Tahiti and places like that, so I guess it just all comes together in what I do now.

I love the escapism to it all as well; it's like going to a movie except that you're in a bar."

What excites you about the Melbourne bar industry – why get involved here?

"While I don't know everything about the Melbourne bar scene, I still don't think there is any major theme bar on the level of what we do, so it was a good reason to come along here and do it.

We'd been trying to find somewhere in Melbourne now for over a year and we'd actually sort of given up when this place came up – and it turned out to be the perfect place, in the perfect location and the right price so we just bit the bullet and jumped in."

What excites you about moving to the Melbourne bar market?

"They have great staff to begin with, I mean even well before we were ready to open we had really good people on board. In Perth it was really hard to find good staff as over there you'd train them up and then they would end up heading over to Melbourne to work. So I guess now we're reaping the rewards from all our earlier hard work!"

How will you approach the Melbourne market?

"With exactly the same formula in the sense of the extreme tiki theming, right down to the cocktails and the snacks and the bar staff uniforms. It'll be the classic tiki theme really, just like Deville's Pad (in Perth) which is really a classically themed tiki bar – it's a concept bar, for everything tiki."

How has the WA bar industry developed over the years?

"It's developed enormously really. When we started Hula Bula over six years ago it was one of the only really small bars over there and we knew we needed more places like it. The wheel turns very slowly in Perth however, but it does turn, so we will get there – but slowly.

Even with the recent developments in Perth my venues are more alternative and rock & roll styled, and there's still not too many places opening up along those lines, which gives us a bit of an edge as more small bars begin to open."
How can the Perth bar scene continue to improve?

"Legislation is still ridiculous over there. You still have to go through the local councils, and anyone who's had to go through that knows how much of a nightmare it is. Liquor licensing is still completely up the spout as well and doesn't look like its going to improve any time soon.

From what I have seen in Melbourne they have to have a really good reason to refuse you, but in Perth it seems as though they can choose any reason. It could take you two years to get your little bar in the corner, and then the council will still think that your little bar will be a nightmare for everyone concerned."

What drives you to open new venues?

"I love building them, that's why. I'm a great big showoff I think – I like to inflict my vision on others! I love getting mucky and putting a new place together, sticking things on the wall and then having a beer afterwards. The whole part of putting a place together is exciting. Deciding where to put this and that, and going home to build something special for it.

I like having total control over the venue too and would struggle to work with to many other collaborators. Designing a bar for someone else is different, but when you're doing it for yourself you have a very strict vision of what its going to be like."

Are there any local or international bar operators that you admire? If so why?

"Absolutely, Michael Delany-Korabelnikova does great stuff, he did wonderful stuff with the Flinders in Sydney, Vernon Chalker is always doing something fantastic and his bars are worth re-visiting many times because you always catch another detail.

Having just taken that step out of Perth there's suddenly a lot more interest in what you do – I mean you could change Creation in Perth and no-one would care so it's nice to be just getting a lot of interest early on with this project."

How important are staff in operating a successful business?

"They're totally important and customer service is paramount. It's all part of the deal and it doesn't take much to spoil someone's evening so you've got to be really careful. If something does happen, then the customer is always right – I think it's important to keep that ethos going."

What advice would you give young bartenders who want to open their own bar one day?

"Do it, why not? If you do it right you won't lose money and if you do it wrong you'll learn. Have a good theme too! One that puts you way ahead of the competition, and if you've got a good concept then do it totally – 100 per cent. Make your bar stand out and give people a reason to go there.

Get your own swizzle sticks and coasters made as well – no one does them now – and make the drink's menus so that people want to take them home and have them sitting on their coffee tables."
What are your Top 5 tips for running a successful bar business?

Reward good staff
Always keep an eye on things
Always ensure quality
Try and be different
Customer service is paramount