This article featured in the February issue of Australian Bartender
Interviewed by Edward Washington
Small is beautiful when it comes to successive bar openings for this Sydney based duo, and their latest digs – Button – is certainly going to cement their good reputation around town. In between opening new venues, and maintaining the high standards that they keep at the current ones, Christophe and Karl took some time out to chat about their experiences as multi-venue operators.
What's the attraction of the bar business for you?
ADVERTISEMENT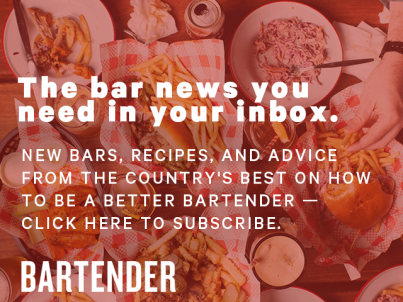 &nbsp
"C – The adrenaline rush, the interaction with different kinds of people, and the fact that every night is different."
How did you first get involved in the bar industry?
"C – My very first job in the industry was the commis waiter at a Gordon Ramsey restaurant in London, it was quite intense but I learnt a lot. Then my first job in a bar was  Zander bar in 1999 where my bosses were Grant Collins and Dan Warner, that's where it all started."
Tell me a little about your businesses?
"K – We developed our business because of a gap in the market in Sydney. We were in desperate need of a small intimate place without all the bullshit that most Sydney venues have."
How have you evolved as business operators over the years?
"K – I think it comes down to understanding your customers and giving them what they want. We noticed a gap so we filled it."
What mistakes taught you the biggest lessons?
"C – Stick to what you're good at, see the priorities."
How do you continually develop your creative ideas?
"C – From very various avenues such as travelling, art and design. We always try to twist things around and make them intriguing and subtle."
Where do you draw your inspiration from for food, drink and venue style?
"K – Everywhere. From eating street food in France, or sinking a few sitting on the street watching everyone pass you by. People continue to give me the best inspiration."
What excites you about the Australian bar industry?
"C – Sydney is gradually catching with other major cities from around the world. We can now find a wide range of places providing various experiences. The city is pretty much a blank canvas allowing all kinds of venues to emerge."
Do you have any concerns about the future of the Australian bar industry?
"C – Not really, I think the next few years are going to be exciting."
Where do you both see yourself in 5 years?
"C – Bora Bora."
"K – With a little empire of international venues."
What's the best thing about owning your own bar?
"C – To actually taste the rewards of your own efforts."
And the worst?
"K – The never ending stream of shit that just seem to keep popping up."
Are there any local or international bar operators that you admire?
"C – Morad Mazouz, owner of Sketch and Momo in London, I admire his audacity and creativity. When Sketch opened its doors they had all the superlatives; the most expensive, the most extravagant everything. It is original and visually stunning."
How important are staff in operating a successful business?
"K – Everything! You are only as good as your team."
How much input do your staff have when it comes to your businesses direction?
"K. A lot. They are on the ground running the venue, if you don't listen to them you would have to be fucking stupid."
What advice would you give young bartenders who want to open their own bar one day?
"C – Start from scratch and always remember you make drinks for customers not for you."
What are your 'Top 5' tips for running a successful bar business?

Stick to what you're good at.
Listen to what people want and then give it to them.
First impressions of the venue are key, you have to get it right from the start.
Consistency.
Planning direction.