Interview by Sam Bygrave
Just before the time we thought the world would end — or at least, when the Mayans thought it would — we asked some questions of Derek Brown of Washington DC. He's a bartender, owns the Passenger D.C. and the Columbia Room (named in GQ's top 25 bars), has written about drinking for The Atlantic, and bantered with President Obama. He's also a genuinely nice guy behind the bar.
The Columbia Room is Brown's baby; located inside the Passenger, its louder and more raucous brother, the Columbia Room is unlike most bars. It is a small room, seating just 18 people, and each night a tasting menu is in place. You book online. And you get some personal, detailed service (but only if you wish) — as though you were over at someone's house for a drink. And that someone was a Spirited Awards and James Beard-nominated bartender and writer.
How long have you been bartending for, and how did you get into it? 
ADVERTISEMENT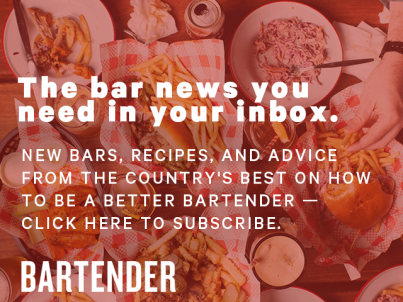 &nbsp
I've been bartending for about 10 or11 years. I got into it because I thought it was a way to get more money and respect. I worked in restaurants for a long time and saw the guys behind the bar doing really well. Of course, neither one of those things magically appear (money or respect) when you begin bartending. You have to work at it like any craft, learn, grow your customers, etc. Regardless, as soon as I stood behind stick, I realised that it fit like a glove. The creativity, study and sociality. That all appeals to me. It was a dream job.
You've made cocktails at the White House (it seems the President was a little confused about the term mixologist) — what was that like?
He was joking. He asked me if a mixologist is actually just a fancy name for a bartender. I'm sure a common point of confusion, one that even exists within the bartending community. I do prefer bartender. Honestly, the Obamas are such gracious and charming people. I never take sides in elections. In DC, you can't. Both Democrats and Republicans frequent my bars. But I will say this: it would be hard to support a teetotaling President. So, I'm glad for Obama's second term.
You're a busy guy — you write, you own a bar, you work the bar. How do you balance these different roles? 
I don't balance it entirely. I stand on the edge of an abyss, next to a cliff, where a giant crevice awaits. I wouldn't have it any other way. Some people are good at sitting and some people good at standing and others at running around like a mad person. I'm of the latter. But it also fulfills me in the same way it did when I first started bartending, doing so many interesting and fascinating things. Traveling to China, serving drinks at the White House, visiting bars across the country. I love it and thrive because of it. I could never just sit at a desk. I just wasn't made that way.
What advice would you give to rookie bartenders today?
Try to make people happy. That is your job more than inventing the next best drink with Sriracha and essence of dirt. If you can do both, all the better.
What advice do you have for aspiring bar owners?
Be kind to your staff. They aren't replaceable. They're the people who will make or break your business.
What would you like to see more of in the booze world?
Less marketing and more recognition of traditional practices. Less selling of bottles and more promoting people. Drinking, separate from culture and rituals, is dangerous. What makes a genuine experience? Slamming a bottle of gummy vodka at a club or sharing bottle of Sochu with a meal? Drinking some assinine-tini or bringing a bowl of Baltimore Egg Nog to a holiday party? As drinkers, we need to realise that alcohol is not neutral. It reveals who we are and what we believe in as a culture. If we accept whipped cream vodka as a normal part of drinking, we are doomed to nihilism.
What are some of the stranger drinks you've had?
Pine-needle wine with my father-in-law in Taiwan. It wasn't bad, it was just odd. But it was homemade and unique. I'd never had anything like that before. What followed was a discussion of Taiwanese politics. I love moments like that and, to me, that's what alcohol does best. Brings us together, clears the air and allows us these moments when we get to know each other and learn from one another.
You've described yourself as a booze nerd. What's one drink you wish hadn't disappeared?
Maryland Rye. Maryland, where I grew up, was one of the greatest areas for the production of rye in the United States. It's now all but gone. Not a single Maryland Rye distillery is left. The one remaining label is made in Kentucky and the only producer to bring it back, bless their heart, is from Colorado.
Imagine it's last call at the End of the World. What's your last meal, and importantly, your last drink?
This may be more prescient than you think if the Mayans were right. You know what? I'm going to say it doesn't matter. As long as I'm with good friends. However, since that's a mighty cop-out, I will say that I wouldn't mind a well-made Martini with oysters or a nice Gumbo and well-made Sazerac. In the absence of a mixing glass, Champagne.