Cushdy
279a Hindley Street, Adelaide
0413 721 708
cushdy.com.au
For a blind tasting based on bitters, vermouth and amari, Adelaide was a good place to be. We were told that, thanks to the large Italian influence in the city, Adelaide had a good range of amari available and on our bar hop each bar — regardless of what their schtick was — had a decent ranged of potable bitters.
Cushdy too was a good place to hold it, making some of the best drinks in the city with some of the most knowledgeable bartends in town. On hand was owner and bartender Shaun Pattinson, bartenders Erin Shaw, Luke Fleming, Nick Carletto and the blow-in from the upcoming Mexican bar, Little Miss Mexico, Jack Wilkes. Once the tasting was finished we asked three of them to make a classic cocktail variation with the products we tasted.
Sample #1
The first sample had aromas of cough syrup, dried orange and fresh herbs.
ADVERTISEMENT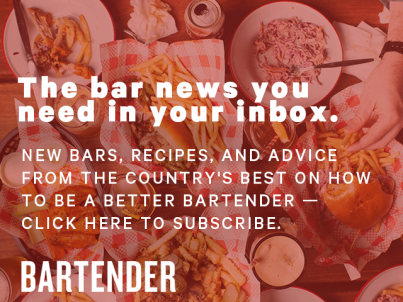 &nbsp
"I'm going to guess an orange bitters," said Erin. Nick found that it had a flora character with light, sweet citrus and dried orange. The orange that Luke found in it had a pithiness to it, he said.
Unmasked: Angostura Orange Bitters
Sample #2
Sample two was spicier on the nose, said Jack, with a load of herbs and strong cloves and cassia bark. Luke found that their was an aromatic note of cardamom and herbs to sample two. "It's softer and more herbaceous," he said. Nick noted that it was all about hard spices: "nutmeg, cinnamon, cloves."
"I believe the bittering agent may be gentian," suggested Jack. Of course, he was spot on with the sample being the iconic Angostura Bitters. Jack said that it was softer in the mouth than the bitter punch of the first sample.
Unmasked: Angostura Bitters
Sample #3
Nick thinks he gets a cinnamon tamale kind of smell, which Luke finds as a Christmas-like smell. "It's like the American chewing gum Big Red," suggested Nick. "Is that Fee Brothers?" asked Shaun. "Fee Brothers I know is a lot sweeter," he said. "I think you're right," said Erin. "It smells like cinnamon vanilla sugar," she said.
"The Angostura you can use with pretty much everything," said Erin, "but the Fee Brothers I would go with a golden rum or a lighter style rye."
"I think you'd have to be careful using the number three with the classics so that they didn't become too sweet," said Shaun.
Unmasked: the Fee Brothers Old Fashioned Aromatic Bitters
Sample #4
There was a eucalypt, menthol note to the nose which Nick described as "cold, rather than warm". "It smells like it would be fantastic for a toothache," said Jack. "Just swirl it around your mouth for that clove, numbing sensation," he said.
Luke suggested that you could substitute it in for Fernet Branca in some drinks.
"It's definitely a less is more arrangement there," said Jack. Luke noted the vegetal, cola character.
"It's got that real drying sensation, like that from arrowroot," said Erin. "It kind of smells like cherry coke," she said. Shaun got in with the right answers again, identifying it as the Bitter Truth.
Unmasked: The Bitter Truth Aromatic Bitters
Sample #5
Stewed fruit — orchard fruits and rhubarb came to mind for Nick, whereas Luke found a definite dessert wine character to it. "I'm thinking apple rhubarb," said Nick. This one provoked some memories for the tasting panel. "It reminds me of when I was like, four or five," said Nick, "and my mum and dad would have a glass of wine and give me and my siblings this Maison which is just like fruity grape juice," he said. The panel picked that it was a vermouth, but only just. It is very different to any other sweet vermouth on the market being light with a hint of florals and strawberry in amongst it all. It was well balanced and had a lengthy finish. "Its definitely not French," said Erin. But the panel couldn't identify where it was produced, perhaps because that place was Australia. In terms of cocktail applications, the panel thought you'd have to go with lighter spirits.
Unmasked: Maidenii Sweet Vermouth
Sample #6
"Herbal on the nose, with light florals," said Nick. Luke thought there was something that reminded him of Rose's Lime cordial, that developed into a candied orange, creamy finish. "There's shitloads of rosewater," said Erin. "It develops as you drink it," she said. This was a  mystery to all the panel, having been a bottle found gathering dust in a bottle shop nearby. They identified that it was indeed an amaro, but not one they were used to tasting. Applications in drinks ranged from use in the Rusty Nail, or with neutral grains with juices "for the ladies," said Erin. Which might be a good way to get them on to amari.
Unmasked: Amaro Meletti
Sample #7
There were sultanas and raisins on the nose, and a walnut character to the finish according to Nick. Erin immediately ideintified it as Punt e Mes. "I think its got a good level of bitterness to it," said Jack, "its not going to overpower it and could be sessionable with a splash of soda."
"Ginger beer," though Erin, "would go well in a twist on Pimm's Number One Cup," she thought.
Unmasked: Punt e Mes