From all the gin joints in all the world
By Sam Bygrave
Photography by Rob Palmer
Presented by Cristiano Beretta, The Rook, Sydney
Reading through the pages of most cocktail books written before the second world war can get to be a pretty dull read pretty quickly — particularly if there isn't a well-stocked bar at one's disposal or the hour is unsociably early. Yet Charles H. Baker Jr's prose stands apart from the pack.
Books like his Gentleman's Companion (later renamed Jigger, Beaker, & Flask: Drinking around the world) just don't come around that often. Baker took to a life visiting far-flung places and documenting the drinks he had in each port, from the then glamour of the Raffles Hotel in Singapore to ramshackle huts out the back of Peru.
ADVERTISEMENT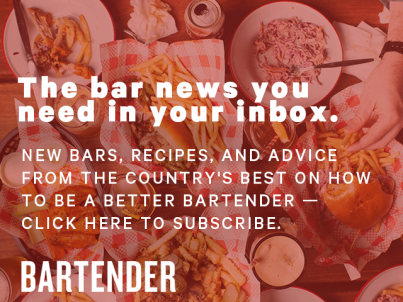 &nbsp
Some of his drinking buddies were the literary likes of William Faulkner and Ernest Hemingway, from whom he relates the recipe of Hem's Death in the Afternoon. Though he was an engaging writer who drew on experience from around the world, he was also a product of his times: much of the wit of his book is directed against the natives of whichever country he was in. It's there when he writes of Africa , for instance, where the "poorest kaffir cheers life with — and for all of us he can have it — warm millet beer."



In writing about Samoa he wrote that "the loveliest tribal virgin chews the kava root for the ceremonial bowl when your yacht sails into her lagoon, and the resultant fluid furnishes a sure ticket to amiable paralysis of the lower limbs." Now, that could be construed in two ways, no? Wasn't this meant to be the Gentleman's Companion?
And he was a parochial American if ever there were one when he declared that "the American has invented, always will invent, more of the world's good mixed drinks than all the rest of humanity lumped together".
And while that claim may have merit (though he clearly didn't see Skinny Girl Margaritas coming), terms like "blackamoor", in reference to the "shaker boys" that Henry Ramos employed to make the Ramos Gin Fizz, are jarring to the modern reader.
But assuming Baker was just an artefact of his times, there is much to love about his writing; he is a great source for drinks from around the globe like these exotic gin drinks. Sure he gets some recipes a little wrong; sometimes he misses the mark completely. But his book is a reminder that booze — and often very good booze — is one thing that we all have in common.
And an adventurous thirst for drinking around the world might just be the key to a long life, too: Baker, born in 1895, lived to be 91.
Notes on ingredients: 
Carefully well balanced with a full scent of juniper berries, making way for lemon grass and the soft tones of angelica root, a little touch of cardemom, ending with a slighty sweet and bitter tone of orange.
This gin hails from the Arctic — it uses iceberg water from Greenland. The makers say it's not quite a dry gin and there is a little perceived sweetness thanks to ingredients like angelica root.
Orange blossom water was traditionally the distilled essence of bitter oranges and popular in North African cuisine for centuries. Use sparingly, though: a little goes a very long way.
Isfjord gin has won accolades at the International Spirits Challenger in the UK. It was awarded the ISC 2012 Silver Award based on its unique quality and excellence.
*tasting note provided by supplier