Mary's has been one of the most talked about openings of this year, with the venue getting rave reviews for their food. But this pub with some good nosh is not just a restaurant. We sat down with Kenny Graham to find out a little about the venue's story.
Located in the back streets of Newtown in what was once an STI clinic (how very Newtown is that?), Mary's is a venture between Kenny Graham and Jake Smyth (ex-Bodega) with some backing from Joe Valore and Elvis Abrahanowicz from Sydney's Porteno.
Graham moved to Australia just over four years ago, working in Melbourne for the first nine months before moving to Sydney because his friend Smyth was opening Neutral Bay Bar & Dining and wanted me to run the bar. "We thought we would open up someone else's business together, see how we go." Graham said of the experience working on a brand new venue.
When it comes to Mary's, Graham says: "It's something that Jake and I dreamed of for so long, and we had two or three people promise us investment and then pull out, which was really tough,"says Graham.
ADVERTISEMENT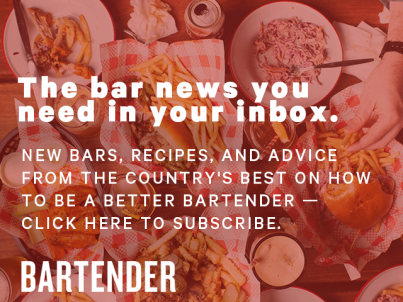 &nbsp
But since finally securing investment, Graham has been stoked with the reaction that Mary's has received since opening.
"You just have to say, [it's] unbelievably good," said Graham.Though having such great reviews of the food has caused some minor problems of perception. "Because we had so much hype about the food, people literally think it's a restaurant, and people get here and it's a pub."
Graham prefers to think of it as a pub — first come, first served. "We didn't expect it to be this hugely busy," he add. "So it creates this problem, but in the whole it's good," he said.
The guys were lucky with the experience they had dealing with council. "Council and stuff was sweet, it was already DA-approved," said Graham. "We started work on the licence straight away, as soon as we got the lease because we thought that might take three months. You know, at that point we're thinking we won't be able to open until we get the licence, but we got that in eleven weeks," he said.
There were no guarantees with council though, particularly given there was a lot of work to be done converting the old hall to a two level space.  Some of the pillars holding the ceiling up needed to be raised to squeeze in more seating — and an entire second floor put in that wasn't there before.
"We had to raise them for head height restrictions, so that was the big job and the builder just kept putting it off, because originally the first engineer said we've got to take all the wooden pillars out and replace them with steel," Graham said. "And [the builder] later, said 'how the fuck am I going to do that? Take the entire structure of the building off and replace it — the thing's going to fucking fall apart!' So he had another engineer come in who had the idea to attach steel supports, which would work."
But Graham was thankfully well-equipped to manage things with the builders. "I've developed a couple of flats in Edinburgh with my brother, and my old man does it — he's retired now, but he did it for a job — the development of new wings on houses and all that," he said. Dad even came over to help out in the final weeks of the build.
"He came over for a week, he came for the opening which didn't happen on time," said Graham, laughing. "There was so much stuff to get done, and he said, 'tell me if I get out of hand', because he would start having sly words to the builder, going, 'How many have you got here tomorrow?', 'What time you going to be here tomorrow?', 'So you know this needs to be done, this needs to be done…'"
They opened April 9 this year, and were still cleaning up as people arrived.
"We said to all our friends in the industry: we'll have friends and family over for industry thing — we just didn't have time, didn't even think of it. We just wanted to get open."
Graham says they were still nailing stuff and screwing things in and sweeping stuff and chucking stuff out an hour before they were supposed to open up.
When it comes to drinks, the list is still a work in progress. "I still want to tinker a lot further," said Graham of the drinks offering, "but again I just wanted to get it open."
"We always thought that we wanted to offer pub-friendly environment that does good kind of pub food where you can just go and ask for a Manhattan and you don't get a bullshit Manhattan, you get a good drink," he said.
Graham is adamant that he isn't a drinks snob and he wants people to enjoy the drinks they like. At the moment the cocktails are bit of a mix with two or three drinks on a short, ever-changing rotation — they might have a Gibson Martini, Puritan or a Last Word on depending on when you're there. "Its enjoyable when we don't have lists and we don't even have what's in [the drinks] on the board."
Opting to go menu free was a way of eliminating hassles for the boys. "We didn't do menus because they're just fucking annoying," says Graham. "People steal them and they mess up tables and things — and [from a service perspective] it just gives you a chance to talk to people a bit. We can have a more direct conversation with you" he said.
A pretty famous burger
You'd have to be living under a rock if you live in Sydney and haven't heard about the burgers at Mary's, which even outsells schooners of beer! "The Mary's Burger, every day is the top-selling thing we do," said Graham, "the second is the [Young Henry's] Newtowner."
But initially the focus, the thing that got people talking,  was their cheeseburger instead.
"It was the cheeseburger, because it started the first week we were open. It was Luke's birthday and then Elvis' birthday so we had a ton of chefs in here, and they go on twitter and instagram — Dan Hong was a big one, because he was like believe the hype, it's the best cheeseburger in Sydney, so it was all about the cheeseburger," said Graham. But could this burger madness lead to a chain of Mary's_style burger joints? It's unlikely, said Graham.
"It's nice for this place to be doing so well that we can think about it," said Graham.
"We never expected the burger to be such a huge hit, so we think about that a little bit, we think about doing another bar a little bit, all the other avenues of hospitality too — we're not married to doing bars only."