Tuesday night saw a big crowd descend on Sydney's The Mint to watch the final Australian round of the Bacardi Legacy Cocktail Competition. On hand to watch were a number of Sydney hospitality's finest, as well as judges Simon Difford (of diffordsguide.com), Hayden Lambert of Melbourne's Bar Americano – a previous Legacy winner – and Mark White.
The bartenders that made it through to the final round were WA's David Nguyen-Luu from Rockpool Bar & Grill, Fred Siggins from Melbourne's Black Pearl, Marco Nunes of Brisbane's Papa Jacks, Sydney's James Irvine of Hinky Dinks, and Niall Maurici from IXL Long Bar in Hobart — collectively known as the  Five Most Promising.
They were fighting it out for the chance to represent Australia in the global final, to be held in Moscow, where they'll compete against the best the world has to offer. They've been busy promoting their drinks over the last couple of months, with the help of Bacardi and a budget of $5000 each.
ADVERTISEMENT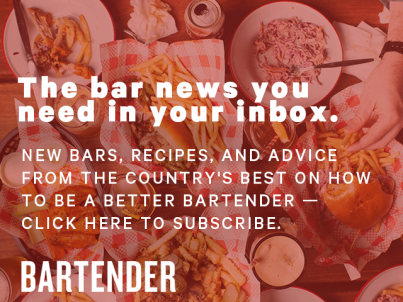 &nbsp
There was an amazing display put on — great drinks came from all quarters. But in the end there could be only one: Fred Siggins, from Melbourne's Black Pearl took out the comp with his Empire of Dreams — check out the winning recipe below.
Empire of Dreams
50ml Bacardi Superior Rum
30ml fresh pineapple
10ml apricot brandy
10ml fresh lime juice
5ml orgeat syrup
15 espresson beans
Shake and strain, garnish with a lime twist.