Last year saw Leeroy Petersen add the title of pub owner to his resume with the purchase of Sydney's Durty Nellys. We spoke to him at the time about his plans for the space above the renowned Irish bar, with Petersen indicating he had plans for a smokehouse and BBQ joint upstairs.
Those plans have changed though, with a shift in direction towards an elegant, laid back wine and cocktail bar called Print Room. The renovations have just been completed and Print Room is open for business.
"It took three months," said Petersen of the renovations. "I ripped out the entire bar and rebuilt it from scratch, ripped out walls, moved the kitchen. The only thing we left was the floors, we just re-polished them and they came out really nice."
ADVERTISEMENT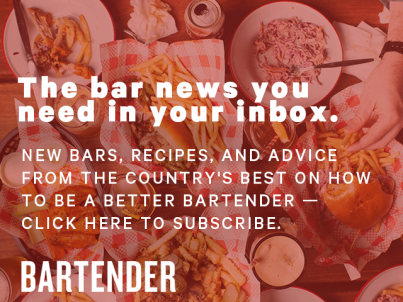 &nbsp
What Petersen has created is a light-filled, elegant space with touches of old colonial style.
"We've gone with a Hollywood-esque kind of a venue rather than going with a den kind of style," said Petersen. "So we've used old, rustic furniture, that old fireplace kind of look with old, smoking lounge-leather kind of textures. It's very female friendly, everything is painted that off-pink — the ceilings are painted pink — there's the chandeliers and it's got a really nice essence at night. It's all about the aesthetics, it's a place to be seen. It's the kind of place where people can watch each other and you can see everyone, rather than nowadays where you go into a bar and sit in the corner and you can't see anyone. I'm getting too old for that shit to be honest," he said.
"It's just a nice, comfortable environment. It's mellow, you can have a conversation."
The drinks program is kept simple, with a focus on offering what guests want, rather than dictating to them what they'll have.
"I've always worked off that philosophy of KISS: keep it simple stupid," said Petersen. "On the cocktail menu, we've gone with twists on classics. It'll all change, we're changing it over to do more seasonal kind of stuff. We just wanted to see what people wanted and then we'll change it all really quick. From doing this in the past so many times, you can never know if people are going to like it until they come in. So test it, see what they like, and then change it according to what your clientele want," he said.
"With the wine list we've gone with just a French champagne, we haven't done any house, or Australian sparkling, it's all French," he said. "The wines have been developed by myself and with the help of Riley St Garage [owned by Petersen's brother, Brody Petersen]. So I've had some really nice help from my brother on that."
The bar food offers up small share dishes like smoked paprika cashews, rosemary salted pork crackling, and are all served on gluten-free cornbread, he said.
"I like keeping things simple to start," said Petersen, "so we've gone with antipasto plates, charcuterie boards, cheese boards."
Sean Bosman, who has worked in Melbourne, Honk Kong and Dubai, is running the bar.
You can find the Print Room above Durty Nellys at 9-11 Glenmore Rd, Paddington.