By Sam Bygrave
Photography by Christopher Pearce
Presented by Joe Worthington
You don't often get a lot of space behind the bar. Every little inch of your back bar or your fridge space is valuable
real estate, and you can't afford to have things sitting there not making money — at the worst, you don't want things going off. That's dead money, and more prep.
If you're putting together a new drinks list, you're also going to want something that is quick to make and can bring in the dollars — something like Sangria.
Long consigned to shitty neighbourhood Mexican joints that hardly know they tacos from their tortillas, Sangria has made a bit of comeback. We reckon that's because the way we drink has changed over the last few years. Things today are more communal: food is for sharing, and so to are drinks. And who
doesn't like a pitcher of booze between best friends?
ADVERTISEMENT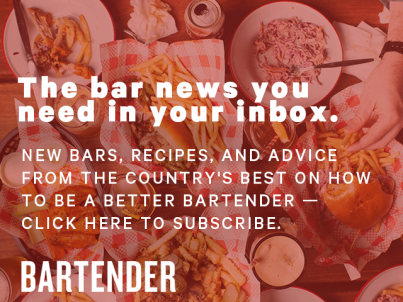 &nbsp
The problem with Sangria has been that it's a bit of a nothing drink. The brand is cheap, you've had some below-par fruits tossed in and some crappy chateau cardboard to cap things off. You're not packing a lot of flavour into that drink.
The guys at SoCal have a different approach which we think has some merit. They don't make up batches of Sangria before service and they don't have any wastage. The idea is simple, really: make a syrup, infused with loads of fresh fruits and spices. When you've got an order of Sangria come in, add the syrup, add the wine and brandy — in this case applejack for something a little different — then your garnish and you're done. No wastage, loads of flavour, and a happy, paying customer.
Sangria
30ml spiced ayrup
60ml Laird's Applejack
Half a bottle of red wine
Lemonade and soda water
Fruits to garnish
Add all ingredients to a large pitcher except for the lemonade and soda. Fill with ice, top with a mix of lemonade and soda.