This month we talk with longtime Brisbane operator, Stephanie Canfell, about the success that her bar, The Bowery, has had. It's won numerous awards in its 11 years of operation — we wanted to know what the keys to her success were.
You opened The Bowery back in 2003 — why do you think The Bowery has had the longevity it has?

Consistency. The classic nature of the venue. Maintaining standards, but always trying to evolve.
Why did you get into the bar business in the first place, and what keeps you going?
ADVERTISEMENT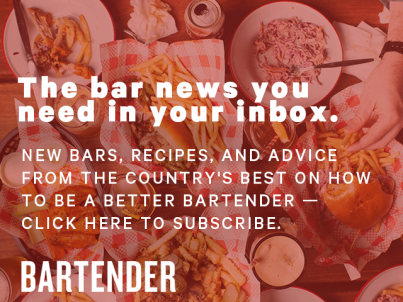 &nbsp
In 2001 I moved back to Brisbane after a stint in New York at the Australian Mission to the United Nations. Because my apartment was the size of a peanut, I spent a lot of time out and about, mostly in bars. And I loved them all: hotel bars, like at The Plaza and The Waldorf, with old guys in their 60's making the perfect martini; dive bars in the Lower East Side (like Mars and KGB and the legendary Max Fish), Siberia (Midtown) where you had to have a friend hold the curtain closed while you went to the bathroom; hidden bars like Angel's Share and Milk & Honey; neighbourhood bars in TriBeCa where I lived like The Knitting Factory, The Liquor Store.  Grace in particular was a home away from home. The Cheers thing.
I had never worked in hospitality before, but when I moved back to Brisbane, I wanted to start my own business and try to recreate something of what I experienced there. There was a commonality to all these places. The style, the service, the look and feel of them. Hence, The Bowery was born.
What keeps me going? I love that moment every day just before we open when she's all ready to go. The music and lighting are perfect. It's clean and quiet. There's ice in the wells. The bartenders are ready at their stations. The prep's been done. It's magic.
How have you evolved as an operator since the beginning?
Hugely. I had to take skills and adapt them to this industry. I looked and learned, and read heaps. I've learnt so much and continue to evolve.
You've had some talented bartenders work at The Bowery over the last decade – name a few?
Barry Chalmers, Matty Hewitt, Perry Scott, Danny Gregory, Shay Leighton, Steve McDermott, Katherine Wasiel and a great crew at the moment headed up by Tim Zosh and James Hughes.
How important have your bartenders been to the success of The Bowery?
Good staff are paramount. And we've had some of the best. But people move on and you can't build your business around one personality. It's about a team and being able to maintain the standard no matter what.
Where is the Brisbane bar industry at these days? What does it need more of? Less of?
It's incredible. There is so much going on. More of utilising our heritage buildings. Less new developments.
Where do you see yourself in five years? 
I would love to have another venue. When the time is right. And I hope to still have The Bowery powering on. My heart is here.
What mistakes have taught you the most important lessons about running a bar business?
To be true to yourself. To listen to that voice inside. To not be influenced by any one else's opinion. To know what you want, and have a clear idea of how to achieve it.
Are there any local or international bar operators that you admire? Why?
Keith McNally (NY). I guess he's more of a restaurateur, but his venues function as viable bar spaces as well. Also the line between bar and restaurant is more blurred there.  Pastis. Balthazar. The Odeon. Lucky Strike. Schiller's. Each venue has its own unique flavor, and he is a master at creating a total vibe to a place. And after decades in some cases, his venues are still at the top of their game. And he never stops!
Also, Audrey Saunders, who I was lucky enough to hang out with when she was at Bemelmans Bar at the Carlyle. I think she is quite unique in this industry and I admire her as a person.
What advice would you give young bartenders who want to open their own bar?
Just do it. But plan, plan and plan. Have contingencies. Have a clear idea of what it will take as a business model. The importance of a business plan should not be underestimated. Be very realistic about running costs and hidden expenses. Have a stash for emergencies.
What are you drinking right now?
Bourbon (always) (Woodford). And it doesn't get much better than an Old Fashioned. I just had a pretty tasty one on Stagg Junior.
Canfell's Top 6 Tips
At the end of the day, it's a business. And you should run it as one, not as a place to hang out and drink the back bar!
It's not always about the bottom $. Quality can cost more. But maintain profitability. It's a balance.
Know all aspects of your business. From what the glassie needs to be doing to the quality of the drinks to the music, the food, etc.
Invest in your staff. Hire good people. Respect them and let them get on with their job.
Keep abreast of what's happening, especially internationally. And try to incorporate innovations without it taking over.  In other words, be aware of the market place, without necessarily being a slave to it.
Find a good lawyer and a very good accountant. In this case, you pay for what you get.