Story by Sam Bygrave
Nestled in amongst big snow-capped mountains, and overlooking the blue waters of Lake Wakatipu, five bar teams of two each from Australia and New Zealand gathered at Sherwood Queenstown yesterday for the first day of the 42BELOW Cocktail Earth Cup.
The competition is the successor of the (in)famous 42BELOW Cocktail World Cup, which was last staged in 2012. Well, they've had a break, and in recognition of the times in which we live the competition lives on, but now with a big focus on sustainability.
That's why we're here at the Sherwood: the bar at this alpine retreat is run by Fraser Brown, and he's implemented an extensive program to reduce the bar's waste, and to reduce, reuse, and recycle as much of what they do at the bar as possible (stay tuned for Brown's tips — you'll be able to find his advice and more on The Sustainable Bar).
And it was Brown who kicked things off for the competitors with a detailed, knowledgeable and inspiring talk on just how they've managed tor educe the Sherwood bar's impact on the environment. Then, each of the teams were treated to live music and welcome drinks in the crisp air whilst the first challenge — and one of the most important — was set up inside.
ADVERTISEMENT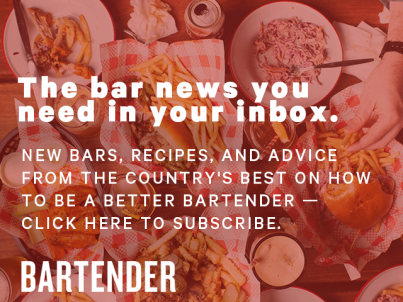 &nbsp
Their first challenge? To create a cocktail with sustainability at its core. They had one hour to come up with the drink, working with select locally-sourced and sustainable produce made available to them. The catch? This is the drink they'll be serving to the drink loving Queenstown public in two nights time when they take up residence — one Aussie team and one Kiwi team each — in five of Queenstown's bars.
The drinks were judged last night by Jacob Briars, the global trade advocacy director for Bacardi-Martini (and 42BELOW Vodka Professor Emeritus, we might add); Bonnie Shearston, owner of Brisbane venues Red Hook and Coppa Spuntino; and Steve Schneider, long-time Employees Only bar manager who has flown into Queenstown from Singapore, where he's set up the first outpost of this famous bar.
The judges were impressed with the drinks they've seen so far, with Briars telling us "it's a really high standard of drinks, especially given they had just an hour to come up with them."
Stay tuned for more updates as the competition progresses, and follow all the action on social media with the hashtag, #42CEC. For more on how to implement your own sustainable bar program, check out the new series from Australian Bartender & 42BELOW, The Sustainable Bar.