There's perhaps no more sophisticated way to add a touch of luxury to your mixing than with a few glugs of good champagne.
We're talking about proper, from-the-region-of-Champagne champagne, the French stuff. Champagne, after all, can only be labelled as champagne if it is made in Champagne, a province in the north-east of France that shares a border with Belgium.
The climate of Champagne is described as a dual climate, in that it has a maritime influence, providing steady rainfall and a moderating influence on temperature differences between night and day; and it has continental influences, providing ideal sunlight in summer but also making it prone to frosts — which will kill the vines — in winter.
It's the northern latitude that makes champagne's wines great for sparkling. Champagne sits at the northernmost latitude that winemaking vines can grow in, and it's a harsh place for a grape — the still wines made are often low in alcohol and high in acid.
ADVERTISEMENT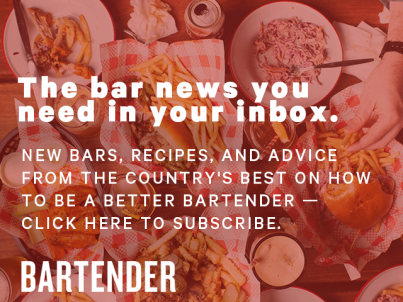 &nbsp
But this is where Champagne's limitations on the way it can be aged and how it gains its most famous attribute, the bubbles, come to the fore.
The bubbles must come from a secondary fermentation that takes place in the bottle — there's no carbonating this thing artificially. A 'liqueur de triage' is added to the wine in bottle, which kickstarts the secondary fermentation.
The wine must then sit on its 'lees' (the dead yeast sediment from secondary fermentation) for 15 months, in the case on non-vintage champagne, or three years in the case of vintage champagnes.
As for the allowed grapes, champagne can only be made from chardonnay, pinot noir, pinot meunier, pinot blanc, pinot gris, arbane, and petit meslier, although in practice it's mostly made from chardonnay, pinot noir and pinot meunier.
So, now your knowledge is sorted, charge your glasses and mix up these recipes.
Seelbach Cocktail
30ml Old Forester Bourbon
15ml Cointreau
7 dashes Angostura bitters
7 dashes Peychaud's bitters
Champagne to top
Orange peel twist for garnish.

Stir ingredients except champagne, strain into a flute. top with prosecco.
Adapted from a recipe by Adam Seger, Seelbach Hotel, Kentucky USA
How do you get a recipe to become a modern classic? Well, you could spin a yarn about rediscovering a signature drink of the hotel you work at, so that it becomes known as a forgotten classic. That's what happened with the Seelbach. The New York Times' Robert Simonson wrote this year:
"The news media soon picked up on the tale, and within a few years, the Seelbach cocktail was regarded as a rescued classic. It's a tantalizing back story, one that has charmed cocktail writers and aficionados for years, and there's only one thing wrong with it: None of it is true."
Well, Seger's tale might be all baloney but his cocktail can be rightly called a (modern) classic.
French 75
60ml Hendrick's Gin
20ml Lemon juice
2 Teaspoons castor sugar
Champagne to top
Add lemon juice, sugar and gin into a shaker. Shake briskly with ice and strain into a highball filled with freshly cracked ice. Top with Champagne and gently stir. Garnish with a lemon twist and a cherry.
Recipe adapted from Ted Haigh's Vintage Spirits & Forgotten Cocktails
As with many potent potables of note, there has been some debate surrounding its exact ingredients and construction. Some say the drink should be served in a champagne flute, others claim that it is merely a Tom Collins topped off with Champagne and many would argue that being French the drink should rightly contain Cognac not gin, although most attest that it's not even French at all.
Harry Cradock's The Savoy Cocktail was first printed in London in 1930 and is most frequently cited as the first cocktail book to print a receipt of the French 75. Craddock's version simply asks that you pour the ingredients "into a tall glass containing cracked Ice and fill up with Champagne. Hits with remarkable precision." Of course, being English, gin is the spirit of choice in Craddock's version.
Other sources claim that Judge Jr's 1927 Here's How (printed in New York) deserves the credit for being first to list the French 75 as we know it and Judge prints it as thus:
"This drink is really what won the War for the Allies: 2 jiggers Gin; 1 part lemon juice; a spoonful of powdered sugar; cracked ice.  Fill up the rest of a tall glass with champagne!  (If you use club soda instead of champagne, you have a Tom Collins.)"
Harry's ABC of mixing cocktails which was first printed in 1919 claims that Harry's New York Bar in Paris created the drink in 1925, but despite Andrew MacElhone's (Harry's son) claims that the book was updated every year until 1939 the allegation isn't backed up by a soul in the cocktail kingdom as reprints only started appearing in 1986.
All that aside, here is Harry's version: "Shake 2 ounces of Gin, juice of a lemon, sugar, ice. Strain in a large champagne glass and add Champagne; a teaspoonful of Anis may be added."
Champagne Cocktail
30ml H by Hine VSOP Cognac
1 sugar cube
3-4 Angostura aromatic bitters
Champagne to top
Soak the sugar cube with the bitters and drop into the flute. Add cognac, then top with champagne. Garnish with a lemon twist.
The Champagne Cocktail is just about as money as it gets. Let's take champagne — delicious and expensive champagne — and then while you've got credit card out we'll charge it with some cognac.
The truth is the balance in this recipe can be difficult to get right; some champagne can be quite delicate in flavour, and cognac is no shriking violet.
You may even want to ditch the cognac altogether, but then if you're going to do that you're best off spending a little extra on killer champagne and doing away with all the cocktailing frippery.