Opening Piccolo Bar has meant opening up Spanton Media to some new and different faces. Alex Zanarini was recommended to Dave Spanton by Michael Delany, the venue designer, when it came time to bring Dave's classics drinks list to life and help with the staff training. He's been a gun. And it doesn't hurt that he pronounces 'Negroni' like a bonafide Italian. We had a little chat with Alex to find out a bit more about his hospo journey. For more, you can follow him @zanarini.alex 
Where do you work?
Currently I am working at Dean & Nancy's, a brand new hotel bar in the city on the 22nd floor run by the Maybe Sammy crew. Most beautiful bar in the city. I'm also working at Bartolo – an Italian wine bar and restaurant on Crown Street. Rest of my time is spent with Sweet & Chilli running training courses for young bartenders. And a little bit of consulting on Piccolo Bar. A man of many jobs. I think in this current climate if you've got a number of years of experience you can pick and choose who you work for.
Tell us a bit about how you got started in the hospitality industry?
I actually used to work in advertising and believe it or not, it didn't pay very well. So, I got a part-time job in a pub in a pub in Redfern and my plan was to network with all the advertising execs and pitch myself as a creative. They were always unhappy, and I was always in a great mood. So, I chose to change careers right there. First real party pub and a real destination for hospitality people. I fell in love with margaritas, shots and a great time. I've always been lucky to stumble into jobs at fun places
"I have the opportunity to create a great experience for them and they take away that positivity. Everyday you're having hundreds of positive interactions with people and taking that joy into their lives. It's a bit like paying it forward."
It's been a tough 18 months for the hospitality industry, how has this impacted you? Staff shortages etc.
It's been great to be in a position to choose where and when I work, that's wonderful but it's also become really hard to say no. I have a lot of peers and friends are short of staff and it breaks my heart a bit. I have had a tendency to stretch myself a little thin. Both lockdowns have been great for me as they have given me a chance to focus on exercise, health and wellbeing. I'm probably the healthiest I've ever been. The six months between lockdowns was the busiest period in the hospitality industry in my career. I think that the opportunity for the hospitality industry is to focus on training people who have zero experience and getting them to a medium level. Getting people from 0 to 60.
What are some of the things you love about the bar industry?
Honestly, it's the most fulfilling job I could imagine. I sound like a hippie saying this. When guests come in on a date and with friends and I have the opportunity to create a great experience for them and they take away that positivity. Everyday you're having hundreds of positive interactions with people and taking that joy into their lives. It's a bit like paying it forward.
ADVERTISEMENT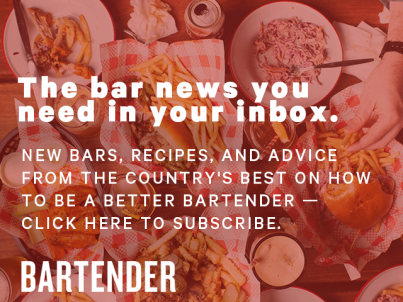 &nbsp
Some of the things you hate?
It's hard to maintain some of your relationships.
What advice do you have to rookie bartenders starting out in their careers? Were there any big mistakes you made you'd like to see others avoid?
My best advice would be don't call in sick, because being reliable is one of the greatest qualities that someone could have. And have hobbies outside of work, focus on physical fitness because the late nights do catch up with you eventually. Don't take yourself too seriously.
When you walk into a bar, what are you looking for? What makes a great bar experience?
Do I feel comfortable sitting at the bar on my own? That's something a good bar should do. And, when the staff know what I want before I do.
Mentors? People who have inspired you.
My greatest mentor would have to be a man called Simon McGoram. I worked with him for a number of years at Neighbourhood in Bondi. He taught me to anticipate the customers needs and give exceptional service across the board. One phrase of his which always stuck with me: "Customers come out to spend money. Our job is to make that as easy as possible." That underlines everything we do.
What are you drinking right now?
Shandies. Definitely making a comeback as Australia's own aperitivo.
What are your hopes for 2022?
8 hours sleep every night.
Where do you see yourself in the next five years?
I would like to focus on training more and more people whether their intention is to have a career in hospitality or not I want to help them fall in love with hospo and learn some mad life skills.
You can have a drink with anyone, alive or dead. Who would it be and what are you drinking?
It would be with my Grandfather Georgio Zanarini who when he was alive owned a chain of hotels in Italy. I'd love to sit with him over a Negroni and ask him why the hell he got into this business.