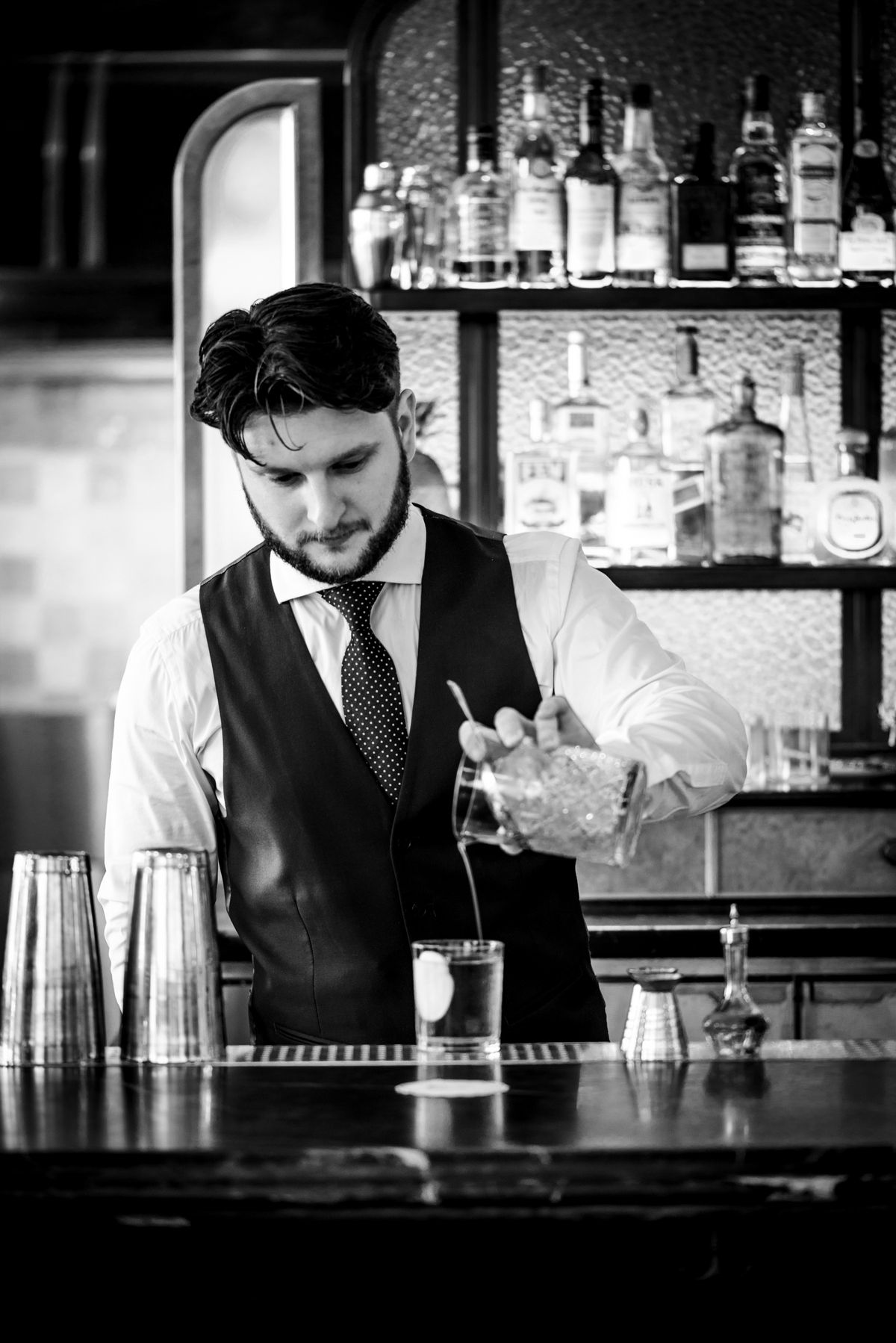 Cavendish House
33 Russell Street, Melbourne
Gimlet.melbourne
If you haven't been to Gimlet in Melbourne, put It on your bucket list now. Channeling the best of traditional French style brasseries and grand New York dining rooms, this is Andrew McConnell's latest addition to the Melbourne dining scene with a portfolio that includes the likes of Cumulus Up. and Cutler & Co. In this piece, we hear from Bar Manager, Cam Parish, who has tended at institutions such as Bulletin Place and the Everleigh after a stint in Manchester.
My life in hospitality started when I was living in Manchester, England playing professional football and studying physiotherapy. Like most students, I wanted a little extra cash so I started working part-time as a barback at a cool little bar in the Northern Quarter. It was busy, they featured some of the best up and coming Djs. The cocktails weren't anything special but the vibe there was like nothing I had ever experienced before. Over time, I started to pick up more shifts and my social life really started to take off. I began skipping uni to work from time to time. I was always at a bar and the idea of turning this lifestyle into a career really started to appeal to me. I dropped out of uni and started working full-time.
A few years down the track I moved back to Sydney (which is where I am from). I somehow managed to get a job at Bulletin Place. This was where my real passion for cocktails began. I mean how could it not? I was surrounded by some of the best people in the industry. From there my partner and I decided to move to Melbourne where I spent a good chunk of my career working at The Everleigh, a bar that still to this day is very special to me.
ADVERTISEMENT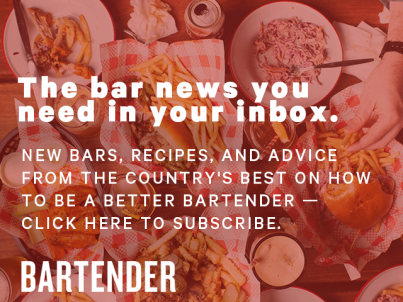 &nbsp
Gimlet is a bit of a COVID baby, opening right in the middle of the pandemic in 2020. Like most openings, they can really creep up on you no matter how organised you are! While obviously the lockdowns were frustrating, on a positive note they gave us the luxury of time, and allowed me to get stuck into developing and testing cocktails, building the cocktail list and refining our back of house systems. During that time, regular conversations and ideating concepts with Andrew was invaluable, and the focused, collaborative conversations with our bar team really allowed us to define what we all wanted for the drinks programme to be together. Our interpretation of our signature Gimlet was refined too – three months of R&D to get it to where we wanted it to be… and now we make over a thousand a week.
"Our interpretation of our signature Gimlet was refined too – three months of R&D to get it to where we wanted it to be… and now we make over a thousand a week."
Gimlet is a venue where everything and anything is okay. It's one of the only places in Australia, in my opinion, where the drinks and food are on a level playing field. Usually one takes priority over the other. When we first started talking about the design of Gimlet, Andrew said to me: "Usually we open restaurants with a small bar, this is a big cocktail bar with a restaurant."
The kitchen and bar anchor Gimlet simultaneously. They sit hand in hand. The same goes for the beverage program. The menu is composed of a number of different classics with modern interpretations, and presented using cutting-edge contemporary techniques. There is a big focus on preservation and fermentation that is based around seasonality. Being able to explore new flavours through fermentation but also hold on to to produce far longer than a season allows you to is super fun.
We do both classics and our own cocktails. Classics have their place, they're classic for a reason but there is only so much you can do with them. On the other hand, being too experimental you can easily lose your way. Drinks should be made for you to understand, they shouldn't feel intimidating. They should read simply with lots of detail under the surface. And ultimately, they should taste delicious.
A shift at Gimlet depends on where you are behind the bar. If you are working on the dispense station, on a Friday night you're in for a rolling and dynamic shift, working side by side with another bartender to keep the cocktails coming. Operated not too dissimilarly to a kitchen – one person is solely making drinks, while the other is expediting like a head chef. They control the flow and the quality. It's a very well oiled machine.
The customer-facing front bar is where your personality really comes into play, interacting with guests from start to finish. There is an element of hosting and conversation, reading the room and serving guests with completely different expectations – Champagne & Caviar to kick off a dinner, a couple that want to be taken on a cocktail journey, late night martinis as well as all the fun that comes with a whole dining room ordering cocktails. It's hospitality at its best.
I love the atmosphere of the bar industry. It can be a place full of friends and family, all with a drink in their hand having a good old time. It's why I'm in it for the long haul. I love it.
I hate shit ice and warm martinis.
My advice to rookie bartenders is to keep on bartending for as long as possible. Learn your trade 100 times over before you step into a management position or think about opening a place. Enjoy being a bartender, you will have some of the best times of your life doing it. Don't rush to give it up for more responsibilities that will keep presenting for the rest of your career.
"Enjoy being a bartender, you will have some of the best times of your life doing it. Don't rush to give it up for more responsibilities that will keep presenting for the rest of your career."
Being welcomed properly is the most important thing when you walk into a bar. There is nothing worse than being ignored. I also like a team that is passionate about what they do and consistency.
In terms of inspirational people, at the moment it's Luke Wookie from Byrdi. He is at the top of his game – super innovative and pushes boundaries without being intimidating.
Right now I'm drinking extremely cold vodka martinis or Poire Williams & Soda, I'm loving Eau de Vie at the moment.
Cavendish House Martini
60ml Tanqueray No Ten
10ml White Vermouth Blend*
2 Dash Orange Bitters
Orange Twist
Selection of olives - Sicilian, Ligero, Gordal
*White Vermouth Blend: Dolin Dry, Belsazar Riesling Vermouth, Cocchi Americano, lemon verbena vinegar

This drink draws on a lot of inspiration from one of my favourite cocktails called an Astoria, 
a 50/50 Martini with orange bitters and orange twist. There are so many ways to make a Martini, 
but our Cavendish House Martini sees the combination Tanqueray No. 10 and our house vermouth blend. 
The butteriness of the vermouth helps soften the zesty high proof gin, 
resulting in a dry martini that is textural and full bodied. 
Served with a selection of three types of olive, the intention is to align each sip and olive
with the changing temperature of the martini.

Stir and serve into a chilled martini glass.
Sidecar
45ml Cognac Tesseron Composition
15ml Orange Wine
22.5ml Citrus Cordial
7.5ml Orange Koji Liqueur

The darker spirit iteration of our house Gimlet. 
Our version takes a gimlet-style approach, using cordial instead of the fresh citrus 
and three different layers of orange. Firstly we ferment all things orange (orange, rockmelon, carrot, orange blossom honey) 
for 7 days to create a fun little play on the term "orange wine". 
We then cure whole oranges with salt and citric koji to create a lacto orange liqueur 
before adding petitgrain (an essential oil, made with the leaves and flowers of the orange tree)

Stir and serve in a chilled coupe glass