"It's a really nice industry to work in up here; collectively I think we are all excited about where we are headed." Bonnie Shearston
This operator profile appeared in the August 2012 issue of Australian Bartender. You can catch Bonnie at the upcoming Bar Week workshop, How to Open a Bar & Make Money!
Interviewed by Edward Washington
Bonnie and Tom first captured our attention as co-owners of Canvas Bar, Brisbane (New Bar of the Year 2011 Australian Bar Awards). Since then they have gone on to open their second food and cocktail haunt – Public Restaurant & Bar – which is kicking some seriously big goals in its first months. We caught up with them for a chat about their latest industry venture.
ADVERTISEMENT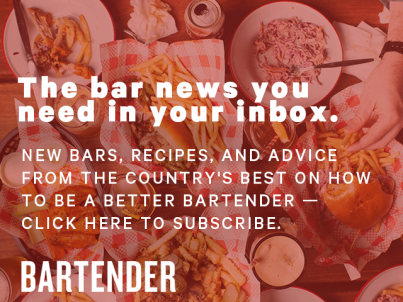 &nbsp
What's the attraction of the bar business for you?
Bonnie: It's fun, active and very sociable. I could not imagine doing a job where I didn't get to talk to people and had to sit at a desk all day.
Tom: Seriously, what's not love? – anyone ever tried debt collecting!?
How did you get involved in the bar industry?
Tom: I stared working bars in ski resorts of Europe. The drinks weren't that exciting back then, however the adrenalin and fun of working in a buzzing bar made me want to eventually open my own place.
Bonnie: I left school and fell into it – I loved it! I managed to get a job with the Match Bar Group and opened Match Bar (Ibiza), then helped with The Clubhouse (Chamonix, France) before eventually ending up in Australia.
Tell me a little about your businesses?
Bonnie: Canvas Cocktail and Wine Bar has just celebrated its second birthday. During these first two years it has picked up a number of accolades and attracted some of Brisbane's best bar staff to its helm. Public Restaurant and Bar has been open for just under four months and was recently awarded One Chefs Hat and Best New Restaurant at the Queensland Good Food Guide Awards.
How have you evolved as business operators over the years?
Tom: With your first venture there will always be mistakes made, however don't dwell! Move forward and learn from them. Don't get stuck on the small stuff, think of the bigger picture and don't get bogged down. Keep learning, progressing and asking questions – never be afraid to ask.
What mistakes taught you the biggest lessons?
Tom: Storage! Remember when building a bar from scratch – allocate enough room for all your back up booze, glassware and consumables. Buy decent bar/kitchen equipment as well. At Canvas we bought some equipment that was below market value however the ongoing repair costs have outweighed the cost of more premium models.
How do you continually develop your creative ideas?
Bonnie: Listen to your staff, keep on top of current trends, speak to your customers and step away from the business for some time out. It's amazing how by taking a few days off re-ignites your creativity.
Tom: We'll run ideas past each other then leave it for a few days before adding to it. We then bring the idea/concept to the staff, or maybe a regular customer, and get their feedback and tweak it from there.
Where do you draw your inspiration from for food and drink?
Bonnie: Being from London we had some amazing bars, restaurants and cafes on our doorstep. This has definitely been a massive inspiration, as did being so close to Europe and being able to travel to Paris, Berlin, and Ibiza.
Tom: Travelling to new places and tasting different drinks and foods, going to markets, delis, hotels, and drawing inspiration from everyday daily life.  Speaking to producers and knowing the life of their product. I also find my creativity at its best when extremely hungover!
What excites you about the Brisbane bar industry?
Bonnie: How rapidly it's growing and the energy behind each new venue. There are fantastic operators opening their first venues, as well as more established operators moving on to their second, third or fourth. We're getting braver and more daring as a city.
What's the best thing about owning your own bar?
Bonnie: The day to day challenges of getting through a service smoothly. It's very satisfying getting to the end of a shift knowing that your customers and staff have had a great time.
Tom: Absolutely, watching satisfied customers, hearing them laugh and enjoy themselves is an amazing feeling. Also having a beer with the team after a busy service.
And the worst?
Bonnie: No shows. There is nothing more frustrating than people that book an area or a table and then don't show up on the night, especially when you have called them that day to confirm. Some people must not understand that this is our livelihood. Just call and let us know you can't make it, please!
Are there any local or international bar operators that you admire? If so why?
Bonnie: I owe a huge amount of what I've learnt to Jonathan Downey and the guys I worked with at The Match Bar Group. I will always have a lot of respect for them and the opportunities they provided me with.
How important are staff in operating a successful business?
Bonnie: Staff are the back bone of any business. Look after them properly, provide them with a fun and safe working environment where they learn and develop their skills. In return they will look after you.
What advice would you give young bartenders who want to open their own bar one day?
Bonnie & Tom: Do it. It's challenging but very rewarding. When opening your first venue there are three key things that I think are the most important. Location: make sure you do your market research to ensure you are opening in an area where there is a demand for your type of business and not too much competition. A little competition is good too, as agglomeration can only mean more people in the area.  Start out simple: you will be new onto the scene and will have a lot to learn, it's very important not to go in over your head on your first venture. Be hands on: this is probably the most important piece of advice we can offer. No one will ever look after your business like you will. Get to know your customers and what the demands are. Make sure the business is successful and stable before stepping away and moving on to new things.
What are your Top 5 tips for running a successful bar business?

Financials: stay on top of your figures at all times.
Staff: nurture & respect them.
Feedback: it's the only way you can improve.
Take time out and keep healthy: have a life away from the business.
Have fun! It's a great business, enjoy what you and be passionate about it.