By Sam Bygrave
Photography by Steve Brown
There were two leading lights of the tiki cocktail: there was Ernest 'Don the Beachcomber' Gantt, as we looked at a few weeks ago, and then there was Victor Bergeron — better known as Trader Vic.
The story goes that Bergeron, who owned a small, undistinguished bar called Hinky Dinks in Oakland, California, visited Don the Beachcomber in the early 1930's. Impressed by what he saw, he appropriated the exotic, South Seas-vibe and changed his name, his bar coming Trader Vic's in the process.
Trader Vic created the Mai Tai, and the Fog Cutter along with a host of other drinks. Whereas Donn Beach's drinks employed a precise balance of a range of rums, Trader Vic employed a broader range of spirits in his, and the use of syrups became a fixture. The use of syrups is something that Monin's beverage innovation manager and bartender, Tomas Vikario, knows something about.
ADVERTISEMENT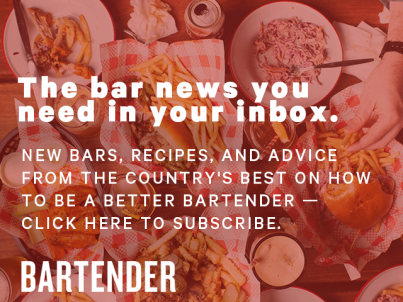 &nbsp
"I believe that every bartender needs to respect three basic pillars for using syrups: to achieve balance, to follow the seasons and theme creativity, [and] ease of use," he said.
And syrups are key to achieving the careful balance in a number of Trader Vic drinks — the orgeat in the Fog Cutter brings together the other elements of the drink.
"There is nothing more pleasing than a drink that has the perfect balance of flavours and textures," said Vikario.
"Sugar syrup helps to balance the acidity of lime and lemon juices in the drink. But balance isn't just a matter of countering tart with sweet. Sweetness can also cut the dry depth of the bitter cocktails. Sweeteners elevate the flavours of fresh fruit using small amounts of product and resulting in very clean, fresh and consistent tasting cocktails," he said.
Fog Cutter
60ml lemon
30ml orange
30ml Monin Orgeat
30ml light rum
15ml brandy
15ml cream sherry to float.
Shake all but sherry and dump into a high ball. Float sherry on top.
Orgeat was one of the syrups that Trader Vic employed on a regular basis, but it wasn't the only one — grenadine got a good work out, too. Indeed Vikario thinks there are a number of syrups bartenders should have on hand at all times.
"[The] must-have in the bar business are definitely these ones: grenadine, pomegranate, orgeat, cane syrup, maple spice, coconut, vanilla, cinnamon, passionfruit, ginger, agave, caramel just to name a few."
And like Trader Vic, the key to creating new concoctions is to tinker with your recipes.
"A good bartender needs to start thinking about ways to make slight changes to cocktails that are old favourites," said Vikario. "Make one or two changes at a time and choose new ingredients that can function like [the] originals: think sweet for sweet, tart for tart, bitter for bitter."
Whatever you do, choosing quality is important.
"[The] type of sugar and flavour is another very important segment of the sugar syrup that customers and operators are forgetting about," said Vikario. "Many local brands are using cheap white corn sugar (also known as HFCS [or high fructose corn syrup]) and artificial flavourings.
Monin Orgeat
"Monin syrups have been in the market for over a century already," said Vikario. "They are produced with an undeniable quality and with the finest natural ingredients from all places in the world. Monin syrups are made with the selection of the best flowers, fruits, spices and nuts ever imagined. Monin Sweeteners elevate the flavours of fresh fruit using small amounts of product and resulting in very clean, fresh and consistent tasting cocktails. All flavours are available all year round, not just in certain season."
Available through Stuart Alexander