Though it might be hard to believe these days, there was once a time when tequila recipes were hard to come by. As is pointed out in this story on the Toreador (another tequila drink you should get to know), it was William Tarling's Cafe Royal Cocktail Book that was the first to really get any number of tequila recipes down. He included a whopping "15 tequila cocktails – printed 16 years before the first written reference to the Margarita."
Yet there's a lot of great drinks with tequila today, and so we've pulled on the Cafe Royal book, but also Trader Vic's El Diablo and a few recipes from Jim Meehan's PDT Cocktail Book so you've got six recipes on hand for the next time an agave fanatic walks into your bar — and don't forget to check out the tasting notes at the bottom of the page.
Rosita
30ml Tequila Blu Reposado
30ml Campari
30ml sweet vermouth
Stir, strain into a rocks.
ADVERTISEMENT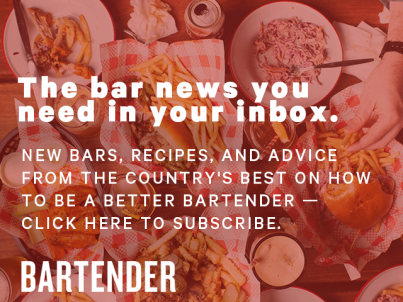 &nbsp
Café Arroz
60ml horachata
45ml Altos Reposado
15ml Kahlua
Shake with ice and strain into a coupe.Garnish with grated cinnamon.
Adapted from The PDT Cocktail Book

El Diablo
60ml Herradura Reposado
30ml ginger beer
45ml cassis
45ml lemon juice
Adapted from Trader Vic's Bartenders Guide
21st Century
60ml Patron Silver tequila
45ml white crème de cacao
45ml lemon juice

Shake with ice and strain into a Pernod-rinsed coupe.
Adapted from The PDT Cocktail Book
Senorita
20ml Beefeater 24 Gin
20ml Cazadores Reposado
20ml lemon or lime juice
15ml grenadine
Shake and strain into a coupe.
Adapted from The Café Royal Cocktail Book
Nouveau Carré
45ml Milagro Reposado
15ml Benedictine
3 dashes Peychaud's Bitters

Stir with ice, strain into a coupe.
Adapted from The PDT Cocktail Book
Tasting Notes
Patron Silver
Grown in the highlands of Jalisco, Mexico, it is characterised by a lemon and white pepper aroma, buttery sweet and peppery flavours and smooth clean, elegant finish.
South Trade
Olmeca Altos Reposado
Mineral rich volcanic 'tierra roja' and a unique micro-climate, combine to contribute to the cultivation of the highest quality Blue Agave used by Olmeca Altos Tequila. Harvested by hand, using techniques handed down over generations; this process sacrifices yield, but makes for the best tasting, high quality tequila.
Pernod Ricard
Tequila Blu Reposado
Tequila Blu uses 100% blue agave grown in four different regions of Mexico to perfectly balance the flavour. Harvested by hand, the thick honey juice is then extracted, fermented and double distilled before being rested in American Oak barrels for six months to create a beautifully balanced reposado.
CCA 
Milagro Reposado
Triple distilled in small batches from estate grown agave, it ias aged in French white oak barrels for 10 months.  It pours the colour of honey amber in the glass, offering up notes of vanilla and a light oak character on the nose. The palate is clean, with white pepper, cinnamon spices and a dry finish.
William Grant & Sons
Cazadores Reposado
This 100 per cent agave tequila offers up aromas of citrus, vanilla and sweet agave fruit, along with  spices and white pepper. Flavours of caramel, citrus, and vanilla mingle with cooked agave and spice on the palate, with a lingering finish.
Bacardi Lion
Herradura Reposado
Sweetness and nuttiness on the nose (hazlenuts and almonds) with light cacao and a eucalypt note. Palate is creamy with a good balance of sweetness, spice and citrus notes — long finish.
Brown Forman