It may only be a small bar, but Hello Sailor has had some outsized acclamations recently.
The bar, on Oxford Street in Sydney, has received no fewer than five nominations at this year's 14th annual Bartender Magazine Australian Bar Awards. Add to that a final four nomination at this year's Spirited Awards, the big awards ceremony at Tales of the Cocktail in New Orleans, for Best International Cocktail Bar, and you start to see how they've had a particularly well-received 12 months of business.
Co-owners Marco Faraone and Luke Redington have created not just a bar, but a food and drink destination.
"Seafood is a large focus on the menu, and the cocktails really just change depending on what port we want to be in every week or every time I want to change the menu," said Redington.
ADVERTISEMENT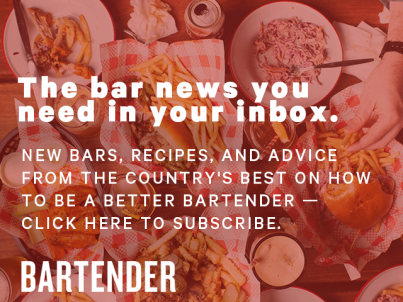 &nbsp
As befits a bar by the name of Hello Sailor, there's plenty of nautical references for the guys to draw from, not least their bar in the middle of Sydney harbour on Cockatoo Island.
"We wanted to do a bar that was a sibling bar to Cockatoo Island. Cocktaoo Island is a more kind of Mediterranean-resort, beach-style of bar — whereas here we wanted to go a bit more nautical," said Redington.
"From both of our backgrounds, where we were brought up, and what we did — we were both kind of sea-based people," he said. "And we saw that there was a bit of a gap there — Sydney's got a lot of naval and nautical and sailor history to it, to the underlying idea of what Sydney is. And we didn't see a kind of bar that really encapsulated it."
There's a bit of kitsch to the décor, which stems from their desire to not have Hello Sailor take itself too seriously, while still providing "good food, good music, and good drinks."
"I'd say it's a little cheesy in some ways," said Redington, "it's a bit of a throwback to the '70s and '80s. Hello Sailor is not supposed to be taking itself too seriously."
That doesn't mean they don't put in the hard yards. When we meet Redington at Hello Sailor he's been burning the candle at both ends. Faraone has been overseas and Redington has been working the close shift. They shut the doors at three o'clock in the morning six days a week, getting out of the venue by 4am, and back in again at 10:30am in the morning. Ouch!
"We have a lot of pride in what we do, but we don't want to lose that sense of kitsch or that sense of fun that we do have," said Redington. "It's always a lot harder work to make something look like you're not really trying, you know?"
The usual division of labour between the owners sees Faraone navigating the back of house departments, with Redington more front of house (but you'll still see both of them at the bar most nights).
"I would say we're both of the owner operator kind of role," said Redington. "I'm more of a behind the bar, host kind of presence, Marco's the kind of guy who'll come in and lets deliveries in, more back of house operations. Considering Marco's got a solid ten years in the industry over me, he knows his way around an excel spreadsheet!"
It's the kind of division of labour you need when your venue has so many hours to fill — there can be a lot of hours in the day. The long service periods mean that Faraone and Redington need to write their menus accordingly.
"There's new drinks on the menu fortnightly, depending on what we we're noticing the trends are, and what fruit we're able to get our hands on," said Redington.
"The venue is open from 5pm to 3am six nights a week, so we need drinks that we can bust out in high volume and high repetition because we've got ten hours of service — there's a lot of people that come through,"
he said.
They've had a great response from the locals as well as the Sydney hospo community, who are coming in for food as well — which is what you want from a good neighbourhood bar.
"[We wanted] just to give guys and girls the chance to get a feed after work," Redington said about the hospo crowd. "Their hours are so different from what a lot of vendors are offering, so it's really, in the area, only us and Low302 that offer more than just staple carbohydrate meals after midnight, you know?"
They've been using food to draw the locals in as well. The one dollar oysters between 5pm and 7pm every day they're open have been a particular hit, said Redington. "We have a really good seafood supplier and every week our oysters are from a different region," he said. "We're just getting them at a really good price — and we don't make any money on the oysters — but it's just giving someone the option that they can finish work and be fed and not have to spend a lot of money. And now we have the pizza oven in there and are doing half price pizzas, just so people can come in after work — maybe it's not dinner, it's just a feed. We have very strong local crowd that comes in here, so it's about keeping locals happy as well; giving them somewhere to go."
It hasn't been plain sailing, though, and it's the hospitality connection that Hello Sailor has leaned on for the early week trade ups and downs.
"You know people in Sydney are built for warmer weather, when the cooler weather comes along it's a bit of a shock but all it takes is a coat and to realise its not the same temperature inside than outside," he said. "You're always saved a bit though because your hospo trade is always a bit better during the midweek — it just kind of evens itself out."
And making it work on Sydney's Oxford Street can be tough, but Hello Sailor is finding a way. "We're still only 12 months old so there's still a lot of growing to do," said Redington. "Oxford Street has been left out of the eating zone for a while, so it's just about giving people the option to want to come back."
Well, award nominations can go someway to getting a bar on the map for a wider audience — not that Redington was expecting the Tales of the Cocktail nomination.
"I didn't think we were going to be in it, I just didn't think of it," he said. "But when we think back we did have at least half a dozen of the judges through the venue in the last 12 months. So we can see where the nomination comes from," he said.
And again, there's the benefits of being a hospo bar. "We cater quite heavily to the hospo trade as well which is always a bit of a plus for voting.
"It was really pleasant man, it's always nice to have under the belt in the first 12 months or so, you know?"