Joe Sinagra, left, and Roman Tazdhynov are through to the final
Joe Sinagra and Roman Tazdhynov through to Aussie final of Angostura Global Cocktail Challenge
The Australian heats of the Angostura Global Cocktail Challenge kicked off this week with Joe Sinagra from Bobeche and Roman Tazdhynov from Bibliotheca taking out the WA and SA comps respectively.
Both will now go through to the National Final in Sydney on 31 August for the chance to win
$10,000 in cash and a trip to Trinidad early next year to compete in the Global Final, plus the title of Australian Angostura Ambassador for a year.
In WA, Joe Sinagra's sharp presentation and cocktails 'Port of Spain Sunset' and 'The Dragons Mouths' were clear standouts. Joe blew the judges away with his drink, The Dragons Mouths, which was served in a treasure chest with Angostura aromatic bitters dry ice mist.
It showed Joe is no stranger to the Angostura Cocktail Challenge. He represented Australia in Trinidad in 2012 but having won previously, this is the last time Joe will be able to enter the Angostura comp. Trinidad stipulates national winners can only enter once and global winners cannot enter again.
ADVERTISEMENT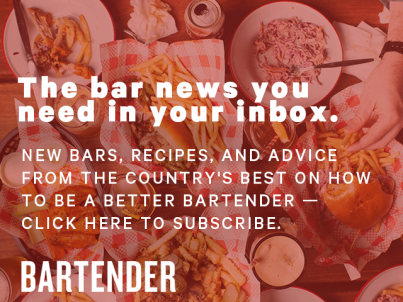 &nbsp
Second place went to competition rookie Lachlan Robinson and James Connolly won third place. Both competitors are from WA rum bar Angel's Cut by Trustee.
Over in South Australia, Roman somehow managed to battle 'manflu' to pull off a spectacular win. The judges commented that Roman's cocktails 'Peach Perfect' and 'Drink Brullee' impressed both in taste and in appearance and he has the potential to do well in the next round.
Second place went to Nick Corletto from Hains & Co and Chad Hanson from Sean's Kitchen took out third place.
Head judge Britt Page, from island2island, distributor of Angostura aromatic bitters in Australia, says, "Well done to Roman and Joe. Both won because their cocktails were perfectly balanced, tasted delicious and showed excellent understanding of how the flavours and aromas mix. We wish them all the best in the national comp next month.
"Joe's been here before so he knows just how tough the Australian Challenge is. We are the country to beat so the stakes are high."
JOE'S WINNING COCKTAILS
Rum category: 'The Dragons Mouths'
Ingredients:
50ml Angostura 7yo Rum 10ml Angostura aromatic bitters 60ml pear nectar
20ml Orgeat 5ml Ledaig 10yo
Aromatic Fog
75ml Angostura aromatic bitters 75ml water
Dry ice
Method:
Add all to a shaker and shake with ice. Double strain over ice in a rocks glass. Garnish with a pear butterfly and serve with aromatic fog.
Garnish -­? pear "butterfly" and aromatic Fog Freestyle category: 'Port of Spain Sunset' Ingredients:
45ml Angostura 7yo Rum 15ml Triple Sec
2 dashes Angostura orange bitters 10ml maple syrup
10 coffee beans
Method:
Crush coffee beans in mixing glass. Add remainder of ingredients and stir with ice. Double strain into glass.
Garnish -­ orange twist
ROMAN'S WINNING COCKTAIL RECIPES
Rum category: 'Peach Perfect'
Ingredients:
30ml Angostura Reserva Rum 15ml Dry Vermouth (Dolin)
5 dashes Angostura aromatic bitters 15ml lime juice
1 egg white
1 teaspoon apricot jam
Method:
Shake all the ingredients with 3 dashes of bitters Double strain into a Champagne flute
2 dashes of bitters to float on top Garnish -­? peach fan on a rosemary stick Freestyle category: 'Drink Brullee'
Ingredients:
30ml Black Bottle whisky
1 dash Angostura orange bitters 1 egg white
10ml lemon juice 10ml sugar syrup
1 dash vanilla extract
Method:
Place all the ingredients in a cream whipper Double charge
Serve in a cocktail coupe
Sprinkle sugar on top, and caramelize with the blowtorch Garnish -­? mint spring