Story by Sam Bygrave
Photography by Peter Czeczon
If it's true we eat with our eyes first, you've got to figure the same applies to drinks. And the drinks at Eau de Vie have always been quite a sight.
Since day dot, they've emphasised cocktails as an experience, one that's carried on through to their current list.
It's structured around the concept of 'The Craftsmen', said Tom Egerton, Eau de Vie Sydney's bar manager.
"The idea of the menu is that each page is associated with different craftspeople and flavour profiles one might associate with the craft," he said. "So light, floral drinks for The Perfumer, herbal, medicinal and bitter drinks for The Apothecary and so on.
ADVERTISEMENT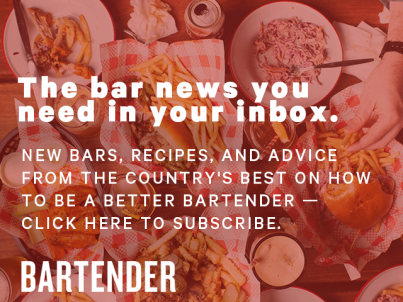 &nbsp
"In this way we encapsulate the different styles of drinks from aperitif all the way through to digestif, so we have something to offer for all tastes and preferences on the menu."
Eau de Vie has two locations, one in Sydney and one in Melbourne, and Egerton said that the idea was to have the drinks the same in each venue. That meant they needed to work collaboratively — and there's quite a process involved, taking between six to eight months.
"It is a collaborative effort from both venues, with one venue taking the lead on development for each cycle," Egerton said.
"For example, Eau de Vie Melbourne is currently working on our next menu changeover going into the colder seasons, with their bar manager acting as a sort of project manager. We submit concepts and flavours to them, and their bar team workshops those ideas and drink profiles until they have a final drink. Those drinks are then submitted to Eau de Vie Sydney, where the bar manager, with assistance from the bar team, delivers feedback. After this round of feedback is applied, the drinks are then ready to be presented and tasted by the higher ups, Greg Sanderson and Sven Almenning, for approval or reconstruction. Only after they sign off on the drinks are they ready to go on the menu."
The menus in each bar highlight the bartenders working behind the stick, an approach they've had for a while now. "We start with the 'Meet the Crew' page, which is unique to each venue," said Egerton. "There we showcase the principal staff of each venue, with one of their personal cocktails and a short description of who they are, accompanied by their caricature — it's a great visual shorthand to introduce our guests to the personalities behind the tattoos and waistcoats."
And given that Eau de Vie has had some great lists in the past, they've got a section to highlight some perennially popular drinks, said Egerton.
"Next is the Eau de Vie Favourites page, which showcases our greatest hits, so to speak: five cocktails that have been on the menu since day one, where we usually send first timers at Eau de Vie. These are our all-time showstoppers, the Espresso Zabaione, Smoky Rob Roy, Yuzu Mule and so on," he said.
Take a look below at three recipes from Eau de Vie's list.
Autumn Leaves
45ml Beefeater gin
10ml Farigoule Thyme Liqueur
20ml T2 Detox Tea
15ml mandarin shrub
10ml lemon juice
1.5ml Boston Bittahs
Stirred down over ice and served in a nick and nora glass.
"The perfect remedy for the blues. Gin, thyme, detox tea, fresh lemon and mandarin. Nice & spicy and served up with a toasted leaf."
Beet Drop
20ml Martell VS
20ml Bulleit Rye
15ml fig & tarragon infused port
15ml Giffard White Cacao liqueur
10ml beetroot syrup
1ml 10% saline solution
Stir down ingredients and strain into an absinthe-rinsed glass with a powdered sugar rim.
"Cognac, rye, fig-infused port, beetroot, tarragon and chocolate. Textural deliciousness, crossing the boundary from savoury to sweet."
New Money
35ml spiced rum
5ml Monin coconut syrup
20ml Gifford Apricot Brandy
20ml Haymans Sloe Gin
10ml chilled water
3ml lactart
1ml 10% saline solution
20ml egg white
Dry shake, then shake with ice and strain into a cocktail glass. Garnish with Eau de Vie money and grated nutmeg.
"Spiced rum, salted coconut, apricot brandy, sloe gin and 'stuff'. Fruity, spicy and a tad bit salty. Refreshing as hell."