Eau de Vie has garnered accolades for many things in the years since it opened its first outpost in Sydney: it scored World's Best New Cocktail Bar in 2011 at Tales of the Cocktail, won the Bartender Magazine Australian Bar Awards title of Cocktail Bar of the Year, and their cocktail book, Shaken, Stirred, Flamed and Thrown: Cocktails done the Eau de Vie Way, was named World's Best Cocktail Book in 2015 — and that's just a few of the awards they've acquired over the years.
So needless to say, there's a high standard expected at Eau de Vie and its parent group, Speakeasy Group. And that's where Russ Mcfadden comes in.
Mcfadden is Eau de Vie's venue manager and a driving force behind the Speakeasy Group — below, and lightly edited for clarity, Mcfadden describes a typical day in the life of someone running one of the world's most awarded cocktail bars.
09:30: My alarm goes off. Most nights of the week I'll be slipping into bed about 3am. As much as I love mornings, the reality of running on five hours sleep, five nights a week is something best reserved for the likes of Trump, Tim Cook, Martha Stewart and Maggie Thatcher – not everyone's ideal role models though.
I'll generally spend about 30 minutes whilst still in bed scanning and interacting across our social channels for Eau de Vie and keeping an eye on our new baby, Mjølner. I'll also have a quick check over any early morning emails that might need attention that day.
ADVERTISEMENT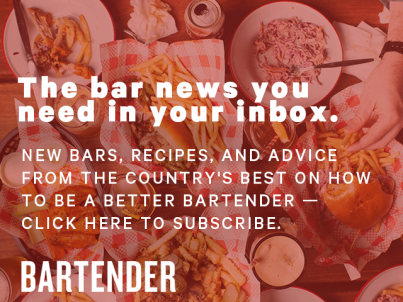 &nbsp
10:30: By now I'm wide(ish) awake, as is the hound (who, over time I've managed to eek natural instinct out of and sync with my own sleeping cycle), and it's time for the day's christening caffeination. My local café is like that bar where everyone knows your name; no wifi, no cold drip, no 60º egg, just great espresso and a great place to start the day. Time permitting I'll try take a harbour swim with the missus, hit the gym or hang on the waterfront and clear my mind for the morning.
14:00: For the first half of the day there's always pencil-pushing to be done. I live a few short minutes walk from the bar and Speakasy HQ. The well-worn daily path conveniently passes three cafes, each of which getting at least one, if not more visits from me during the day. Supporting community is important, as is pissing away a mortgage down-payment on avocado and eggs five days a week. I swing by the venue to make a quick hello with one of our suppliers, checking out samples, then off to the office in deepest Darlo for a meeting with accounts. Today, we're reconciling invoices from one of our suppliers, who have chosen a mightily confusing invoice numbering system that's making tracking against our statements a nightmare. An hour of trundling through we wrap up, high-five and hope not to need each other for at least another few days. I say quick hello to reservations and marketing to confirm some details for the weekend's bookings and check how we're tracking with some of our creative briefs, upcoming EDMs and consumer events that are on the go.
16:00: Back to the venue! Most of the local cafés are now closed but local legend "Israel" just next door to Eau de Vie serves coffee and some very fine sandwiches until sundown. Time to catch up on some emails, process the incoming purchase for the week, cost up some new kitchen menu items and make a few minor amends to the menu artwork. With a little time to spare I add a few new tracks to our playlists whilst explaining to one of the boys with great gusto that Swing Revival is absolutely not the same thing as Electro Swing. I find a brass band cover version of Toto's Africa which amuses me enough to play on repeat at least twice.
Get your copy here: http://hackneycollieryband.bandcamp.com/ The East London collective's version of Toto's soft rock classic "Africa" has been tried and tested on dance floors worldwide for many months, and it's release of 7-inches of heavyweight wax is the perfect way to mark the start of Wah Wah 45's potentially biggest year so far!
18:00: A short briefing with the team and we're into service. You'll find me front of house almost every night, on the floor, hosting or occasionally slicing up a storm in our little meat and cheese section. I'd like to say that gout is not an occupational hazard… but that would be a lie.
Tonight we're hosting one of our monthly Appreciation Societies, which is a pleasant change from day to day service. Our Master Class kicks off at 7pm so there's still a little time to spruce up the private space we use for these events and double check we're ready with welcome drinks and nibbles.
20:00: Our masterclass is underway and along with Eau de Vie's bar manager, Jay Cozma, we're taking guests on an enlightening historical and global journey around some of the the world's most famous hotel bars through cocktails inspired by them.
22:00: With our event wrapped up, save for a few of the more dedicated mid-week bon vivants, I duck out to find some sustenance other than coffee or muesli bars. I do try where possible to meal prep something healthy for most of the week, but today I go all out with 16 inches of fungi from the Negroni-loving pizza parlour across the street.
00:00: Not long left. The rest of the night was smooth sailing. A few interesting characters at the bar, a smattering of serial tinder daters and a few locals through for nightcaps. With just under an hour left of service, the guys are set to start their closing procedures on the bar and I start the nightly reporting whilst everything is fresh in my mind. Once the last guests are paid up and on their way home, it's time to pull the final figures, count some dollars and sink a tinny.
02:00: We're closed, cleaned down, cashed up, fresh produce for the next day is ordered, a handover posted to our internal group page online. 15 minutes later I'm home. Occasionally the hound will be in need of a late night run around the park which I generally oblige with a whisky in hand to take in the salty fresh harbour air. Tonight though she's fast asleep which is plenty convenient. My partner Lib arrives home around 3am and we hit the hay for an early start. With a matching RDO we're planning to be up at 7am to head to the mountains and spend the day hanging off cliffs, jumping off waterfalls and avoiding tourists. Plenty of time to sleep on the train.