Story Mikey Lowe
WE were all haunted by the ghosts of beers past that day, but Jim Wrigley seemed spry enrobed in a tawdry tiki shirt and a deftness of banter exclaiming the years of bar service he was wise too. Having drank and bled, birthed and buried much of the past's inventions, he has seen the silver lining forming at the end of the tunnel and was willing to flick the lights on for us.
The Sydney Academy of Bartenders had met at Burrow Bar, and it was with fondness that Jim remembered the 1980s that day. A memory that clashed with what many of us would care to imagine. The drinks trade was lampooned, as it turned out, by the previous generations.
Collateral damage caused by Prohibition and World War 2 led to an influx of newly marketed spirits such as vodka, and with a basic palate, a switch from heavier styles of cocktails to those that were easy to imbibe. These we'd consider childish. Immature, with plentiful fruity ingredients and high levels of sugar and liqueurs. Much of what we negatively consider being birthed in the 80s happened much earlier.
So what did the 1980s do for bartending?
ADVERTISEMENT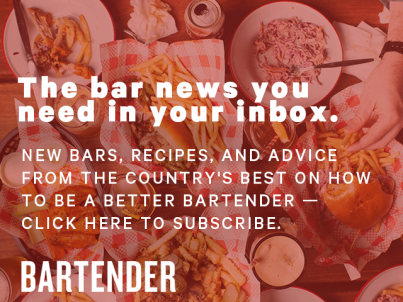 &nbsp
Jim took a long, unhurried sip of his drink and calmly stated, "Well, everything."
In 1982, 'Cheers' first aired. It carried the philosophy that a bar was more a fantasy through escapism rather than a place to get lost in a chemical romance. Drinking became the cool new way to meet people, rather than get loaded, and everyone was buying into it. If we hadn't had this model of escapism we wouldn't have the likes of meticulously staged small bars and their thematic ambiance.
Alongside televised ideas of the local bar, a new local was popping up in growing numbers around the country.
"The way a bar is setup, the way a sink is placed, and the ice and dishwasher, all came from T.G.I.Friday's and Hard Rock Cafes. So
many bartenders who went off to open bar empires such as LAB in London, Match Group, etc. often went through or were trained by TGIFs staff. All those standardised ingredients and specs, code calling, and setups came from TGIFs".
Those standardised specs became highly important as bartenders in the 1980s had to learn the specifics of 100s of drinks. 'Menu' was a poor choice of word, these bartenders wielded cocktail tomes. So how did they do this? By learning cocktail DNA.
"Whilst the drinks being made were crap (by todays standards), the fact that people knew by name calling drinks what was in them, bartenders who came through these type venues, began to understand what should be regarded as cocktail DNA."
"I learnt that a caipirhina was a daquiri, and a mojito was a daiquiri mixed with a rickey. I learnt how all these different proportions worked. A lot of this we owe to the 1980s.
What was happening in the 1980s was the genesis of the first wave of mixologists and cocktail historians."
Without cocktail DNA we wouldn't have the Cosmopolitan, the Old Cuban or the bacon flavours of Benton's Old Fashioned.
"The keepers of the flame, the Peter Dorelli's, we're just hanging out at hotel bars. They still had the old books and the old techniques, and the time was right for a revival."
The modern classics from luminaries Dale DeGroff and Dick Bradsell, were simple reflections of old recipes. The Ritz, the Bramble and the Pharmaceutical Stimulant (wrongly remembered as the Espresso Martini). All of these came from basic ratios learnt in the 1980s.
"These nouveau bartenders gave us the tools to continue where we are today."
After an hour of chat, Burrow Bar was full of quiet contemplation. Jim's drink was long dry, but his charisma was unflappable.
"The 1980s carried through our misconceptions from the previous decades and their negative effect. The 1980s showed in a revolution of bartending technique and culminated in a revisit to the old techniques we work proudly with today."
"So actually, what did the 1980s do for us? Almost everything we do now."