Alissa Gabriel is the bar manager at Sydney bar and restaurant, Mjølner, and she's one of few bartenders to gain national recognition in the early stages of her career; with just a few years of bartending under her belt she took out the Australian leg of Bacardi Legacy back in 2015.
Now, with added experience at Sydney bars Eau de Vie, Charlie Parker's, and now Mjølner under her belt, we thought it was time to check in on the Rockhampton native. Here, lightly edited, is where Gabriel is at right now.
As told to Sam Bygrave
I started bartending in rural North Queensland, in Rockhampton. I started out in a little tapas bar and pub. My first shift was a couple of days before New Year's Eve, and then I jumped in on New Year's Eve into the bar and got handed a spec sheet with 15 fruity, terrible liqueur-driven drinks and kind of fumbled my way through an 11 hour shift and a three-deep bar. By the end of it I just had the biggest smile on my face.
I've always loved performing and art and having that creative side of it, I think I really enjoy the interaction — when a guest comes up to the bar it's almost like you're performing to them. I also get to have that creative side, when I'm creating them a drink and giving them an experience.
ADVERTISEMENT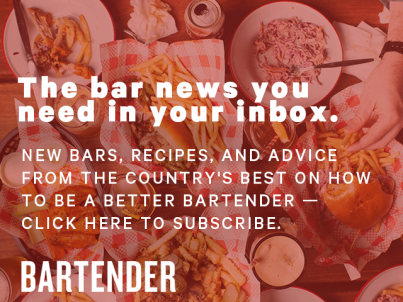 &nbsp
In Brisbane I worked at Press Club for almost two years, then I went to the Manhattan Line to take on a role as bar manager there, which was a really great challenge; I don't think I was quite ready yet for the position I was given. I certainly learnt a lot there.
I went to New Orleans, came back, and decided I was going to move to Sydney. Sven, who was one of the semi-final judges for Bacardi Legacy offered me a job at Eau de Vie; without even having been there I jumped in my car and drove eight hours and got to Sydney, and went to see Eau de Vie for the first time.
It was a completely different experience to Brisbane. Sydney is just this hub of hospitality, and I'd never seen anything like Eau de Vie before — the cocktails, and the performance.
We've been open at Mjølner for 10 months, but it feels like two months; it hasn't really slowed down or wavered, we've just been powering through. Stepping into the new role of bar manager has kept me challenged and pushing forward all the way through.
We're a Norwegian-style venue, it's kind of a picture of Valhalla. It's what we imagine it would be like: booze- laden beverages, food dripping with delicacy and meat, I like to think that it's just a fun bar and we encapsulate a little bit of what you would experience in Valhalla. In terms of the styling, it's just an aspect of the venue, like lighting, sound, and everything comes into play — the theme is just one tiny aspect of this venue.
My day involves coming in around midday, looking at all the orders, reading emails, checking deliveries and doing invoices. Then around 3:30pm we start setting up the bar making sure everything's all set for service — doors open at five o'clock.
With the support of the Speakeasy Group, they've helped me transition into the role of bar manager and have said that they want me to still keep my creative side and not lose sight of who I am. The paperwork and the official side has been a little more difficult than I anticipated, but I've got it under my thumb now — it took me a month.
Like a lot of places, we've adapted to batching; it allows us to have more time interacting with the guest during their experience. We have a cooking and prep day, and batching throughout the week — a lot of the cocktails have everything written on the bottle so that anyone can jump in and make a drink if they have to.
We've only about 20 seats in the bar, and room for about 30 people standing; a lot of the drinks for the restaurant come out of dispense in the bar and it's really good to see people actually enjoying cocktails throughout the meal, rather than just a beer or a glass of wine.
I've really enjoyed stepping back a bit from competitions, and not going to as many industry events as I used to. I've enjoyed training and building people into a position; the team I have at the moment I've hired and most of them have had little to no bartending experience.
Passion is number one; you can teach anyone anything. I want passion and a little bit of wit, and they've got to be the right fit for the team otherwise it's just not going to work. You can train anyone, but if they don't want to learn, they're not going to put in the effort and they're not going to make it work for you or for the venue.