It's nearly time for the announcement of all the finalists for the 18th Annual Bartender Magazine Australian Bar Awards. Ahead of the announcement in the July issue — which lands in bars next week — we thought we'd reveal the finalists for a few awards this week: these are the best whisky bars in Australia — the 10 finalists for the 2018 Whisky Bar of the Year.
The Bar Awards takes place on Tuesday the 18th of September this year, and is just one of the many great events in store for Sydney Bar Week this year, taking place from the 15th to the 19th of September — click here to visit the barweek.com.au and check out the full timetable; there's over 25 events happening over the five days, with RSVPs for some events open now. RSVP ASAP to make sure you don't miss out.
Take a look at the 10 best whisky bars in Australia below.
WHISKY BAR OF THE YEAR
Proudly sponsored by Southern Comfort
ADVERTISEMENT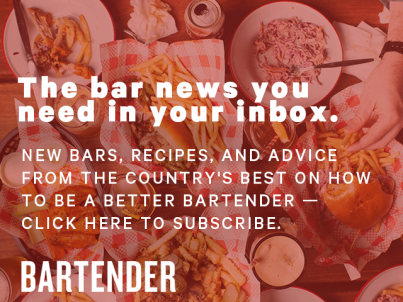 &nbsp

To be eligible for this award, the bar must have a broad selection of whisk(e)y, highlight whisk(e)y cocktails where cocktails are listed, and employ staff who are knowledgeable on the category.
Beneath Driver Lane, Melbourne
Varnish on King, Perth
Cobbler, Brisbane
The Baxter Inn, Sydney
The Wild Rover, Sydney
Boilermaker House, Melbourne
Savile Row, Brisbane
The Gresham, Brisbane
Whisky & Alement, Melbourne
The Elysian Whisky Bar, Melbourne
Take a look at more about these bars below.
Beneath Driver Lane
The basement on Driver Lane, Melbourne
driverlanebar.com
Beneath Driver Lane is the Melbourne CBD bar from Hamish Goonetilleke, the guy behind Fitzroy's Rum Diary Bar and the booze brand, Rum Diary Spiced Rum. Set in the basement of Melbourne's GPO building and entered via Driver Lane, the space once housed a secure, underground vault that was the money order office for the post office.
These days, there's "deep, driving blues" on the playlist, and a lot of whisky to get stuck into. They've got a talented crew behind the stick, and great eats coming out of the kitchen, too.
Varnish on King
varnishonking.com
Basement, 75 King Street, Perth
Varnish on King has been a regular on the Bartender Magazine Australian Bar Awards finalists since opening back back in 2013, and here you're going to be drinking American whiskey. Owner Andy Freeman has been a staple of the Perth bar industry for years, and Varnish on King was the first bar he got to build from the ground up. It's a beautiful little bar, where attention to detail and Freeman's penchant for doing things a little quirkier has paid off.
Here, the dedicated staff offer you bourbon and bacon flights, they've got an extensive collection of bourbons and ryes from the USA, and the playlist is all 80's tunes and good times. The food is also another reason to visit this great bar, which was named small bar of the year in 2014.
Cobbler, Brisbane
cobblerbar.com
7 Browning Street, West End. Brisbane
No visit to Brisbane is complete without a whisky or two at Cobbler in the city's West End. They picked up the title of best small in the country in 2016, and appeared on this list last year, and a large part of that is to do with the knowledgeable, passionate service their bartenders provide when it comes to the bar's big focus: whisky. Here, the emphasis is on Scotch whisky, but they offer an experience that is more than just whisky nirvana for geeks — it's also one of the best party bars in the country.
The Baxter Inn, Sydney
thebaxterinn.com
Basement 152-156 Clarence Street, Sydney
Is there a more famous Australian bar than Sydney's The Baxter Inn? We think not. The basement whisky bar from the formidable Swillhouse group was a game changer when it opened back in 2010, and in the years since has maintained its reputation as not just one of Australia's best bars, but also one of the world's greatest.
It's a regular feature on international awards lists  and they continue to add to their impressive range of whiskies from around the globe. And, for the true whisky aficionado, you're going to want to step into their Whisky Room, where they keep a number of rare drams.
Add to the comprehensive selection of whisky the famous hospitality and dedication to bartending that has earned their bar team their own gongs over the years, and you can see why the place has won more than a fair share of awards.
The Wild Rover
75 Campbell Street, Surry Hills
thewildrover.com.au
Sydney's The Wild Rover has been delivering good times and delicious drams at its nondescript Surry Hills location since 2013. They've never really labelled themselves as a whiskey bar — and despite a great selection of the stuff from Ireland, haven't claimed an Irish bar designation either — and the focus is here is on the experience (read: you're going to have a great night).
The staff know their way around a whisky, though, and they've got a great selection of Irish and Scotch to dive into.
Pair it with a Guinness and away you go. It's all about the craic, after all.
Boilermaker House
boilermakerhouse.com.au
209/211 Lonsdale Street, Melbourne
Melbourne's Boilermaker House is no stranger to this award, having taken it out in 2016 and making the top 10 again last year.
The bar is one in a stable of top flight bars from the Speakeasy Group — you may know them from the Eau de Vie bars in both Melbourne and Sydney, as well as the Sydney and Melbourne outposts of their viking-inspired restaurant and bar, Mjolner — and here they focus on the Boilermaker. What's a Boilermaker? It's a whisky and a beer, but this simple pairing is taken to new heights at Boilermaker House. They're taking their beer quite seriously, and the whisky, well — the last we heard the count was at 800 different bottling of whisky, and they've plans to add more. Throw in knowledgeable, attentive bartenders, and some pretty ace bar eats, and you can see why they're a must-visit for any whisky lover visiting Melbourne.
Savile Row
667 Ann St, Fortitude Valley
Brisbane bar owner and operator, Martin Lange, is known for his love of Scotch whisky — the aforementioned Cobbler in Brisbane's West End is his other bar — and he indulges that passion for the stuff at his latest opening, Savile Row in Brisbane.
The bar has quickly become a favoured hang for off-duty bartenders and hospo types, and if it's whisky you're after, you're going to be well looked after at this spot.
The Gresham, Brisbane
thegresham.com.au
308 Queen Street, Brisbane
The Gresham has a well-deserved reputation for having one of — if not the best — American whiskey selections in the country. But whilst their selection rolls deep, it's not the breadth of what you can order that makes this bar great, but the people who work there and the experience they provide. Their passion for whiskey is only equalled by the passion they've got for delivering laid-back, comfortable service — bar manager Ryan Lane describes the place as a local pub that happens to have a killer whiskey selection.
They've been named Bar of the Year at the Bartender Magazine Australian Bar Awards in both 2015 and 2016, and it's their third appearance on this Whisky Bar of the Year list.
Whisky & Alement, Melbourne
whiskyandale.com.au
270 Russell Street, Melbourne
Whisky & Alement is a whisky-lover's paradise. It's also the reigning Whisky Bar of the Year, having taken the title out last year. If you get the chance to talk whisky with Whisky & Alement co-owner Julian White, we suggest you grab a dram and ask him all the questions you've got. The guy's a walking whisky encyclopaedia and Whisky & Alement reflects that, with a serious whisky collection you could only dream of building for yourself.
The team love their whisky, and some of the most knowledgeable whisky-loving bartenders have plied their trade behind the stick here. Do yourself a favour and go get your whisky education at Whisky & Alement.
The Elysian Whisky Bar, Melbourne
theelysianwhiskybar.com.au
113 Brunswick St, Fitzroy
There's few bartenders out there who can keep pace with the whisky knowledge stored in the brains of the owners of The Elysian Whisky Bar, Yao Wong and Kelvin Low.
They've been whisky fiends for some time now, and with the opening of their own bar in Fitzroy they've dived even further into the depths of whisky geek heaven. Here, you'll find a number of hard to find independent whisky bottlings, sourced with care and pride by the duo, and including their own custom whisky.
Put simply, these guys have the stuff that no-one else has, and you want to listen to them talk about it. It's an enjoyable education.