The 18th Amendment Bar in Geelong has been having a good run of things: not only is it — part way through its third year — the two time winner of the Regional Bar of the Year award at the Bartender Magazine Australian Bar Awards, but its team goes from strength to strength in cocktail competitions, and the punters for their part are picking up what they're putting down.
The bar is inspired by the era of Prohibition in the USA. The clue, kids, is in the name — the 18th amendment to the US constitution was the one which, thankfully, repealed Prohibition.
If you visit on a Saturday night you should expect a bit of a wait, says bar manager Damien Kos-Beckwith.
"We have a host running a waiting list," he says. "After having a drink or two in our sister bar Manhattan, you receive the text informing you that your table is ready." You're then ushered inside  a candlelit room — the music is all 1920s jazz and good times — and greeted with a huge back bar and some 80-odd other guests.
"Your host offers a menu and a bowl of the finest popcorn; you are set for an unforgettable experience," says Kos-Beckwith.
ADVERTISEMENT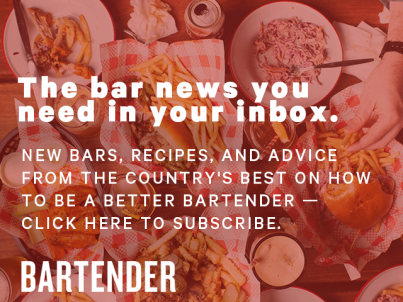 &nbsp
So what goes into making a two-time Regional Bar of the Year winner? We asked Kos-Beckwith to tell us more about the bar, the steps they go through to develop their menu, and some advice on how they run their cocktail-driven service.
Cocktails, clearly, are a central focus. What are the styles of drinks proving popular with the punters?
After two and a half years our guests have learned to trust us, and know that if a cocktail makes the menu it's because it has passed all our tests and we know our clientele will enjoy it.
That said our theatric/cinematic cocktails (The Boardwalk Empire, Boozehounds Delight, Thomas Edison etc) are the most popular cocktails followed closely by the sour style drinks like the Shimmy Shimmy, Giggle Juice and Bonnie and Clyde.
Can you describe the process around new menu development? 
The making of a new menu is a job for the whole team. Anyone who works at the bar gets an opportunity to pitch an idea for the menu. I give the team a two week window to play with drink ideas, nail down recipes and prep garnishes. Then the team gets together and we order in some food, everyone gets time behind the bar to make their proposed drinks.
From this, we work with that staff member to tweak the cocktail (If it needs it) to be the best drink it can be with those flavours and we note down the recipe. Once this is done we end up with around 40-50 cocktails.
This is where I then have to cost out all drinks, and slowly start putting the menu together, ensuring it is balanced between not just flavours, but styles of cocktails, and glassware as well.
Once this is done, the team gets together again and we run through a tasting of the full menu (including new beers and wines and food offerings too). This is when we come up with names and descriptions for the cocktails.
In terms of the layout of the menu, you use a lot iconography — do the punters understand this? Does it help (and how?)
On the menu we use icons to give the guests a quick reference into the drink to help them pick a cocktail they will enjoy, these icons range from Fruity, Strong, Citrusy, Savoury and over winter we even had a "Served Hot" Icon.
This has been very popular with our guests as they are more confident in the choices they are making. The staff also enjoy this, as the guests have a clearer idea of what they want meaning the floor staff can take orders a little faster (although they do still enjoy spending time with any guest that is tossing up between suggestions).
We also show the glasswear the drink comes in which is just another way to help the guest make a decision.
Can you describe the sequence of service you use at the bar — how do you assist guests in deciding what they want to drink?
Our Sequence of service is as follows: the guest arrives (ushered to the door by our host). We sit them at their table and hand out menus, top up waters, hand over a bowl of popcorn and then give the guest a quick explanation of the menu (highlighting the icons and glassware).
We then give them time to pore over the options, upon returning we ask if they have any questions, typically they're tossing up between two drinks so we explain both to give them as much information as possible to make the best choice.  Once the order is taken it is typically made and sent out within 10 minutes. We then place the drinks down and explain anything that needs to be explained.  We will follow up 3-5 minutes later too ensure everyone is happy with their drinks.
How do you do this with your rather extensive whisky list?
Trying to keep our job as sustainable as possible we put a bartender on the floor every night to rest them from making drinks, but this also doubles as a go to person for any in depth spirit related questions. In saying this all staff are trained through the menus and come to tasting and training regularly to ensure breadth of knowledge.
We also use IMPOS which allows us to add notes to any menu item, so if a guest asks about a whisky the staff member hasn't tried they can easily pull up information like barrel type, mashbill, ABV and a few short tasting notes.
If the guests ask further questions this is when the bartender can help.